Since 2016, respect and support for human rights have been central imperatives for IVL across our value chain. We strongly believe in respecting all human rights and in abiding by the United Nations Universal Declaration of Human Rights and the International Labor Organization (ILO)'s Declaration on Fundamental Principles and Rights at Work. Our Human Rights Policy reflects the rights of all stakeholders.
These policies are applicable to the Board of Directors, management, employees, trainees, contractors, subcontractors and persons who are not employees but authorized to act on behalf of, or represent IVL, including those employed by our subsidiaries, joint ventures and associated companies.
Human Rights protections in our business value chain
We respect the human rights of all our employees, subsidiaries, joint ventures and associates. We also ensure compliance with all applicable national laws where we have our operations. Our commitment can be seen in our Human Rights Policy, Board Non-Discrimination Policy, Diversity Policy, and HIV-AIDS Policy, among others. To ensure the remediation of potential abuses, we have a whistleblower mechanism which is applicable company-wide. Any employee with concerns regarding the human rights impacts of our activities may communicate with the whistleblower committee or through other means as mentioned in this report.
Workplace Human Rights Assessment
The United Nations Global Compact's Ten Principles provides an important framework for workplace human rights assessments. We agree that there is both a moral justification for respecting human rights in the workplace and that it also makes sound business sense. In response, we have initiated human rights assessments through a structured annual survey and acted firmly to bridge any gaps. Our survey incorporates four levels - corporate, country, site and products.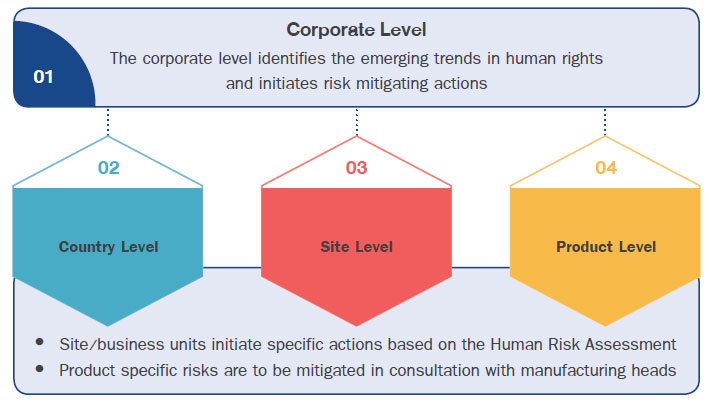 Our Workplace Human Rights Assessment (WHRA) involves a three-stage process called IACM – Identify, Assess, Communicate and Mitigate. We adopted this process in 2016 with our Online Self-Assessment WHRA survey. Based on the aggregate risk impact, the Human Rights Risk Propensity (HRRP) was analyzed and areas of improvement were identified. In 2017, we rolled out remedial actions, ensured the closure of risks and as a continual process, carried out the three-stage assessment process for a second time. The outcome of this assessment process for 2017 is as follows:
*HRRP=Number of potential human rights risk identified / (Responses from total units*total questions)
Major areas requiring improvement and mitigating actions:
Areas for improvement identified
Remedial Actions
Corporate Level
Country/Site Level
Safety & security
Selection of private security firms

Guidelines developed and disseminated to our sites
Regular monitoring
Feedback and advice

Selection of private security firms should be based on their professional abilities, level of staff training, quality of equipment, any past involvement in human rights abuses, and links with political groups.
Workplace Environment
Harassment in the workplace

Standard training modules on defining, identifying and dealing with harassment in the workplace.
Review by the Whistleblower Committee

The HR Council at the site level to educate and support all employees on appropriate conduct by reinforcing the training modules to eliminate harassment.
Counselling and awareness sessions
We will continue employing our three-stage assessment to ensure that any needs are evaluated on a recurring basis to our unique risk profile and operating context.
In 2017, there were no cases of child, forced and compulsory labor in our operations and supply chain.
Human Rights protections in our supply chain
We work with suppliers, customers and business partners to include human rights protections in our supply chain by assessing and identifying any potential and actual human rights issues and concerns. Our engagement is demonstrated through our Sustainability Commitment and managed through our Supplier Code of Conduct, Supplier Self-Assessment, Human Rights Policy and applicable national laws. Actions to manage and address any human rights risks and impacts in the supply chain are overseen and carried out through dialogue and collaboration with relevant suppliers, including contractors.
Suppliers
The supplier evaluation process, initiated in 2014 and extended to all raw material suppliers, critical non-raw material suppliers and contractors in 2015, is ongoing. Suppliers include contractors, and the process involves a systematic and harmonized approach
requesting that they:
Acknowledge the Supplier Code of Conduct
Respond to a self-assessment questionnaire
This process enables us to:
Assess Environment, Social and Governance (ESG) risks and identify opportunities
Assess risks relating to human rights including child and forced labor
Classify suppliers into high, medium and low risk groups and collaborate with them to address the findings of assessments, thereby improving efficiency and reliability in the supply chain
Ensure that suppliers adhere to our Human Rights Policy
The risk management committees of respective businesses review supply chain risks on a quarterly basis and appropriate risk mitigation actions are initiated as needed. We aim to have a systematic supplier audit by 2020.
Customers, business partners and competitors
We respect the human rights of our customers, business partners, shareholders, competitors, and creditors in all of the countries where we have operations and largely control outcomes. This also extends to human rights impacts connected to products and services.
We respect the privacy of our customers and other business partners as mentioned in our Stakeholders Policies (Policy on Treatment of Shareholders, Policy on Treatment of Customers, Business Partners and Competitors Policy, and Trading Partners and Creditor Policy).
Any customer, business partner or other party with concerns regarding the human rights impacts of our activities may utilize the channels established in accordance with our Whistleblower Policy.
Human Capital Development
Talent Attraction and Retention