Recycling
Since 2011 until now, we recycled
We at IVL see the recycling of PET at the very core of our contribution to the global effort to create a Circular Economy, a system where the use of virgin resources are minimized and materials are recycled over and over again.
In 2011, with the acquisition of Wellman International, IVL began recycling PET bottles, producing clean PET flake to be used in fibre, sheet and bottle applications. Since then, IVL has added PET bottle recycling capacity in Mexico, USA, and Thailand. We were also one of the pioneers in the PET resin business to add recycled PET flake into our virgin polymerization process allowing us to efficiently create PET resin with up to 30% recycled content.
Objective
We intend to reduce the concern consumers have about the impact of PET bottles in the environment, and will achieve this by building collaborative systems to increase the global recycling rate of polyester and investing in recycling capacities. As the largest virgin PET resin producer, we want to compliment this position by becoming the global leader in the recycling of PET bottles and packaging. We will supply our customers PET with their desired levels of recycled content, and in the process will save energy and water and reduce emissions that contribute to global climate change.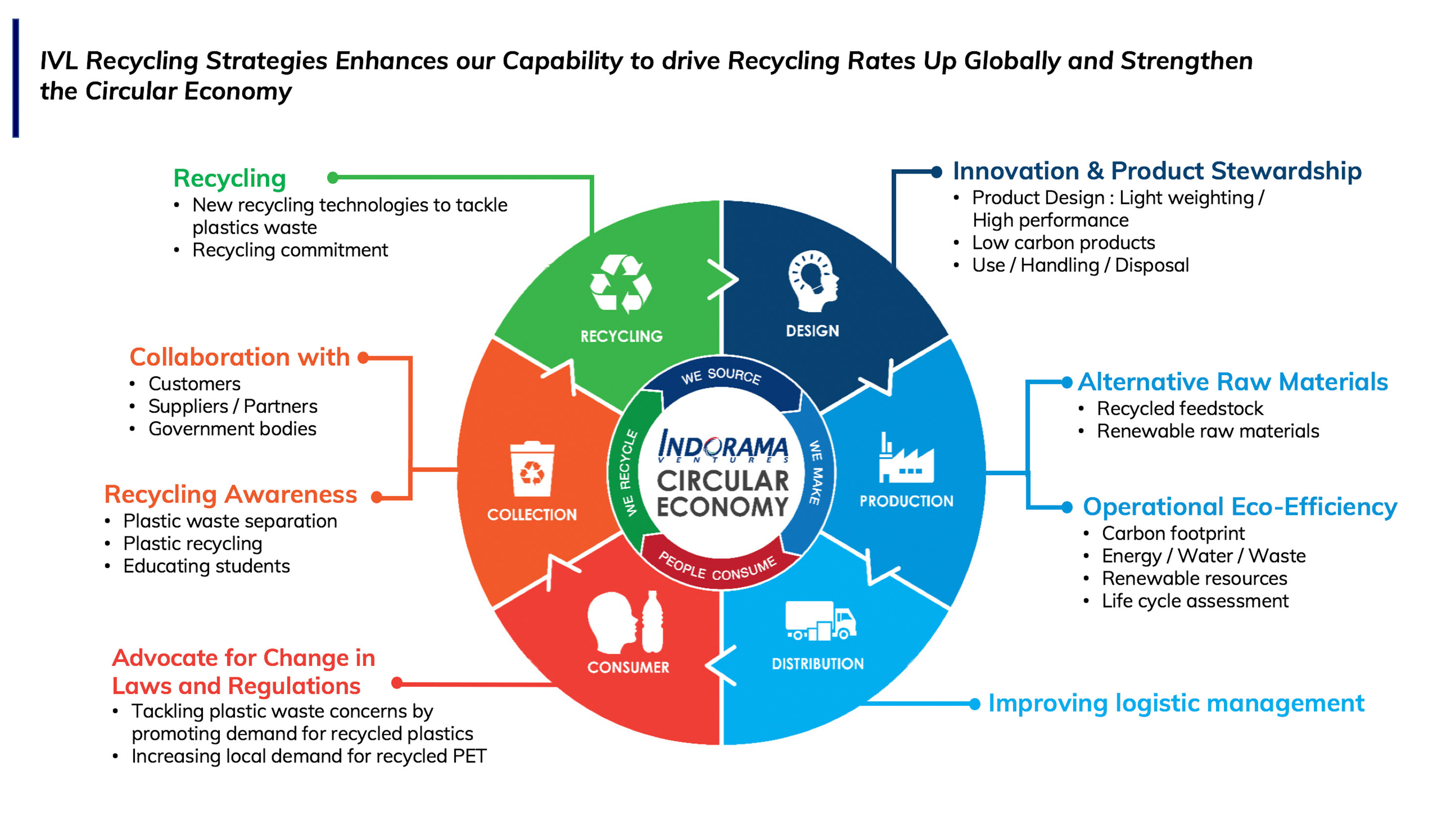 While the issue of plastic pollution has become a major emerging risk and ecological concern for the industry, it also presents a significant opportunity. IVL has been active in PET recycling and is a leading recycler in Europe, North America and Asia. It has been continuously exploring the opportunities to increase recycled product offerings, expanding the business. "PET – Recycling – The renaissance to reduce PET plastic waste going to nature, and preserve natural resources."
Recycling Business
We have reacted to the challenge on resource management issue and on the requirement for sustainable packaging from our world-class customers by establishing the recycling business
Explore
Recycling Facilities
Further than promoting the efficient use of natural resources, our recycling operations located in Asia and Europe help minimize PET waste sent to landfill.
Explore
Recycled Products
Our recycled products are bottle flakes, recycled PET or rPET and recycled fibers.
Explore
In 2018, the company became actively engaged, with the EU government's effort to reduce plastic waste as part of the Single Use Plastic Directive, and in addition engaged with several NGO's to help promote the Circular Economy. An example of an NGO we are working with early on is the Ellen MacArthur Foundation. IVL is involved in the Ellen MacArthur "New Plastics Economy Global Commitment" in collaboration with the United Nations Environment Program towards a vision of a circular economy for sustainable plastics.
PET will continue in its tradition at the forefront of the recycling of plastic waste, bearing the standard for circular processing business models. Over the past two years, Indorama Ventures has also undertaken two chemical recycling initiatives with selected partners. Chemical recycling allows for the recycling of lower-quality, hard to recycle, post-consumer PET to virgin-grade resin. Through a collaboration in Europe, in 2019 it is envisaged that IVL will take reclaimed monomers generated from the company IONIQA, to combine with traditional feedstock to make virgin-grade PET with recycle content. This will exhibit the circularity of PET by generating new from post-consumer waste. A joint venture with Loop Industries will also break down PET polymer from post-consumer waste and make new 100% virgin-grade rPET.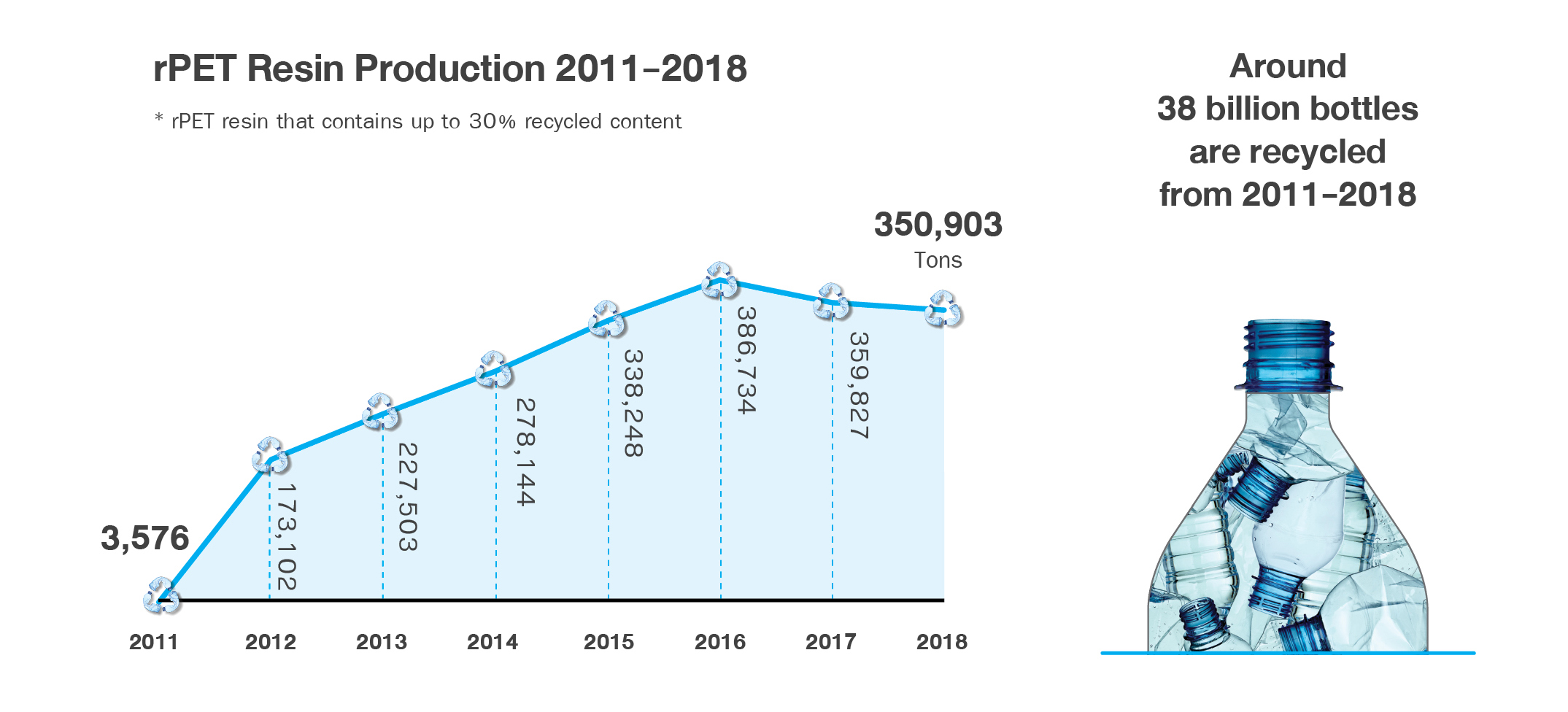 Other Initiatives
Apart of our recycling business, we have also initiated many projects concerning to the environment issues. We have run the educational projects on waste segregation, motivation on upcycling and the raise of awareness in 3R.