Our Sustainability
With a deep Commitment on sustainability, we drive our solid strategy through structures and processes, which are implemented by employees at all level.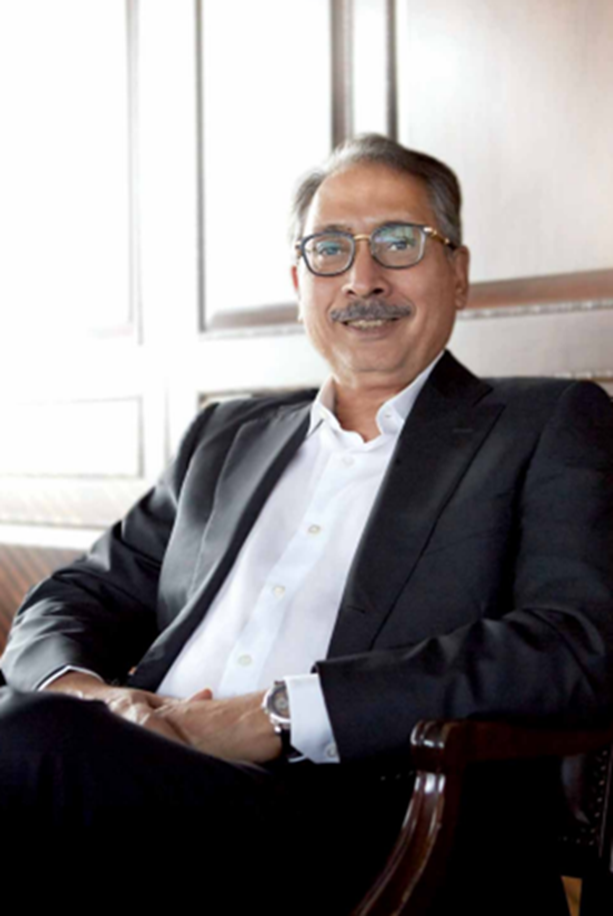 "Next economic revolution is underway, and this fundamental shift revolves around Sustainability." Sustainability is not only a social or environmental issue, but an idea that will increasingly transform our economies and the companies that embrace them. Aloke Lohia
Group Chief Executive Officer
Our Core Commitment Commitment to protect Human Rights At IVL, we strongly believe in the rights and dignity of human beings. Slavery and human trafficking in all forms are prohibited throughout our Group and our supply chain. We believe in inclusive environment and a diverse workforce. Diversity is one of our core values and it is our strength. As a global company we value the variety of knowledge, perspectives and experiences in our organization, and draw strength from these to fuel our competitiveness. Commitment to protect the Environment Protection of the environment is a very important matter at IVL. We not only work for the benefit of society today but also for the benefit of future generations.
We believe in creating a culture where the workplace is a home away from home.
Where together, we dream, aspire, create and celebrate a better everyday life for ourselves, our customers and society.
Sustainability has been an integral element of success for IVL. We recognize that we have to demonstrate our willingness to develop and deliver on a sustainable strategy as moving towards a sustainable economy creates many opportunities. Our sustainability strategy fully supports the vision of becoming a world-class chemical company making great products for society and is in line with business strategy and direction.
IVL Corporate Sustainability Strategy
Our sustainability strategy demonstrates our commitment to the three most important areas for the company, Planet, People and Prosperity, which achieve our vision to be a world-class chemical company making great products for society.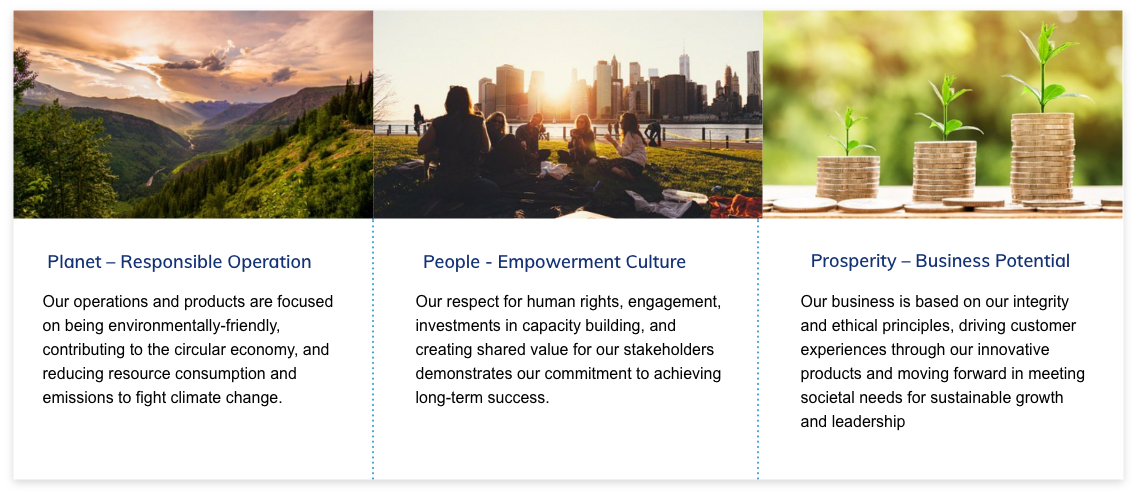 Our goal is to ensure economic prosperity and sustainability to all our stakeholders. We measure our success not just by economic gains but by our achievements in preserving the environment, thereby benefiting the society. IVL undertook several initiatives in 2018 that are in-line with our commitment to increase our focus on the long-term sustainability of the Company through recycling, lowering our carbon footprint, increasing use of renewable energy, and developing human capital.
Sustainability Strategic Areas and Expected Outcomes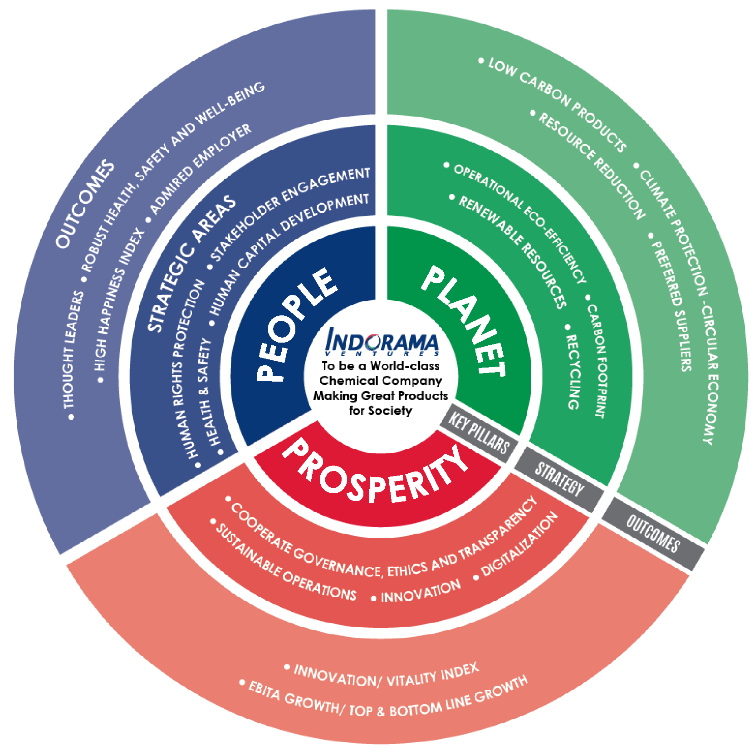 Organizational Governing Structure for Sustainability and Risk Management
We believe in the importance of Sustainability and Risk Management functions, which enables the Company to anticipate and manage current and future economic, environmental and social opportunities and risks arising from the company's business activities.
Sustainability and Risk Management Committee
The Board has appointed Members of the SRM Committee, each of whom possess in-depth knowledge and vast expertise in sustainability and risk management. The SRM Committee is the second highest authority in the Company. Currently, the SRM Committee comprises six members of the Board, including three Independent Directors.
Sustainability Steering Committee
The SRM Committee is supported by the Sustainability Steering Committee, formed in 2014, which consists of 14 senior executives of the Company, each of whom have diverse experiences across different functions and businesses and who bring together considerable subject matter expertise. The Sustainability Steering Committee advances the objectives of sustainability and implements the sustainability practices across all IVL entities.
Sustainability Area Champions
In 2015, the Sustainability and Risk Management Committee nominated champions for each area of sustainability as mentioned in the governing structure for sustainability and risk management. The champions, with their leadership abilities, vast expertise and industry knowledge will drive efficiencies throughout the organization by implementing new initiatives or modifying existing practices in-line with industry best practices. Through this structure, the Committee is ensuring the development of a sustainability culture into the Company's corporate DNA and day-to-day operations.
Sustainability Governing Structure: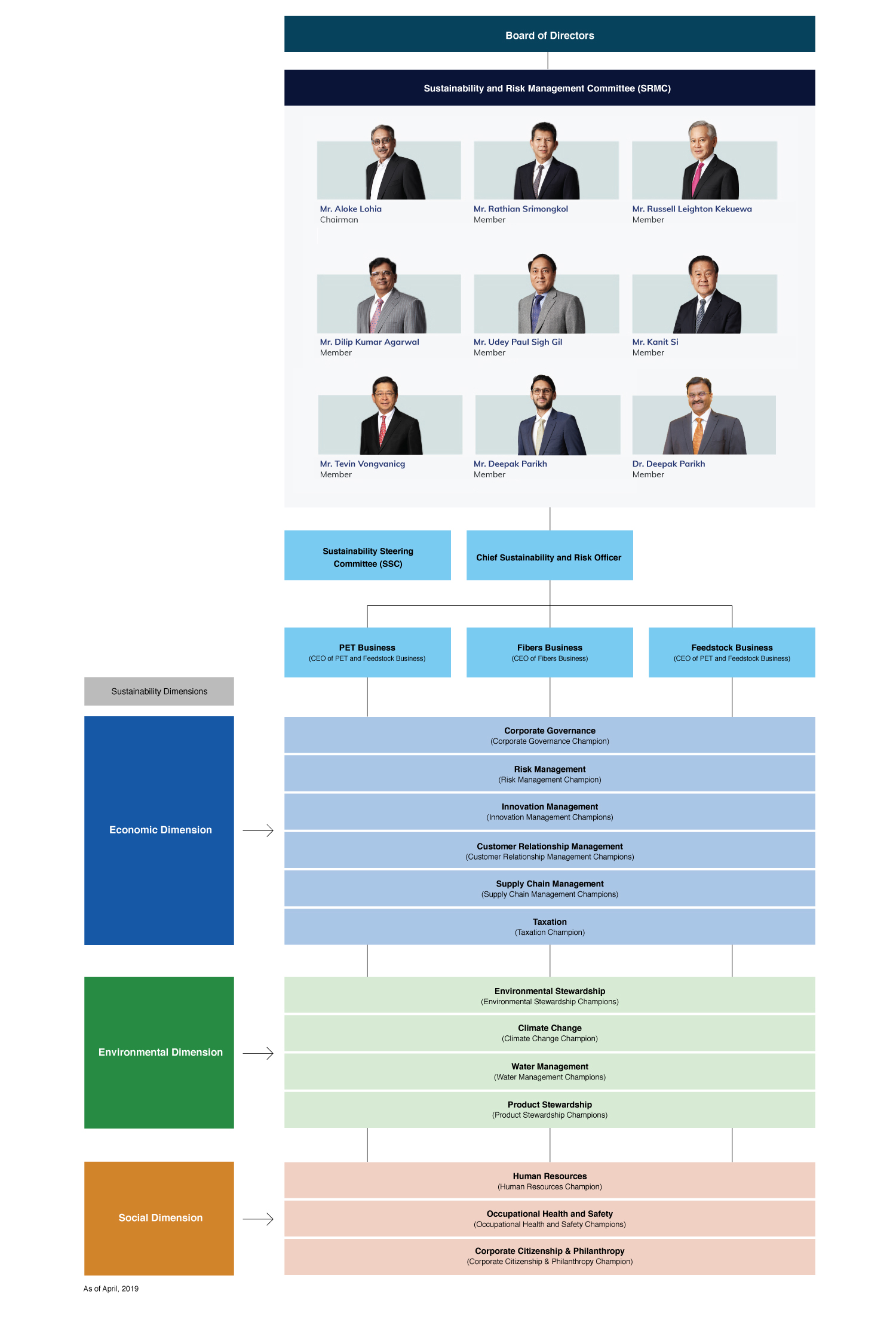 Click to Detail