Human Resources
We believe in creating a culture where the workplace is a home away from home. Where together, we dream, aspire, create and celebrate a better everyday life for ourselves, our customers and society.
At a time of sweeping change in the industry and an increasing push for more sustainable products, we want to emphasize our focus on human capital that helps our employees succeed, which in turn, helps us to achieve continued growth and innovation.
We will be advancing our renewed human capital strategies by having an absolute focus on being a more agile organization with clear accountability, performance and ownership. We are also committed to sustainably building IVL's growth culture where employees are inquisitive, inclusive, engaged, and become ambassadors of a great place to work.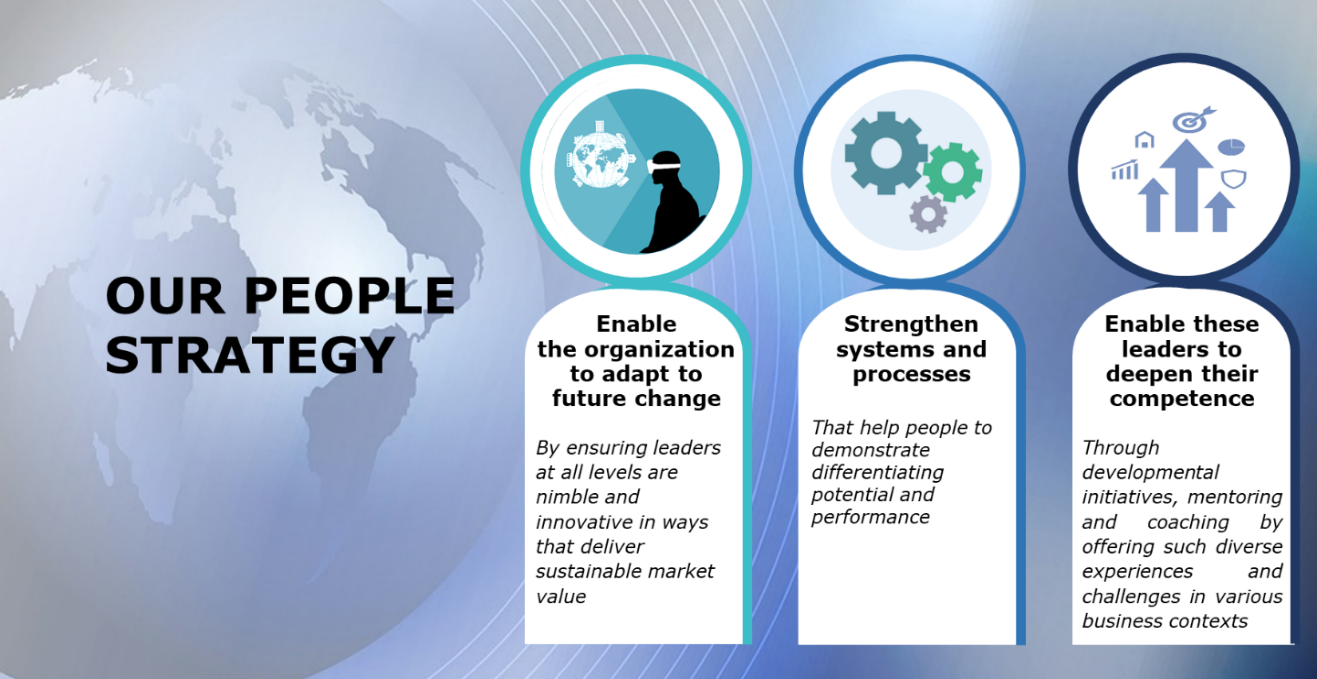 Passionate global employees with multi-cultural backgrounds, different mindsets and languages provide us with the intellectual diversity that helps in turning challenges into opportunities. To ensure sustainability, we focus on meaningful investments in our employees to further develop their skills, knowledge and experiences.
We live by our values which means creating a valuable workplace proposition. With 15,922 colleagues from 74 nationalities, we are a living entity working together in 31 countries to build trust, learn and grow in addition to delivering.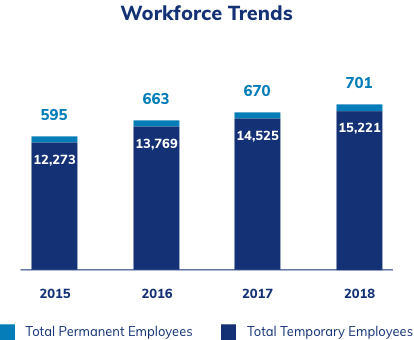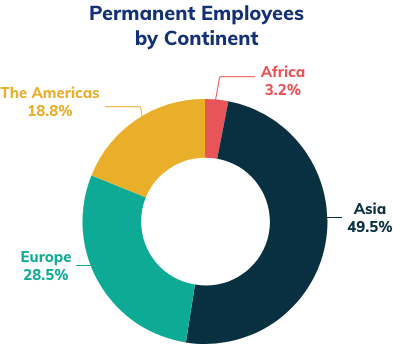 diversity and inclusion efforts are focused on leading and managing inclusively - embracing different cultures, ethnicities, genders and sexual orientations; creating a work environment that fosters growth and advancement and engaging with our audiences in a way that reflects and respects their unique perspectives and experiences. We provide equal opportunity in recruitment, career development, promotion, training and rewards for all employees, including those with disabilities. Where possible, we make reasonable adjustments in job designs and provide appropriate training for employees who have disabilities.

Diversity and Inclusion Report 2018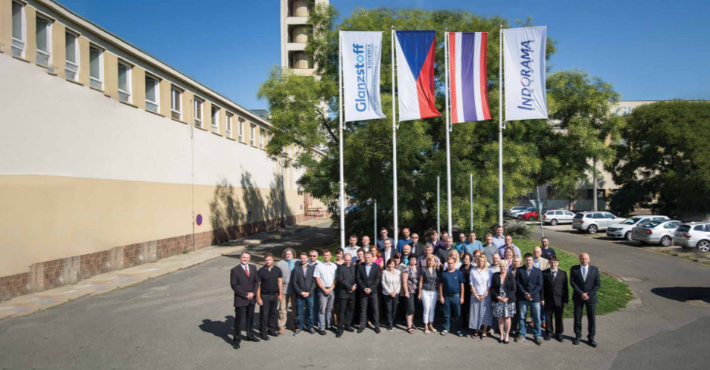 At Indorama Ventures, learning takes place every day with an effort towards enabling capability and talent development. The focus is on experiential learnings associated with career conversations, stretch roles, discreet rotations/shadowing and cohort-based leadership development programs. We created multiple forums, channels, and e-Learning platforms to facilitate experiential learnings.
We invested USD 173.60 per employee in a range of learning themes: Environment, health, safety, quality, function, technical, communication skills and leadership development. Blended-learning was a priority area and was provided in learning formats such as classrooms, e-learning, seminars, site visits, and peer learning.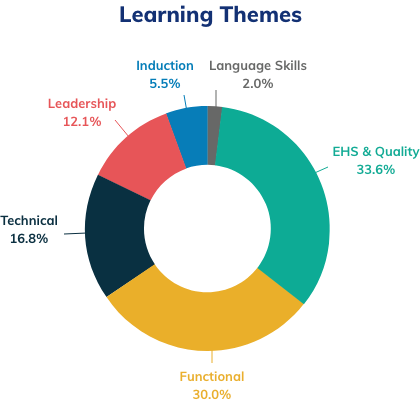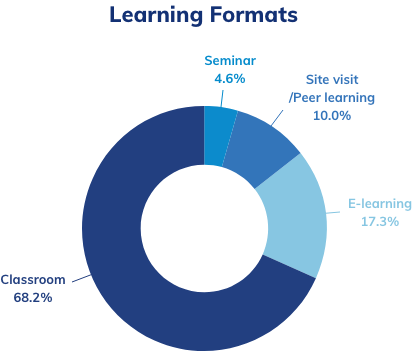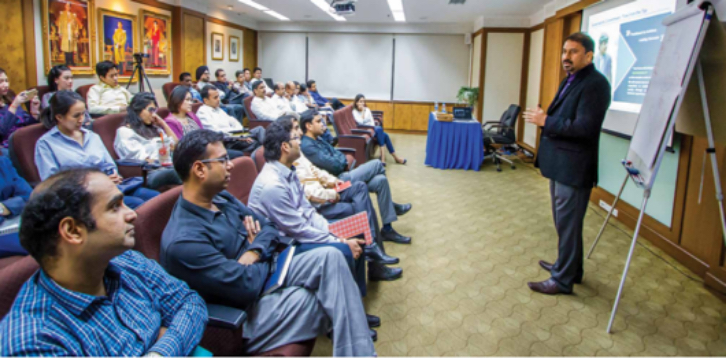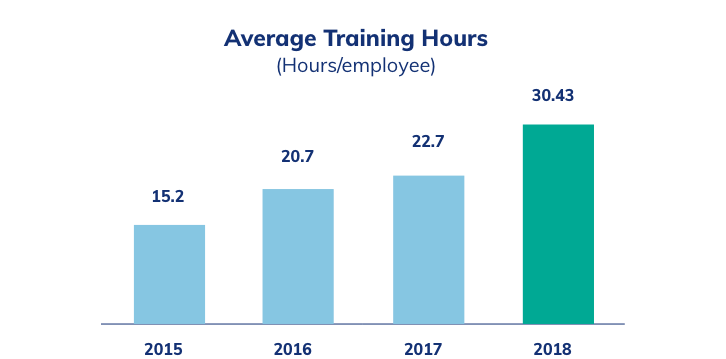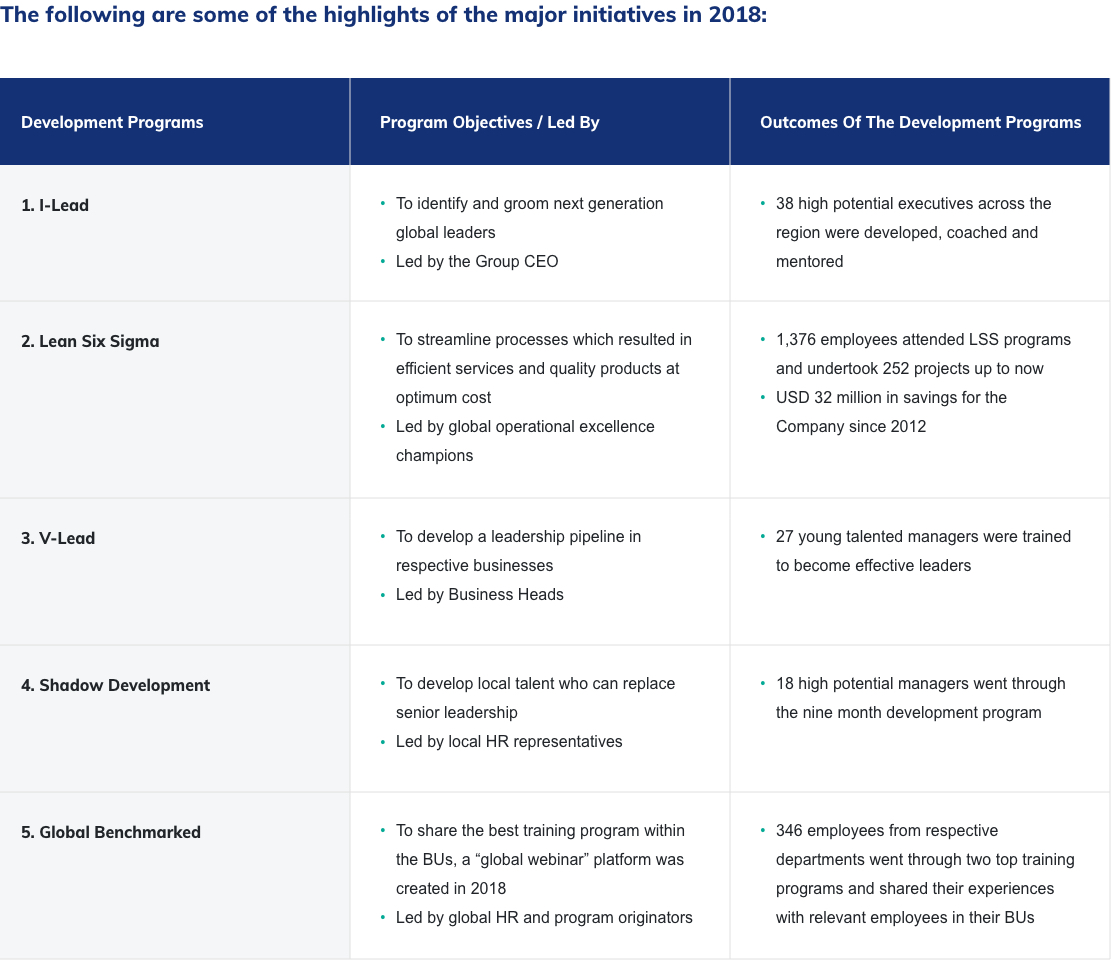 We put our talent analytics at center stage throughout the employee lifecycle. With the insights gathered from strategy meet sessions by the senior leadership team, Global Employee Engagement Survey, and focused group discussions, we calibrate the employee lifecycle processes underpinned by data analytics to attract and retain talent.
Looking back on 2015 which was the launch for our first Global Employee Engagement (GEE) Survey, the headways we made in our employee engagement journey till now is impressive. The Global Employee Engagement (GEE) survey is proving to be an effective tool in listening to every single employee and understanding what matters most to them. The year-on-year improvements both in terms of employee participation and engagement scores has been significant. The GEE for year 2018 was conducted in 19 languages.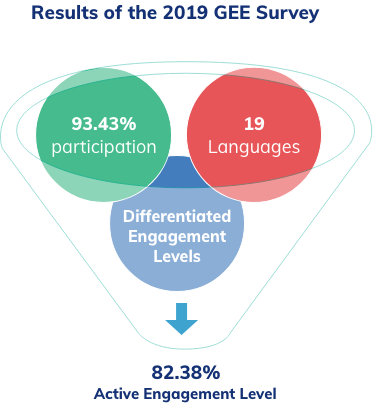 2018 Target:
Better than or equal the employee engagement score to previous year
2018 Achievement:
Employee engagement score = 3.85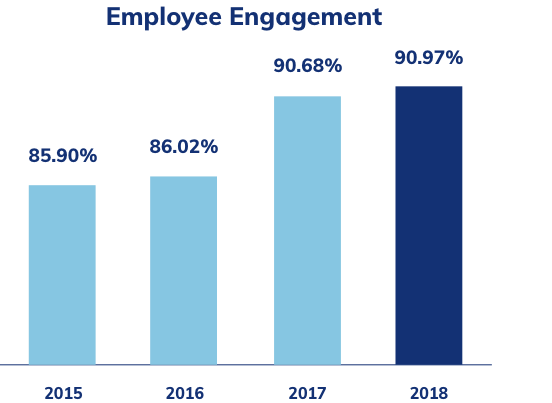 Some of the major initiatives and examples that enabled our retention of talent are noted below:
1. Global Collaborative Platform
Setting up the Global Collaborative Platform to share the best retention interventions prevailing across BUs was a major enabler in understanding the retention levers in different regions / countries.
2. Career Growth Opportunities
For BUs in the EU and US, a retirement plan is carried out to program retirements in the upcoming years. In such cases, the department and employee have an opportunity to react in time to make a planned succession. The intern / Co-op program ensures a sufficient talent pool at the bottom of the pyramid.
3. Work Environment
In some of the BUs, factor analysis revealed a high correlation with safety related aspects. To address this, these units embarked on Behavior-Based Safety (BBS) training which is given to all concerned employees, including from contractors.
The increase in the overall engagement score attributes to engagement interventions underpinned by data analytics that combines multiple parameters like tenure, gender, and age. We promote the disclosure of any misconduct or views about our processes and practices. In addition to local channels, an email address is given on our website for employees to report potential breaches of Indorama Ventures' Values and Code of Conduct. The Ethics Council takes immediate action on these cases by maintaining the confidentiality of the whistleblower, and at the same time reporting on such disclosures to the Nomination, Compensation & Corporate Governance (NCCG) Committee, which consists of Independent Board of Directors.
Some of the initiatives taken to sustain and improve employee engagement are noted below:
1. Project "Fresh Eyes"
Under the regional leadership team, the site heads take a holistic view of issues starting with the gap in EBITDA and systematically work through the causes using the Define, Measure, Analyze, Improve, Control (DMAIC) approach to solving problems. This team visits each site to learn best practices, challenge the culture, and solve problems. The expectation is that the team will collaboratively develop an excellence action plan.
2. Project: What makes a manager
Units with low engagement scores on people manager capabilities started by improving leadership skills, especially of front-line leaders, by understanding the characteristics of higher performance teams. An emphasis is placed on making these front-line leaders conscious of the different aspects of high performing teams such as communication across different levels of the organization, tools to build trust, commitment, respect within the team, the importance of why-how to gain alignment and motivate your team, and the importance of discipline and personal accountability.
3. Award for Excellence
The Award for Excellence inspires our employees to challenge all boundaries and produce outstanding results. Started in 2017, this award is based on stellar performance across 10 criteria which are based on Financial Performance, Operational Performance and Sustainability Criteria Performance. The best BUs are identified by benchmarking the performance across these criteria, and are awarded at the Global Strategy Meet.

Launch of global platform in 2019 to learn and adopt the best retention interventions prevailing across all business units was a major enabler to understand the levers of retention. This approach has reinforced our focus and imperatives to retain our talent in a sustainable way.

We strongly believe in respecting all human rights and in abiding by the United Nations Universal Declaration of Human Rights and the International Labor Organization (ILO)'s Declaration on Fundamental Principles and Rights at Work. Our Human Rights Policy reflects the rights of all stakeholders.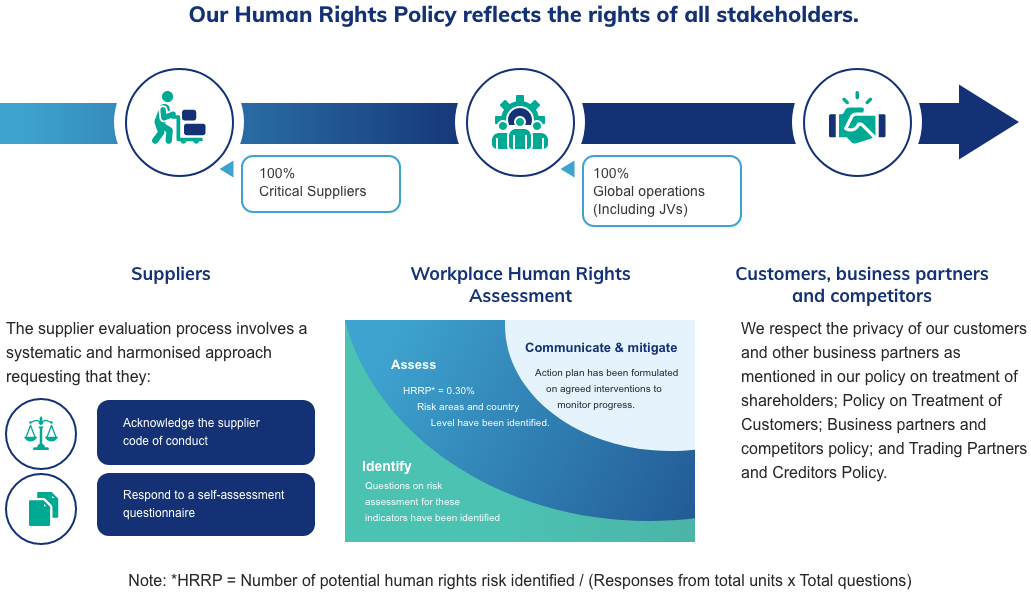 Workplace Human Rights Assessment
The United Nations Global Compact, a policy platform and a practical framework for companies that are committed to sustainability and responsible business practices, remains the guiding force for IVL's Workplace Human Rights Assessment (WHRA) framework. Our WHRA framework includes four different levels: corporate, country, site and product. It covers following stakeholders for our operations including joint ventures:
Own employees
Children
Indigenous people
Migrant labor
Third-party contracted labor
Local communities
We started a yearly global survey in 2015 on Human Rights and continue to work on action plans to mitigate perceived risks. Our respective units have taken the initiative of getting SA8000 certification or its equivalent to ensure there are no human rights violations across our organization.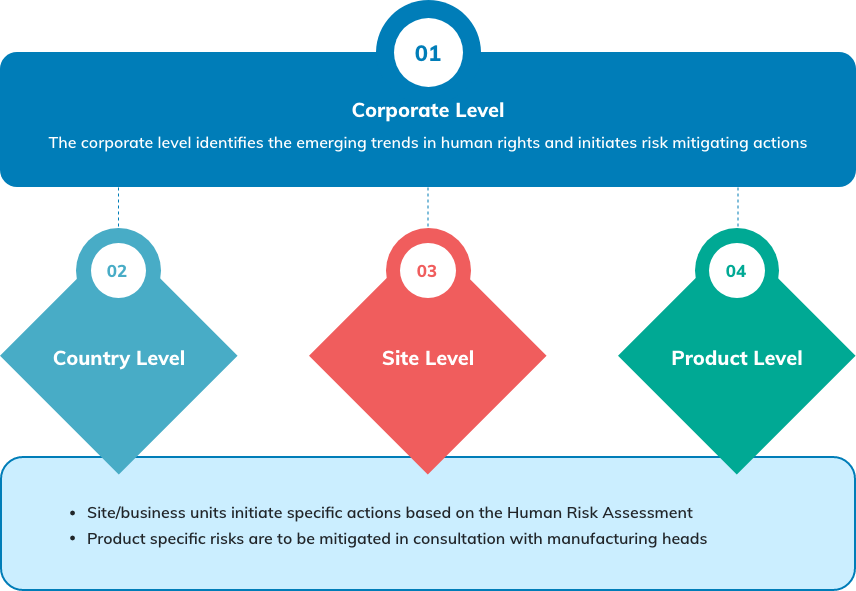 The WHRA framework embodies a three-stage assessment process called IACM – Identify, Assess, Communicate and Mitigate. The WHRA online survey tool, which IVL started using in 2016, continues to play pivotal role in this three-stage assessment process. It also encompasses five vulnerable groups within IVL's operations including joint ventures: national minorities; people with disabilities; senior citizens; people with HIV; and the LGBT community.
The outcome of this assessment process for 2018 is as follows:

Major areas of improvement and mitigating actions were identified: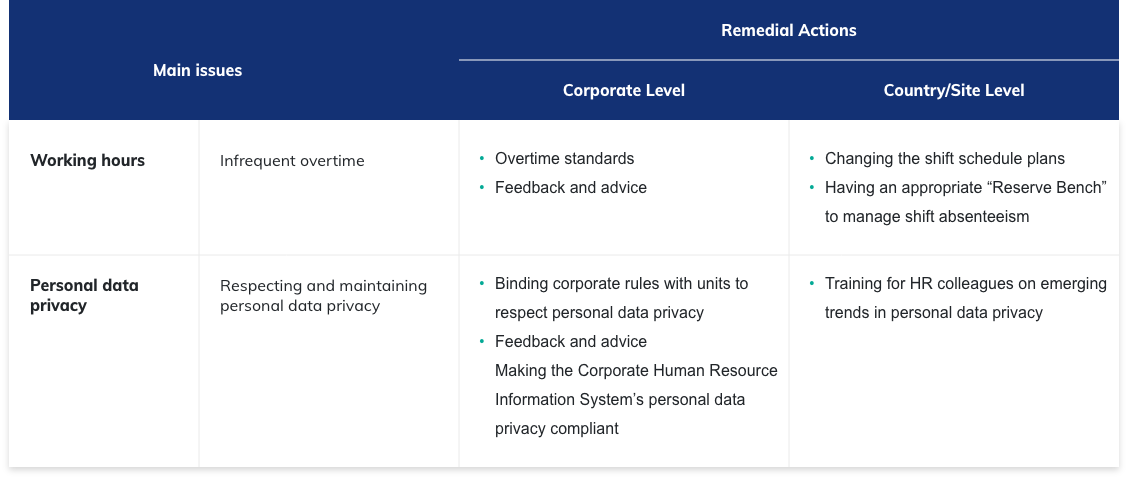 Major areas of improvement
No risks were observed for the five vulnerable groups. We will continue with our three-stage assessment approach to ensure that any assessment needs are evaluated on a regular basis taking into account Indorama's unique risk profile and operating context.

Suppliers
We work with suppliers, customers and business partners to include human rights protections in our supply chain by assessing and identifying any potential and actual human rights issues and concerns. Our engagement is demonstrated through our Sustainability Commitment and managed through our Supplier Code of Conduct, Supplier Self-Assessment, Human Rights Policy and applicable national laws. Actions to manage and address any human rights risks and impacts in the supply chain are overseen and carried out through dialogue and collaboration with relevant suppliers, including contractors.
In 2018, all new suppliers were assessed using ESG criteria including human rights and no supplier was identified as having negative environmental, social and governance related impacts. There were no operations and key raw materials and non-raw material suppliers at risk or incidents of child, forced and compulsory labor.
Customers, business partners and competitors
We respect the human rights of our customers, business partners, shareholders, competitors, and creditors in all of the countries where we have operations and largely control outcomes. This also extends to human rights impacts connected to products and services.
We respect the privacy of our customers and other business partners as mentioned in our Stakeholders Policies (Policy on Treatment of Shareholders, Policy on Treatment of Customers, Business Partners and Competitors Policy, and Trading Partners and Creditor Policy).
Any customer, business partner or other party with concerns regarding the human rights impacts of our activities may utilize the channels established in accordance with our Whistleblower Policy.