Workplace Human Rights Assessment
The United Nations Global Compact, a policy platform and a practical framework for companies that are committed to sustainability and responsible business practices, remains the guiding force for IVL's Workplace Human Rights Assessment (WHRA) framework. Our WHRA framework includes four different levels: corporate, country, site and product. It covers following stakeholders for our operations including joint ventures:
Own employees
Children
Indigenous people
Migrant labor
Third-party contracted labor
Local communities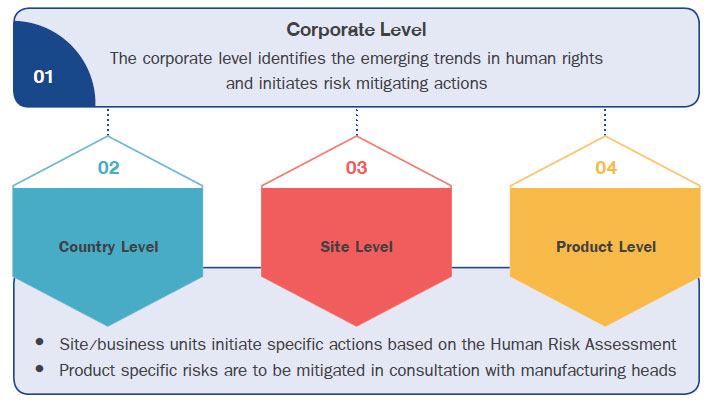 The WHRA framework embodies a three-stage assessment process called IACM – Identify, Assess, Communicate and Mitigate. The WHRA online survey tool, which IVL started using in 2016, continues to play pivotal role in this three-stage assessment process. It also encompasses five vulnerable groups within IVL's operations including joint ventures: national minorities; people with disabilities; senior citizens; people with HIV; and the LGBT community.
The outcome of this assessment process for 2018 is as follows: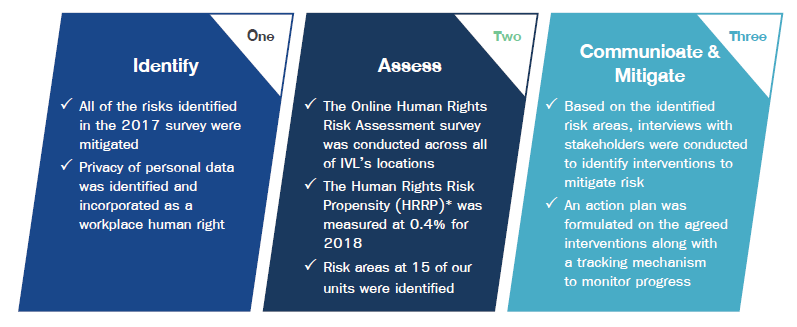 Major areas of improvement and mitigating actions were identified:
Main issues
Remedial Actions
Corporate Level
Country/Site Level
Working hours
Infrequent overtime

Overtime standards
Feedback and advice

Changing the shift schedule plans
Having an appropriate "Reserve Bench" to manage shift absenteeism

Personal data privacy
Respecting and maintaining personal data privacy

Binding corporate rules with units to respect personal data privacy
Making the Corporate Human Resource Information System's personal data privacy compliant

Training for HR colleagues on emerging trends in personal data privacy
Major areas of improvement
No risks were observed for the five vulnerable groups. We will continue with our three-stage assessment approach to ensure that any assessment needs are evaluated on a regular basis taking into account Indorama's unique risk profile and operating context.
Human Rights protections in our supply chain
We work with suppliers, customers and business partners to include human rights protections in our supply chain by assessing and identifying any potential and actual human rights issues and concerns. Our engagement is demonstrated through our Sustainability Commitment and managed through our Supplier Code of Conduct, Supplier Self-Assessment, Human Rights Policy and applicable national laws. Actions to manage and address any human rights risks and impacts in the supply chain are overseen and carried out through dialogue and collaboration with relevant suppliers, including contractors.
Evaluation Human Rights in Supply Chain
In 2018, all new suppliers were assessed using ESG criteria including human rights and no supplier was identified as having negative environmental, social and governance related impacts. There were no operations and key raw materials and non-raw material suppliers at risk or incidents of child, forced and compulsory labor.
Customers, business partners and competitors
We respect the human rights of our customers, business partners, shareholders, competitors, and creditors in all of the countries where we have operations and largely control outcomes. This also extends to human rights impacts connected to products and services.
We respect the privacy of our customers and other business partners as mentioned in our Stakeholders Policies (Policy on Treatment of Shareholders, Policy on Treatment of Customers, Business Partners and Competitors Policy, and Trading Partners and Creditor Policy).
Any customer, business partner or other party with concerns regarding the human rights impacts of our activities may utilize the channels established in accordance with our Whistleblower Policy.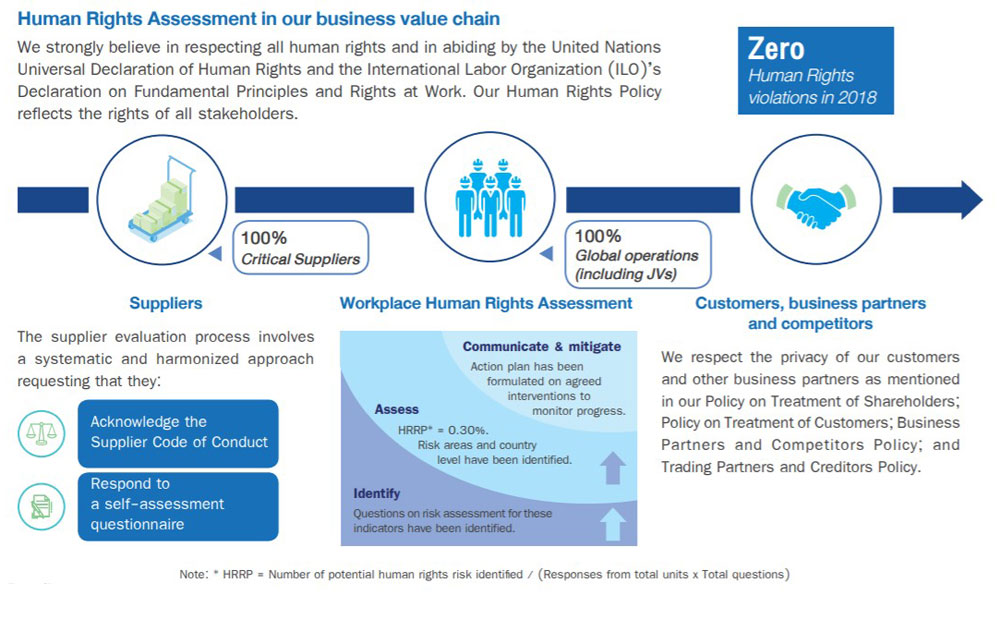 Human Capital Development
Talent Attraction and Retention