Awards
Indorama Ventures' Executive Leading Digital Transformation Recognized as "CIO50 ASEAN 2020" by IDG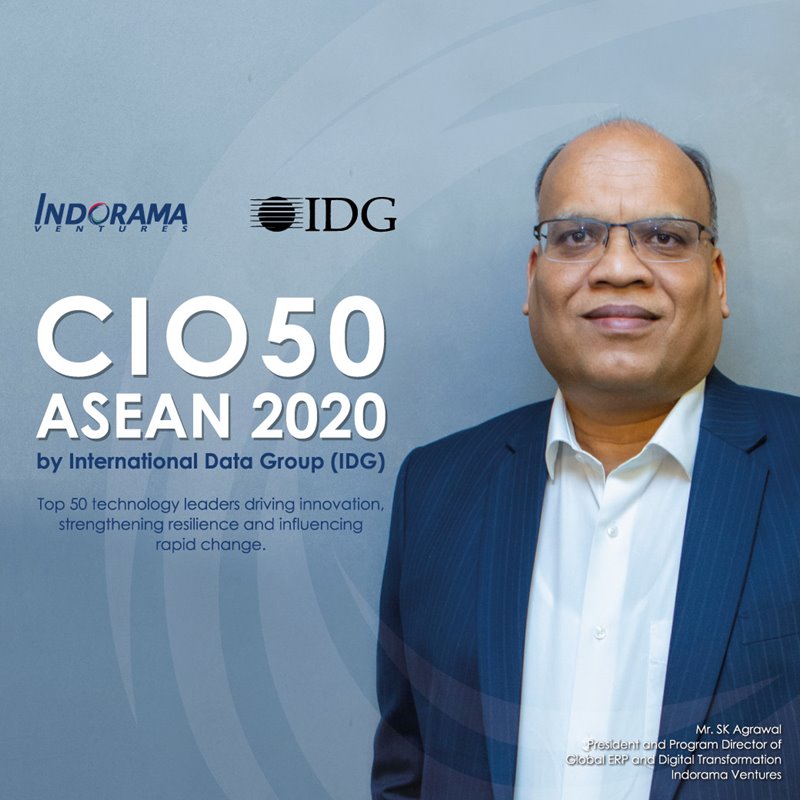 Indorama Ventures Public Company Limited (IVL), a global chemical producer, led by Mr. Shekher Kumar Agrawal, President and Program Director - Global ERP and Digital Transformation was recognized by International Data Group (IDG) by being awarded "CIO50 ASEAN 2020". IDG's CIO50 Awards recognizes the top 50 technology leaders driving innovation, strengthening resilience and influencing rapid change.
Mr. Agrawal is currently IVL's digital transformation projects leader, implementing SAP S/4 Hana, an integrated ERP, across all functions. The full implementation of the ERP will help drive organization-wide optimization, improve overall efficiency, and make IVL's businesses even more agile. The project is a part of the company's Project Olympus, a cost transformation initiative that is expected to deliver savings of approximately $350 million by 2023. The project includes deploying a global business solution throughout finance, operations, procurement, supply chain, sales, and HR functions across IVL's operating sites in 33 countries across the world.
The CIO50 ASEAN 2020 Awards were judged on the three core pillars of Innovation, Leadership and Resiliency, honoring transformational, inspirational and enduring CIOs at both in-country and regional levels within Southeast Asia. This 2020, CIO50 Award received more than 160 nominations across participating countries such as Singapore, Malaysia, Indonesia, Thailand, Philippines, Vietnam, Myanmar, and Hong Kong.
For more information about CIO50 ASEAN, please visit https://www.idg.com.au/cio50/