Awards
Indorama Ventures Awarded "2021 CIO/CDO of the Year" by IDC Thailand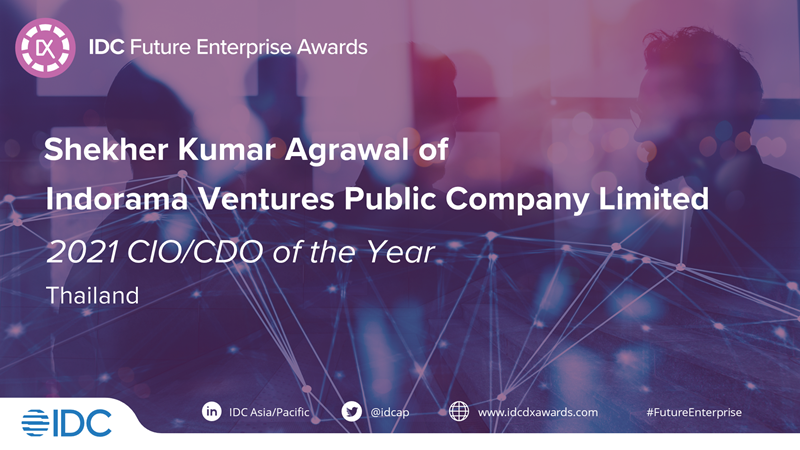 IDC Future Enterprise Awards seek out disruptive, leading-edge organizations who have successfully carried out digital transformation in the Asia-Pacific region.
Indorama Ventures Public Company Limited (IVL), a global sustainable chemical company, is pleased to be awarded "2021 CIO/CDO of the Year for Thailand" by IDC Thailand in this year's IDC Future Enterprise Awards.
IVL's digital transformation project, led by Mr. Shekher Kumar Agrawal, IVL's President and Program Director – Global ERP and Digital Transformation, was selected among more than 1,000 entries across Asia-Pacific. This initial win qualified the company as a finalist for the regional awards. IVL is integrating S/4 Hana as part of an SAP ERP implementation across all functions. The ERP will drive organization-wide efficiencies to make IVL more agile as part of the company's Olympus project cost transformation initiative, which yielded US$ 116M in efficiency gains in 1H21, on track to our 2021 target of US$ 287 million. The project is being deployed across finance, operations, procurement, supply chain, sales and human resources functions at IVL's 124 sites in 33 countries across the world.
International Data Corporation (IDC) provides market intelligence for the information technology, telecommunications, and consumer technology industries. IDC's Future Enterprise Awards recognizes outstanding organizations that have made critical breakthroughs in digital transformation across the Asia Pacific region, spread across seven different categories.
Shekher Kumar Agrawal, President and Program Director – Global ERP and Digital Transformation at Indorama Ventures, said, "I am honored to accept this award for Indorama Ventures. It is an affirmation of IVL's digital transformation journey and the resilience, endurance and dynamism demonstrated by our teams in the pursuit of digital excellence. This project is important for the execution of our growth strategy and to prepare IVL as a 'future-ready' organization with best-in-class processes and technologies to propel our company to a new level of global excellence."
Anchalee Sudechawongsakul, Senior Market Analyst at IDC Thailand, said, "IDC Future Enterprise Award for CIO of the Year recognizes role models, such as Shekher Kumar Agrawal, who play a leadership role in executing digital transformation in an organization. IVL understood the need for a common growth platform called 'One IVL' to drive value. The company embarked on a global transformation to transition from old to new tech to boost operational efficiencies, customer experience and employee experience."
IDC's Future Enterprise Awards follows a two-phased approach to determine the country and regional winners. Each nomination is evaluated by a local and regional IDC analyst against a standard assessment framework based on IDC's DX taxonomy. All country winners will qualify for the regional competition, which will be decided by a regional panel of judges comprised of IDC Worldwide analysts, industry thought leaders, and academia.
Regional winners will be announced at the end of the IDC DX Summit Singapore on 27th October and 28th October in IDC Arena. For more information about the award, visit www.idcdxawards.com.