Awards
Indorama Ventures' Group CEO recognized among Top 40 Power Players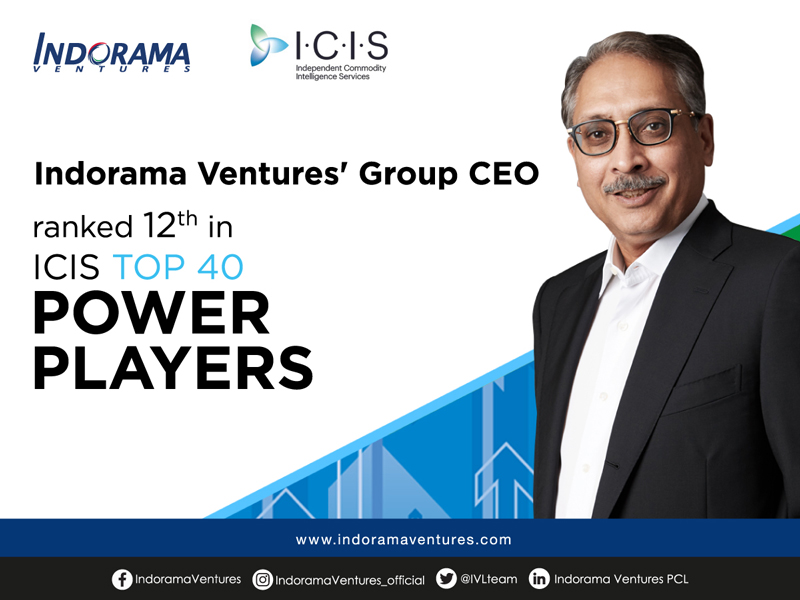 Bangkok, Thailand – 20 January 2022 – The Group CEO of Indorama Ventures Public Company Limited (IVL), a global sustainable chemical company, has been ranked 12th in the Top 40 Power Players 2022 list announced by the leading chemical market information provider, Independent Commodity Intelligence Services (ICIS). The ranking consists of global CEOs and senior executives who are making the greatest positive impact on their companies and the chemical industry.
This recognition recognises Aloke Lohia's distinction in leading IVL towards a more sustainable and purposeful future. He is spearheading IVL's efforts to meet its sustainability objectives, including strengthening its circular economy and PET recycling initiatives. The company pledged $1.5 billion in investments to meet green targets, including a commitment to increase its global PET recycling capacity to 750,000 tons per year by 2025.
In 2021, IVL announced it is building a facility in Karawang, Indonesia, to recycle almost 2 billion plastic bottles a year in support of the government's plan to reduce ocean debris. The company also completed a new PNDA unit in Decatur, Alabama, USA, making it the world's largest producer. IVL also agreed to acquire Brazil-based Oxiteno, a leading integrated surfactant producer.
The Top 40 Power Players list ranks leaders who demonstrate excellence and vision in the areas of ESG (Environmental, Social, and Governance), innovation, M&A/portfolio management, projects, and profitability/shareholder value. The ICIS also revealed that ESG and sustainability have increasingly played more vital roles in this year's ranking as they are clearly key components for future growth.
For more information, please visit https://bit.ly/3nxKSeU