Press Release
Indorama Ventures joins forces with SEAMEO SEPS to expand "Waste Hero Education" lesson plans in Southeast Asia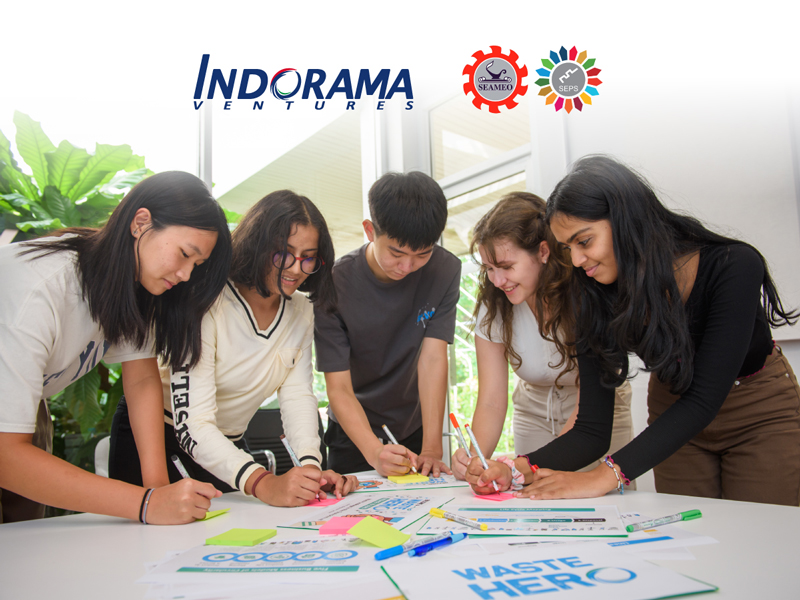 Bangkok, Thailand – July 5, 2023 – Indorama Ventures Public Company Limited, a global sustainable chemical company, has partnered with the Southeast Asian Ministers of Education Organization Regional Centre for Sufficiency Economy Philosophy for Sustainability (SEAMEO SEPS) to drive waste management and recycling education in schools across Southeast Asia.
The collaboration aims to create practical ideas in fostering the circular economy and delivering the "Waste Hero" teaching resources, which consists of 19 free activity-based lessons and workshops suitable for kindergarten to university level, in four countries: The Philippines, Indonesia, Cambodia, and Vietnam. Participating schools will receive editable and printable lesson plans and classroom handouts which are available for free download. By 2023, the initiative seeks to engage at least 100 teachers and 10,000 students from at least 10 institutions within the SEAMEO schools and educational institutions network across these four countries.
Indorama Ventures and SEAMEO SEPS will play a vital role in raising awareness on the Waste Hero educational materials among participating educators and students, training educators to apply these materials in their classroom activities, and organizing competitions for educators to exchange ideas and best practices in teaching Waste Hero and circular economy. The partnership aims to form strong collaboration and engagement with Ministry of Education officials, school administrators, teachers, students, and environmental specialists across Southeast Asia.
The Waste Hero education program has been co-created by Indorama Ventures and Yunus Thailand. An Educational Advisory Group of 23 teachers, academics, educators and zero waste specialists from 17 countries helped guide the creation of the customizable 19 lesson plans and activity worksheets. There are 3 main pillars: Recycling Fundamentals - Creating Zero Waste - Building the Circular Economy. Waste Hero education is offered globally with the aim to educate one million young people by 2030.
Mrs. Suchitra Lohia, Deputy Group CEO and Chairperson of Corporate Social Responsibility at Indorama Ventures, said "We are proud to be partnering with SEAMEO SEPS on this impactful project, reinforcing our shared commitment to promote recycling and environmental awareness in Southeast Asia. As the world's largest PET resin producer and recycler, the Waste Hero program is a vital tool in empowering future generations with the knowledge and skills to reduce, sort, and dispose of waste effectively, thereby driving positive change and paving the way for a more sustainable future."
Ms. Duriya Amatavivat, Centre Director of SEAMEO SEPS, added "The Sufficiency Economy philosophy teaches us to avoid overconsumption and not to be wasteful, aligning with the principles of proper waste management and by extension recycling education. This collaboration with Indorama Ventures allows us to further instill this philosophy among young Southeast Asians through innovative educational resources and foster responsible global citizenship that can contribute towards building a sustainable future."