COVID-19 Contributions
Indorama Ventures Europe Donates 85,000 EUR for COVID-19 Research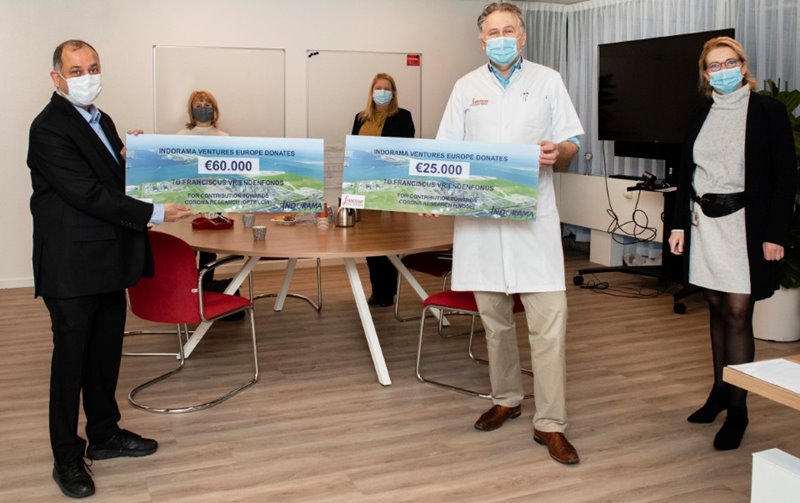 At the beginning of 2021, Indorama Ventures Europe B.V. has made a donation of 85,000 EUR to Franciscus Gasthuis & Vlietland Hospital in Rotterdam, the Netherlands. With this donation, two ongoing research studies at the hospital relating to Corona viruses are supported.
25,000 EUR will be used to fund the electronic nose (eNose), equipment already used in the research of asthma, COPD, lung cancer and now also for the detection of COVID-19. The eNose research supports an accurate diagnosis of infection in conjunction with pre-existing devices and online analysis platforms, this is hoped to be used at large scale public areas such as airports or shopping malls to detect COVID-19.
The check was presented by Sunil Baldi, Regional CFO - Indorama Ventures, to chairman of the board Marjolein Tasche and pulmonologist Dr. Hans in 't Veen.
60,000 EUR will go towards the development of Optiflow, a High Flow Nasal Cannula (HFNC) oxygen delivery device that may make it possible to deliver respiratory support to patients suffering from COVID-19 treatment. Higher levels of oxygen is believed to have a positive effect on the disease process and recovery period of patients, at the moment it is being investigated to be scientifically proven.
Indorama Ventures is proud to support research studies to help the progress of patient treatments during this pandemic, we believe in the continuous development of knowledge both in our business and for our communities.