CSR Activities
Local Recycling Initiatives
IVL organizes training on sustainable waste management in coordination with King Mongkut's Institute of Technology Ladkrabang
14 December 2021
Indorama Ventures organized a training session to provide information on sustainable plastic waste management to teachers and officers at King Mongkut's Institute of Technology Ladkrabang. During the training, IVL discussed and exchanged opinions on the waste management of various organizations, mentioning problems, obstacles, solutions, encouraging actions, and promoting knowledge of separating waste the correct way. With this activity, we hope to reduce the amount of waste and improve the waste management system at the institute.
---
IVL and Valaya Alongkorn Rajabhat University Organized training on waste management to the community at Phra Nakhon Si Ayutthaya.
29 November 2021
The Recycling Education team from IVL was invited to Valaya Alongkorn Rajabhat University to give knowledge to the community on the topic of modern circular economy trends for participative waste management. A project to enhance the economy and society was introduced by the University and implemented at sub-district. The sessions were held at Wat Kaew School (Prachot Wittayaporn), Ban Klueng Subdistrict, Bang Sai District, Phra Nakhon Si Ayutthaya Province.
This activity aims to pass on knowledge on how to use resources for maximum benefit (ZERO WASTE) resulting in a circular economy in the community. Over 30 participants attended the training including local leaders, community members, and entrepreneurs including the faculty responsible for the area.
During the training, participants exchanged knowledge of plastic waste management and how this can help businesses such as Indorama Ventures operate sustainably. Recycling PET bottles is a simple way that can create a circular economy, and the university would like to encourage this and create understanding in the community to help them apply it in daily life. They believe sustainability following a circular economy concept is suitable for this community. The session was lead by Sayumporn Laowachirasuwan as the speaker.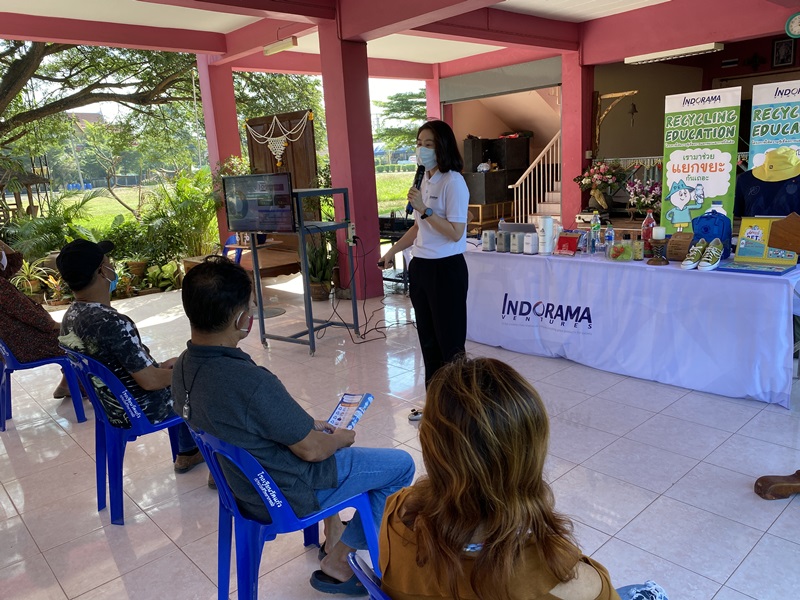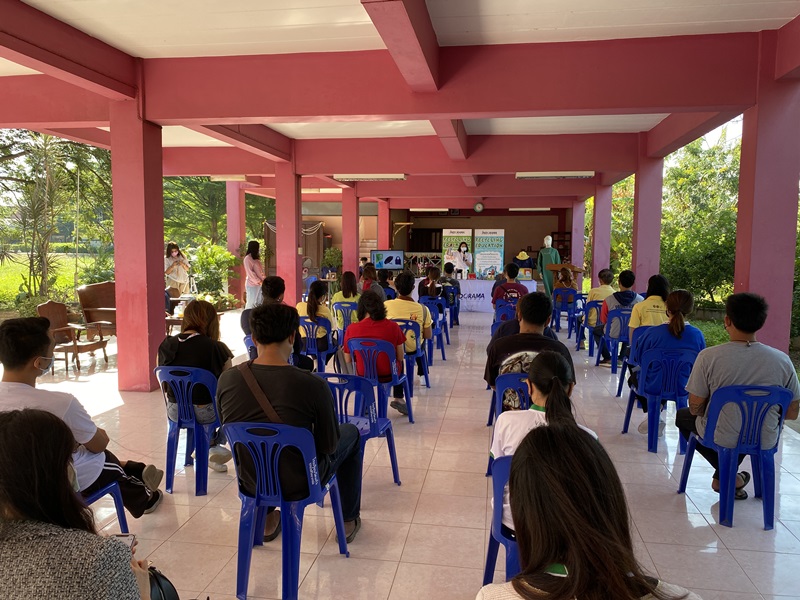 ---
IVL Organizes a Virtual Training Program on the Circular Economy for Siam University.
12 November 2021
IVL was honored to host a knowledge sharing session on the circular economy for sustainable development at Siam University. This is the second time the activity was conducted. The online training session was attended by over 300 professors and first to fourth year students from 27 faculties.
This knowledge session is aligned with the university's course 101-101 Sufficient Economies for Sustainable Development. Siam University is the first and only university in Thailand that is ranked in innovation development for a sustainable future.
As the world's largest PET manufacturer and recycler, IVL's sustainability team shared knowledge on the circular economy and the company's sustainable operations to promote efficient use of natural resources. IVL operates together with our partners and customers is designing low-carbon products to meet sustainability goals. We are developing ways to reduce carbon emissions from transportation, find ways to operate with the least impact on the environment, and recycling PET to reduce the use of resources. These objectives are aligned with the United Nations' Sustainable Development Goals (SDGs). This knowledge session aims to help students understand the circular economy concept and use it in their studies, daily life and work.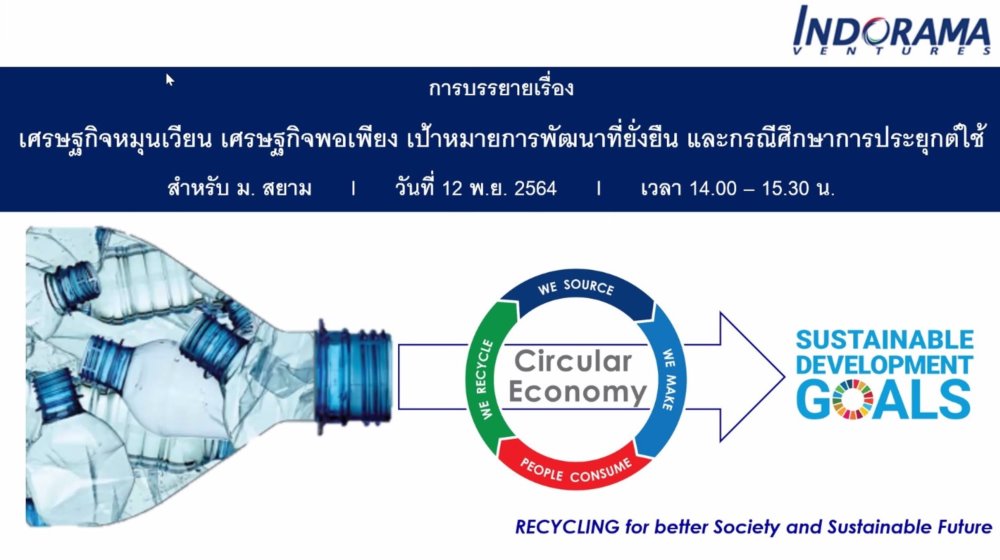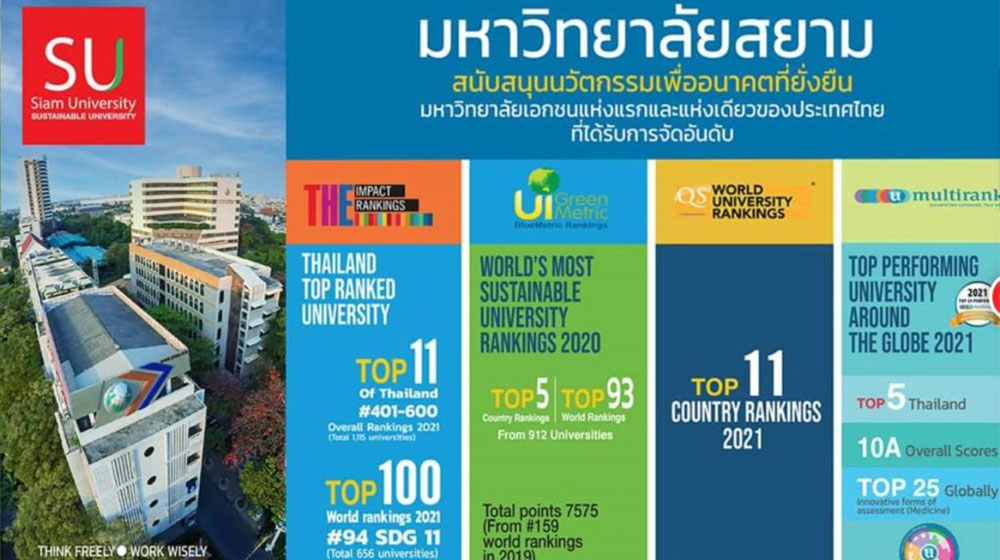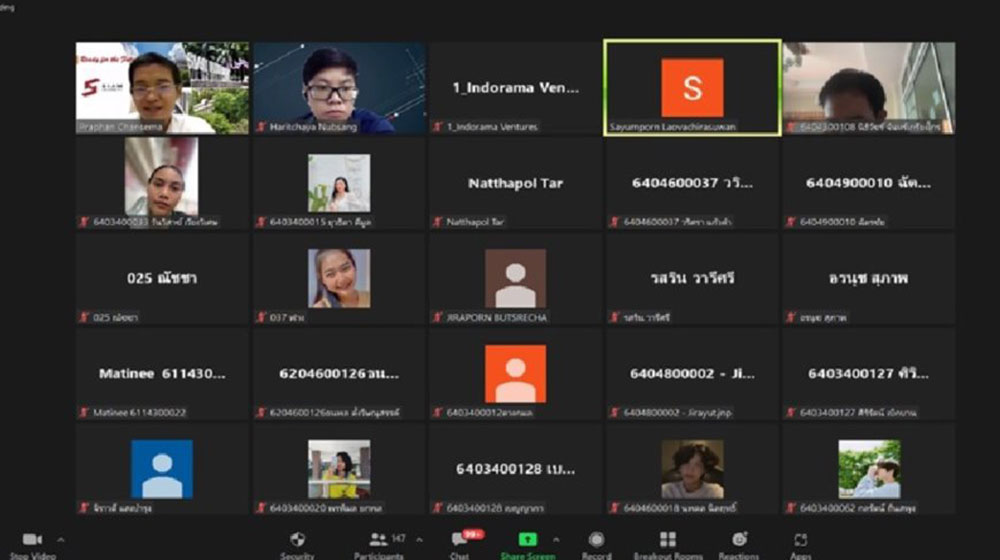 ---
Indorama Ventures Leads Knowledge Session on "Plastic and the Circular Economy" for Kasetsart University Students.
3 November 2021
The Faculty of Environment at Kasetsart University organized a virtual training program on 9 September, 1 October and 3 November 2021 to raise awareness of waste separation and encourage recycling for students. IVL's Recycling Education team conducted a session with Professor Dr. Noppawan Semwimol from the Department of Environmental Science on the topic of "Recycling Plastic Waste", and the Sustainability team gave a session on "Plastics and the Circular Economy". This is the third session of this event where Kasetsart University invited Maejo University to join, bringing 703 students from 12 faculties to join.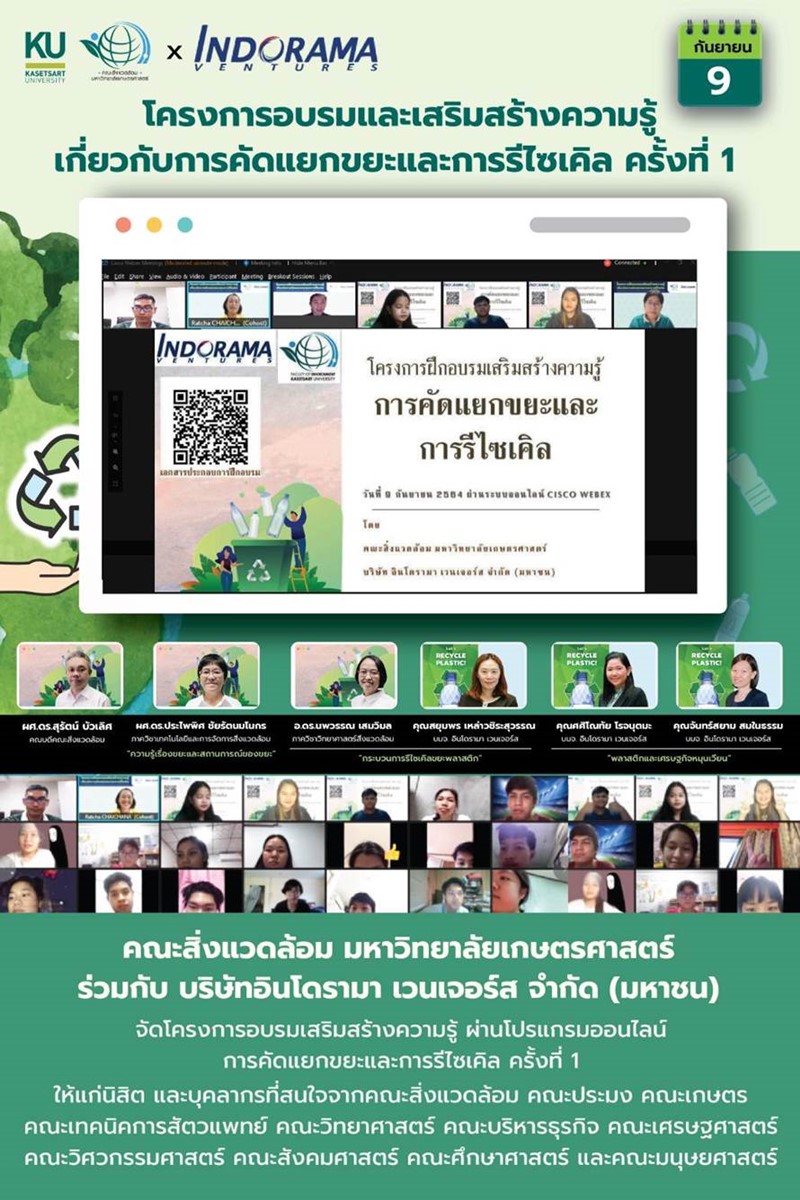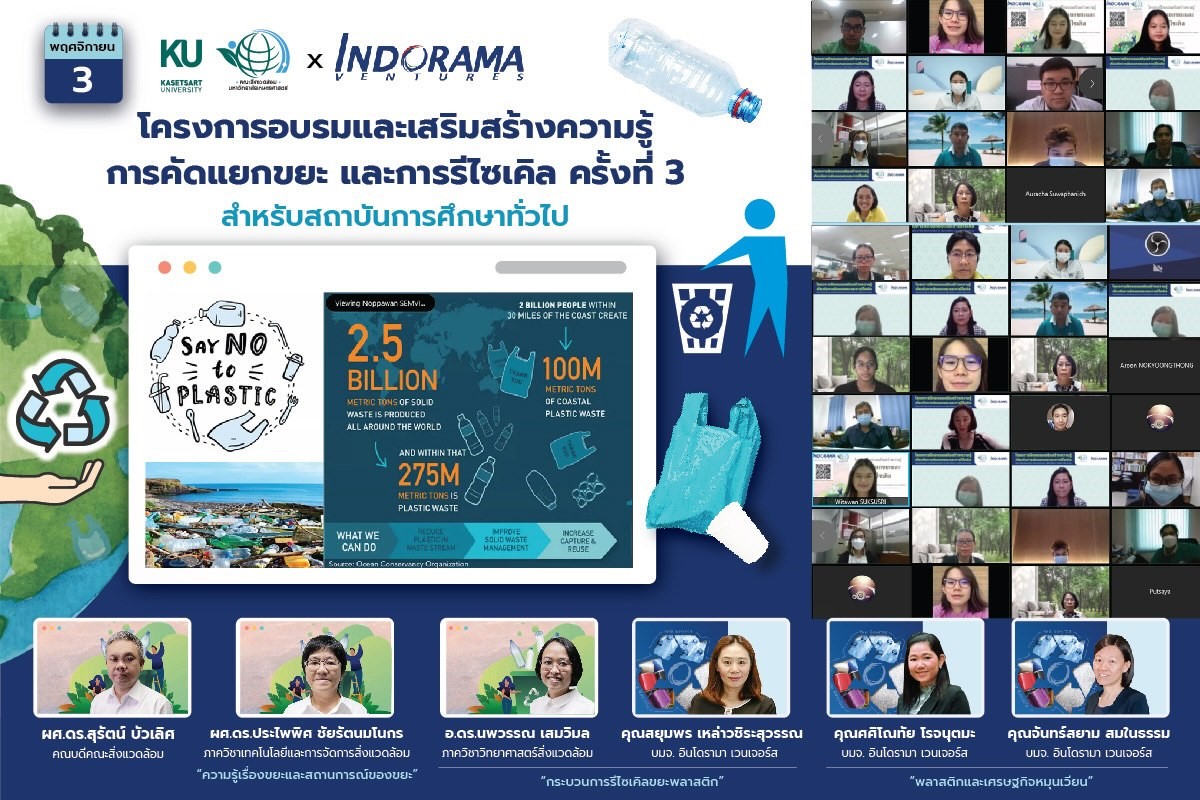 ---
Indorama Ventures partners with Kasetsart University's Office of Computer Services to Continue the KU Green Office Initiative for the Second Year
5 October 2021
IVL collaborated with the Office of Computer Services at Kasetsart University to make progress on the "KU Green Office" project, an environmentally-friendly initiative that has been continuing for two consecutive years. Proper waste management needs continuous effort, especially during the COVID-19 situation, as waste should be stored with care to ensure hygiene. The initiative aims to provide education on waste separation and recycling management by hosting online training for professors and personnel. The partnership continues following the company's support of sorting bins and KU Green Application development in the previous year to promote sustainable waste management.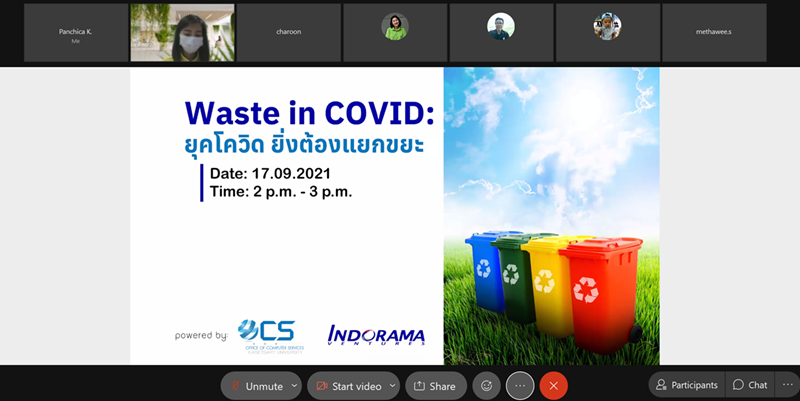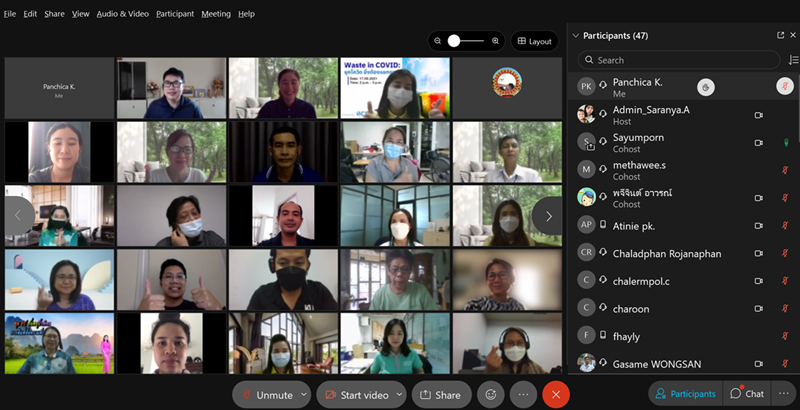 ---
Indorama Ventures Organized a Virtual Training Program on Waste Separation for Society and the Environment at for N-Health Asia.
10 September 2021
N-Health Asia invited IVL to provide a training session for their employees on the topic of "How to separate waste safely for society and the environment" for 207 participants. N Health Asia is a healthcare service provider serving many leading hospitals with more than 50 branches domestically and internationally. The company hopes to increase understanding on correct waste separation practices to reduce the impact of waste on society and our environment. N-Health Asia also arrange and activity to encourage waste separation habits by setting a target to collect 800 kg of PET bottles. These bottles will then be handed over to IVL for recycling into high quality fibers for the production of PPE suits which will be sent to their subsidiary hospitals to protect medical personnel against the spread of COVID-19.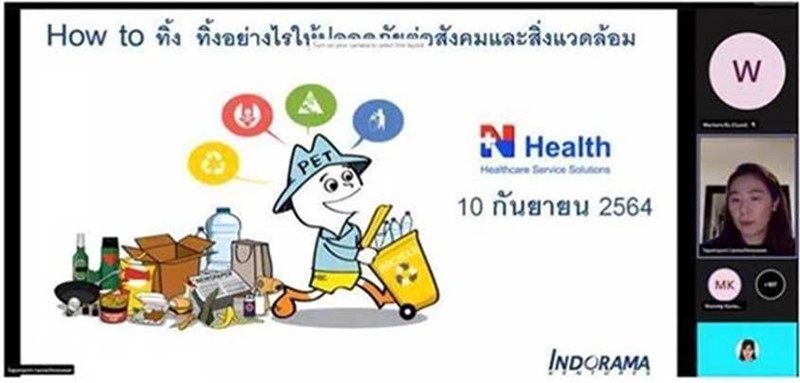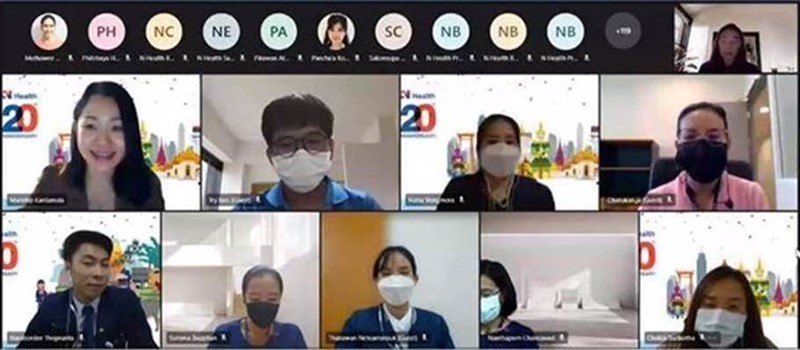 ---
IVL Provides PET Recycling Education Material to Uttaradit Vocational College.
29 March 2021
IVL supplies PET recycling education material along with samples of fabric made from recycled PET bottles to Uttaradit vocational college. The items will be used to study polymers and fibers as part of classes including textile technology, business management and science for business. The students are able to learn from real materials and understand the recycling process of PET bottles with materials from IVL. We hope that this initiative will help expand science learning experience and create correct understanding of waste separation and the recycling process of PET plastic.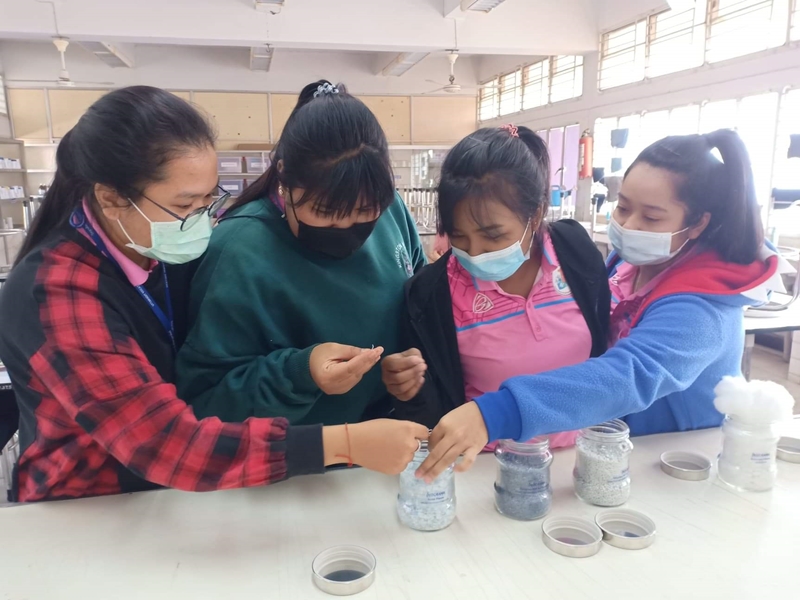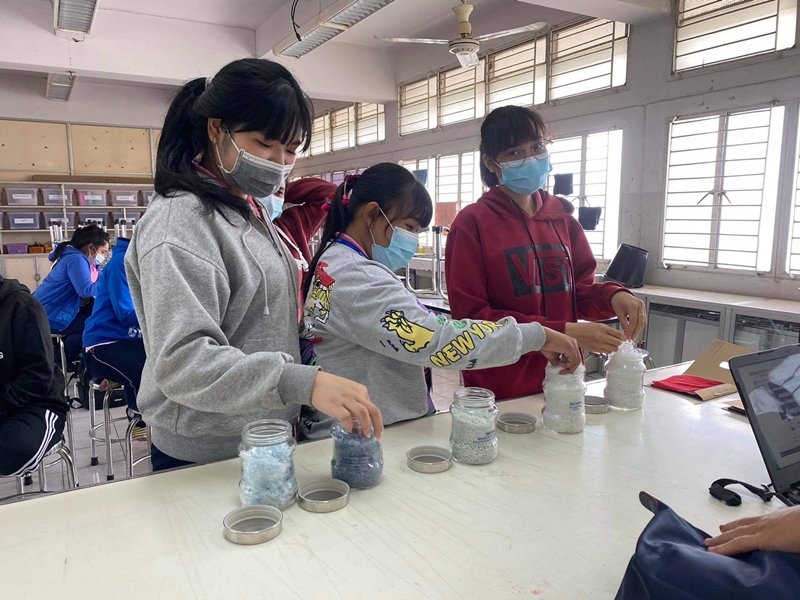 ---
IVL Joins University Recycling Program to Combat Plastic Waste.
24 March 2021
IVL joins Trash Lucky to provided training on waste separation and PET recycling for over 100 university members at the Asian Institute of Technology (AIT). The purpose of this training was to educate participants on plastic pollution problems and proper recycling methods. Trash Lucky demonstrated PET waste separation by squeezing the bottle and removing labels together with all participants. IVL shared knowledge about types of plastic and the PET recycling process, showing how effective waste management can reduce plastic waste to landfills, uses resources efficiently and follows the circular economy model.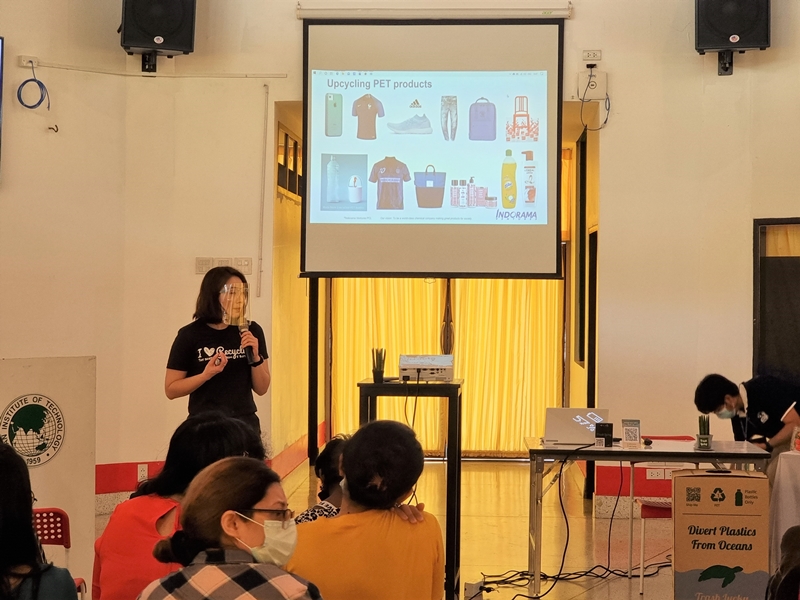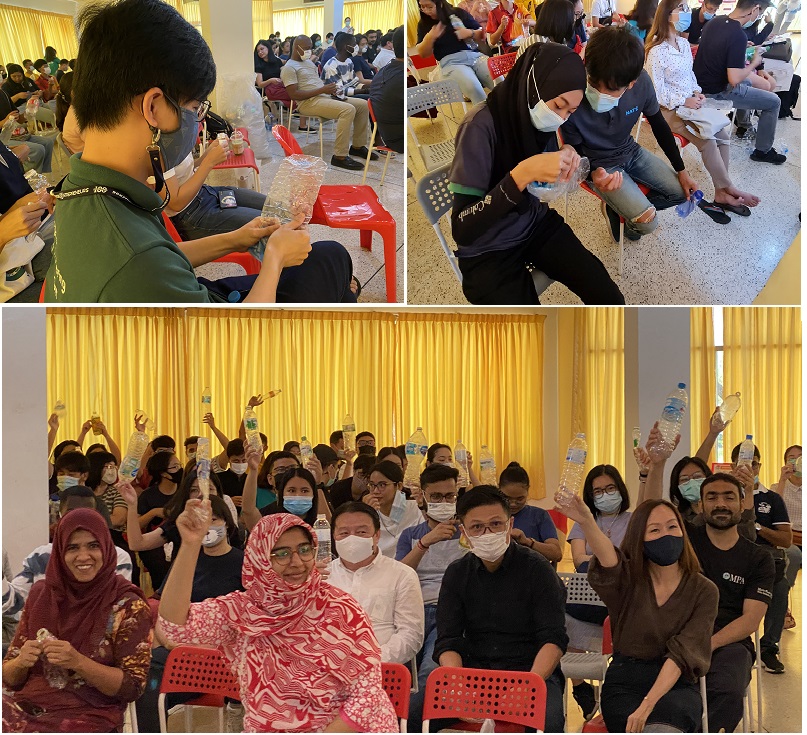 ---
Plastic and PET Recycling Training Session at Bangna District Office, Bangkok.
23 March 2021
IVL continues its education roadshow, arranging a training session on plastics and recycling PET at Bangna district office in Bangkok. The goal of the session is to promote correct understanding about plastic waste, which is currently a significant problem. We hope to encourage waste separation to bring plastics into the recycling process, reducing the amount of waste sent to landfills and support a circular economy model in the country.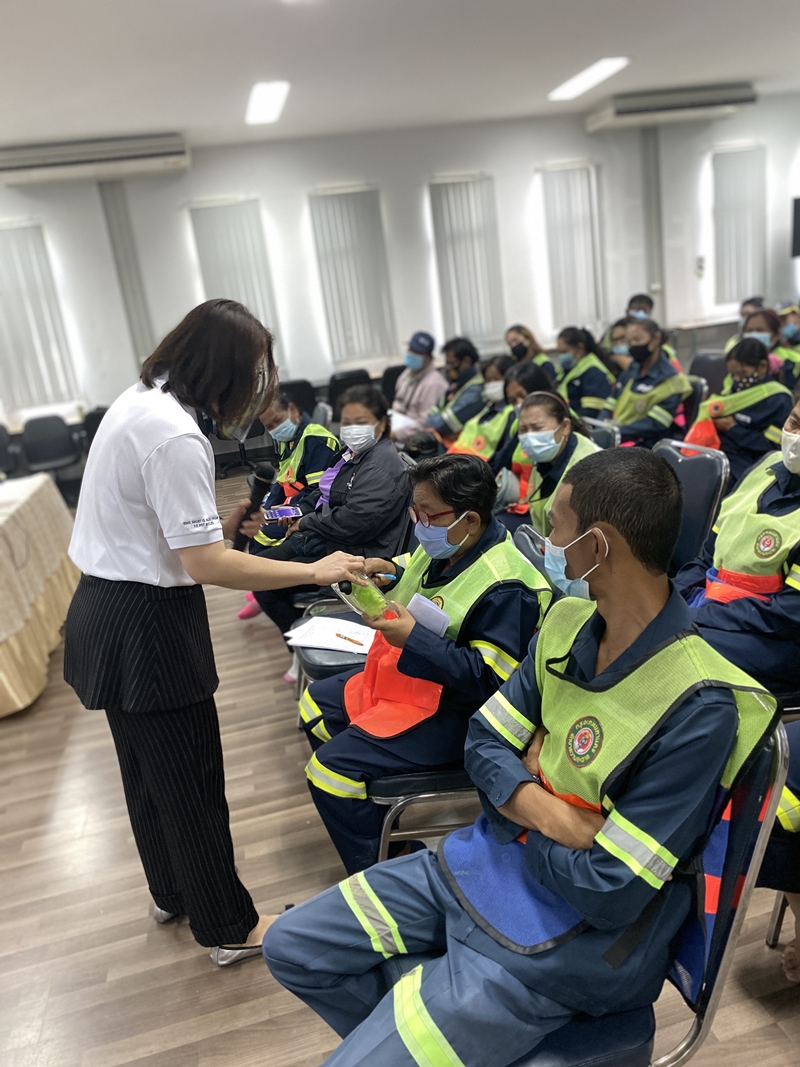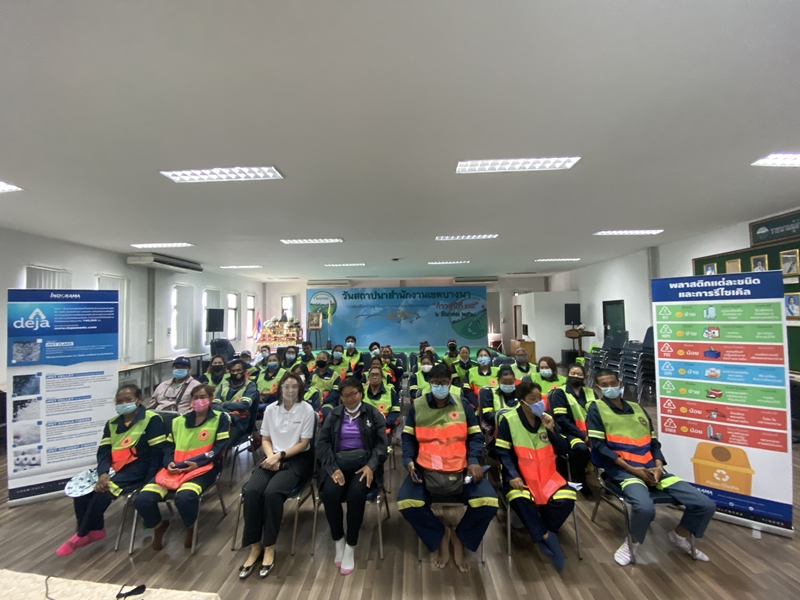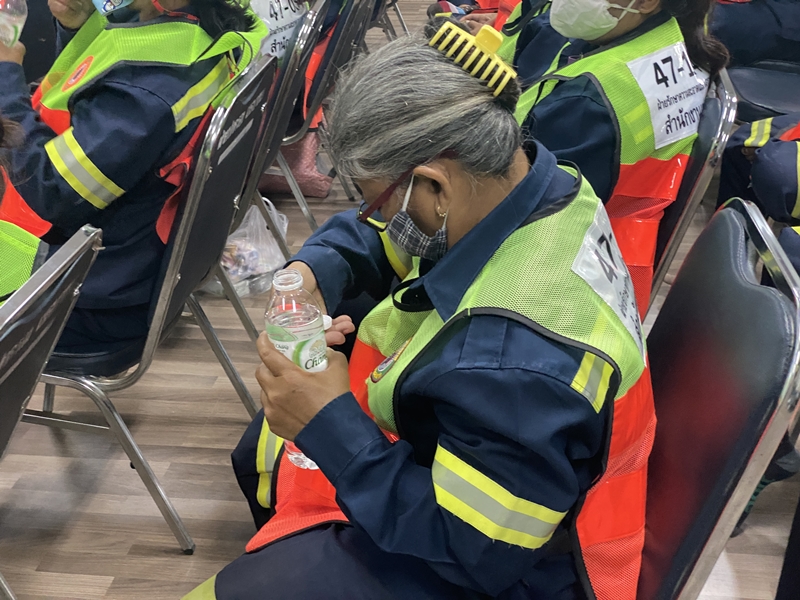 ---
IVL Supports The Residential Recycling Program.
14 March 2021
IVL collaborated with Trash Lucky to provide a public training session on waste separation and PET recycling at a village in Setthasiri Sanambinnam, Nonthaburi province. This program aims to raise awareness of the current plastic pollution problem, provide knowledge about the value of waste materials and address the importance of correct waste separation for the recycling process. We also set up community recycling bins and arranged activities to encourage residents to segregate their waste, with a chance to win gold and other lucky draw prizes.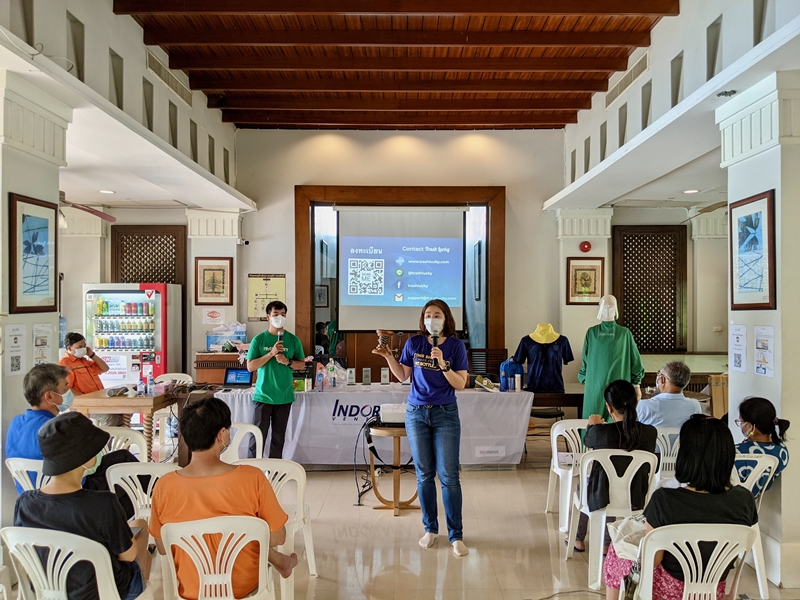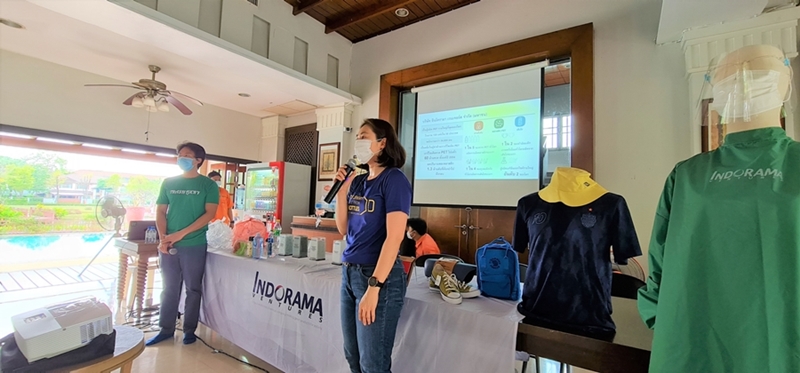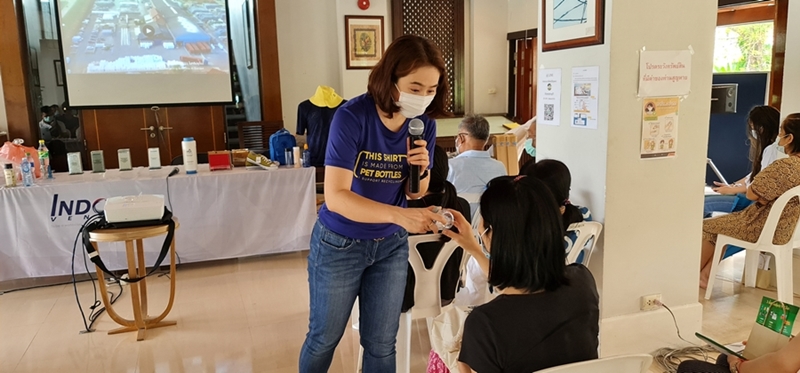 ---
Indorama Ventures was invited by Siam University to organize a knowledge session on the circular economy.
12 March 2021
Indorama Ventures was invited by Siam University to organize a knowledge session on the circular economy for professors and first year students from the faculty of engineering, business management, fine arts, information technology, communication arts, medicine, music and theatrical arts, with over 100 participants in class and online. The company also provided PET plastic recycling education kits to the university to pass on knowledge and further increase awareness of recycling PET.
IVL communicated knowledge with examples of sustainable management and conducting business following a circular economy model to help students understand the concept and take action to create a sustainable environment. This also aligns to the sufficiency economy model to emphasize efficient use of resources. Recycling plastic is one of the most responsible ways to create a circular economy by reusing, reducing use of resources, creating employment, generating income and decreasing the amount of waste to landfills.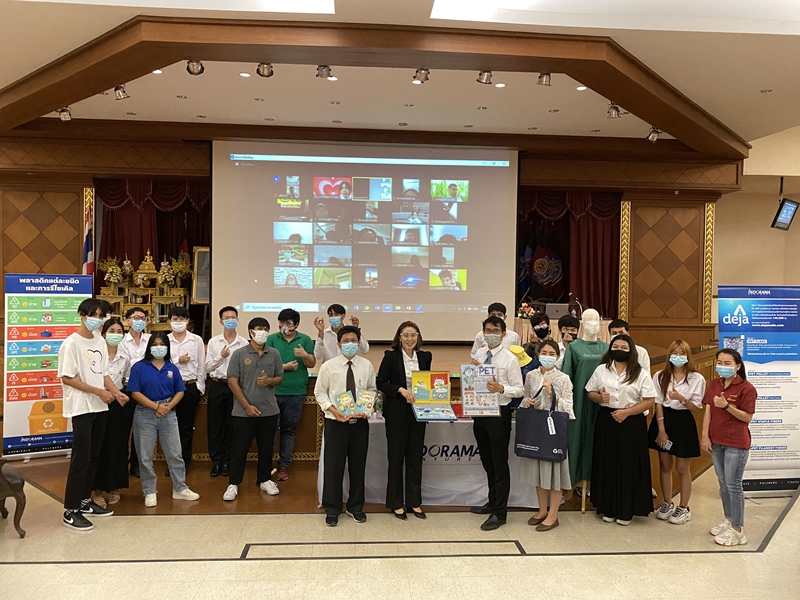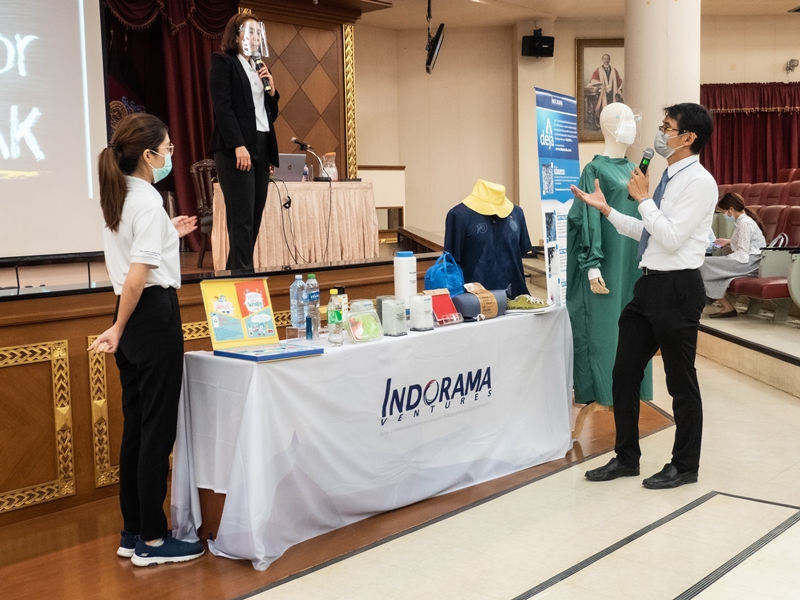 ---
IVL Organizes PET Recycling Education and Waste Separation Activity for Students at Wat Kork Yaicha Rayong Province.
10 March 2021
IVL organized a PET recycling education and waste separation activity for students at Wat Kork Yaicha Rayong province, continuing the program for the second year. We aim to encourage students to recognize the importance of waste separation for recycling and how this knowledge can be applied both at school and at home with their families. By sharing the knowledge to others, we hope to widely extend awareness and actions as IVL believes that recycling is a sustainable solution to decrease the use of natural resources and help the environment in the future. We prioritize education and knowledge with the younger generation to help them understand about recycling PET and how to protect our environment from today onwards, implementing consciousness on this issue to the next generations as well.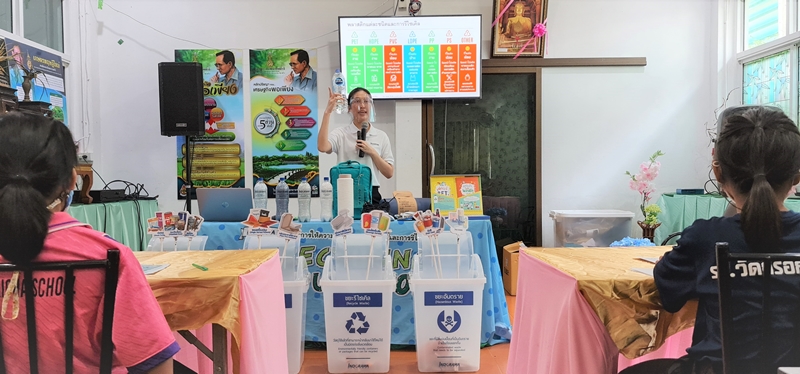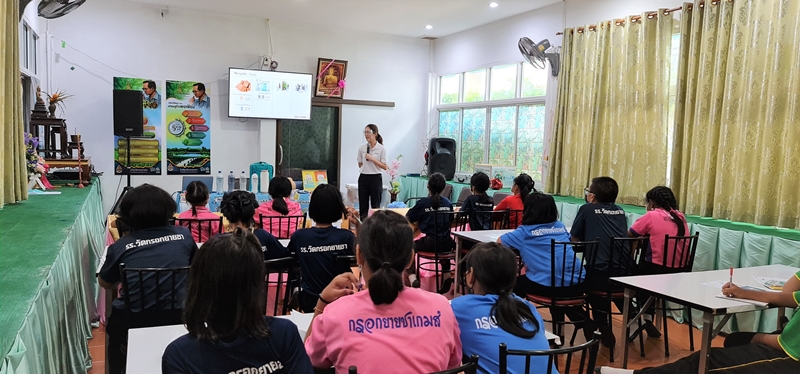 ---
INSEE Ecocycle Company Limited attend recycling education session.
24 February 2021
IVL welcomed Ms.Piyachat Chaiaroon (2nd from left), Marketing Division Manager and Ms. Supitchaya Tunlathorntham (2nd from right), Compliance Officer, representatives from INSEE Ecocycle Company Limited to attend a recycling education session. On this occasion, IVL provided education kits on recycling PET plastic to support INSEE Ecocycle's CSR activities on 3 March, 2021 the items were sent to the Border Patrol Police's learning center at Phayao province to educate and promote proper waste separation and PET recycling in the community. This collaboration will support and expand our education to wider target group and kids were enjoy our materials.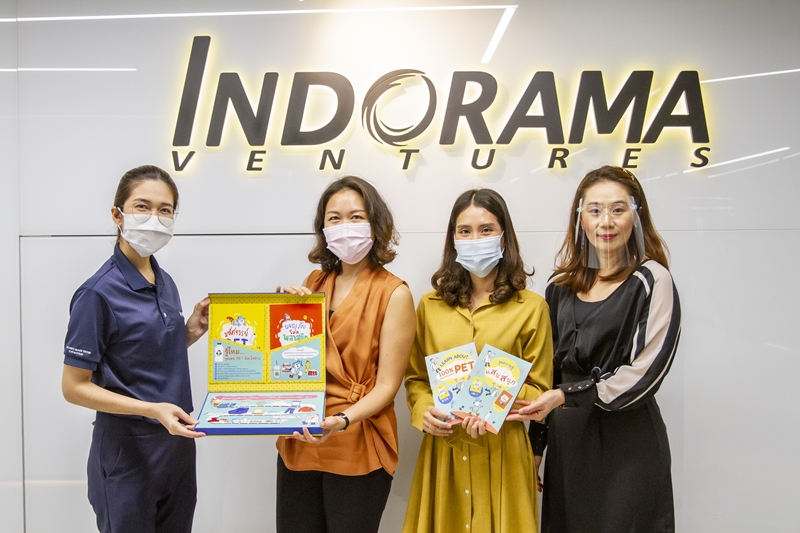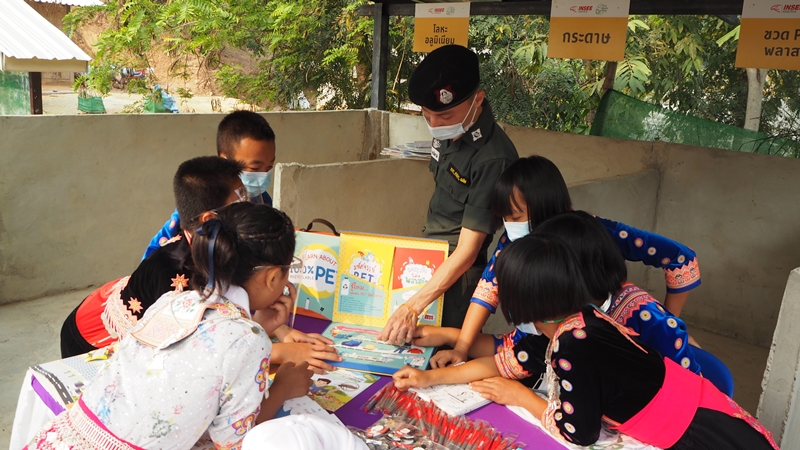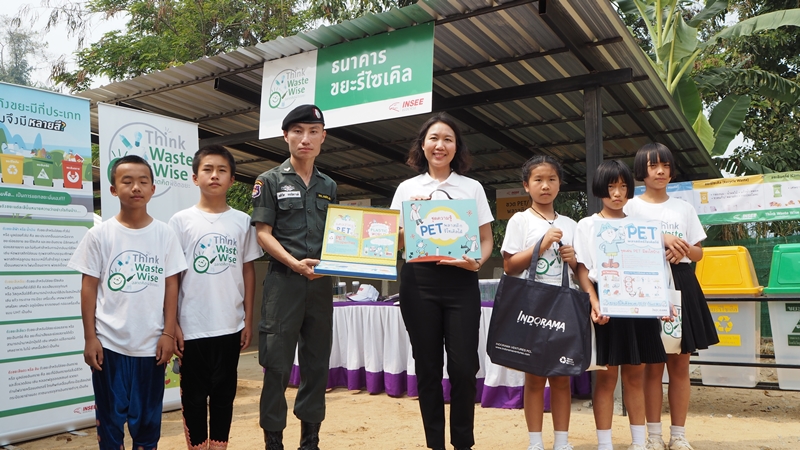 ---
Virtual Online Training for Teachers in Ghana under an IVL Foundation Project.
28 January 2021
Indorama Ventures and the IVL Foundation conducted an educational virtual online training on waste separation and recycling PET plastic for teachers at five schools in Ghana. We hope to provide a better understanding of waste separation and inspire teachers to pass on this knowledge at their schools.