CSR Activities
Thai Wacoal and Indorama Ventures Initiates "PET Bottles for a Better Tomorrow", transforming 1.62 million PET bottles into Yarns to Produce Wacoal Products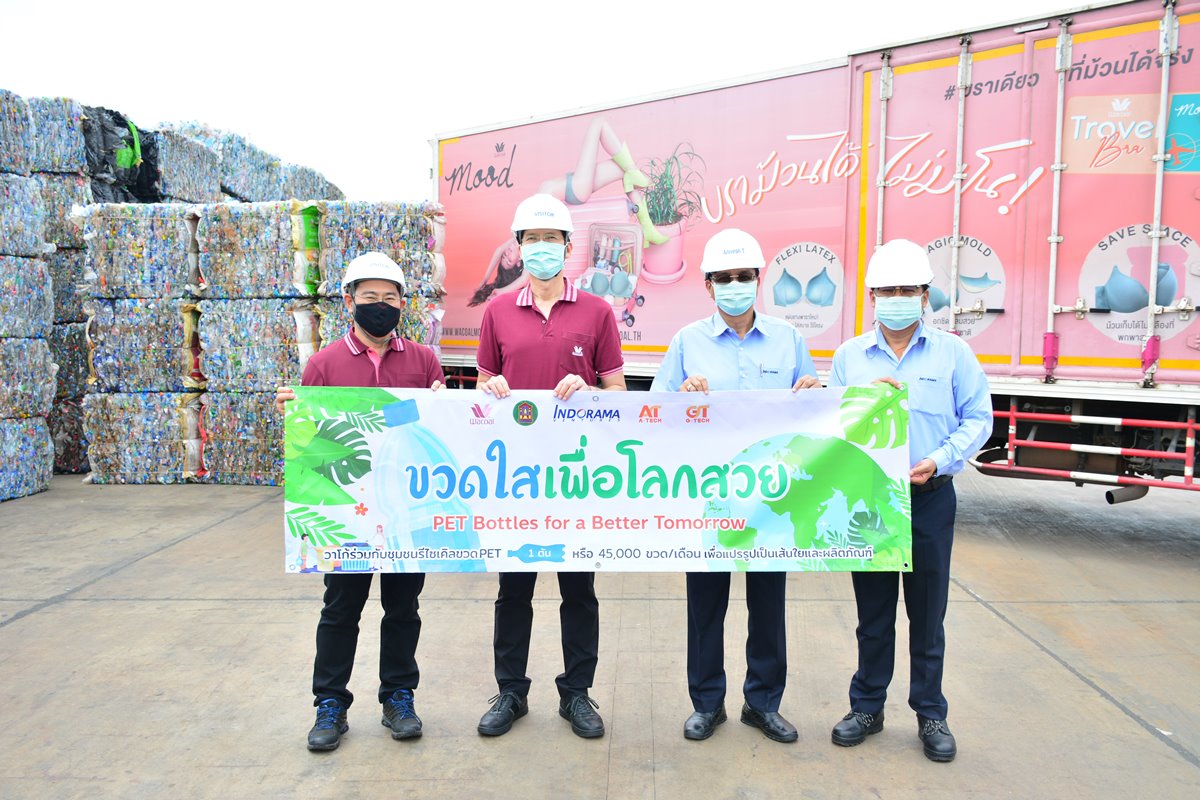 The "PET Bottles for a Better Tomorrow" is an activity under "Wacoal We Care" project, which aims to promote waste reduction among communities through waste separation and collecting PET bottles for production of Wacoal products. The company aims to transform one ton of PET bottles, which is equivalent to approximately 45,000 600-milliliter drinking water bottles, to be collected every month for three years. Indorama Ventures will recycle and transform the bottles into high quality yarns, ready to manufacture various Wacoal products under "Eco Bra" concept. It is estimated that each lady undergarment will utilize yarns recycled from approximately three PET bottles. The first handover event took place at Indorama Polyester Industries Public Company Limited in Nakhon Pathom province. Mr. Anivesh Tewari (3rd from left), Head of Operations – Asia, Recycling Business at Indorama Ventures Public Company Limited, received post-consumer bottles made of Polyethylene terephthalate (PET) from Mr. Metha Supakorn, (2nd from left), Executive Director, and Mr. Pongsun Wongsermhiran (1st from left), Director Research Development & Innovation at Thai Wacoal Public Company Limited.
---
About Thai Wacoal
Thai Wacoal Public Company Limited was established as a joint-venture company by Thailand's Saha Group of Companies and Wacoal Corp. of Japan, in year 1970, representing the first company to be engaged in industrial production for lingerie products in Thailand. Throughout the past 51 years, the company was dedicated to developing products of high quality, and features, being comfortable to wear, and compatible with the physical features of Thai women. These products served to enhance their beautiful appearance and confidence for women at every age group and cup sizes, perfectly reflecting the company's celebratory slogan, "Thai Wacoal's 51 years of thorough understanding of women and no.1 brand in mind". The company is keen on studies, research and development of physiology, raw materials, design and tailoring continuously so as to develop quality products with comfortable wear, which suit the physiological structure.
Apart from profits, the company takes into consideration economic, social and environmental aspects as "Thai Wacoal's direction is sustainable development and growth." Thai Wacoal was selected to be included in the 'Thailand Sustainability Investment (THSI) List' by the Stock Exchange of Thailand. This represents that the company is an outstanding model that runs business in a balanced approach towards sustainable development in terms of economic, social and environmental dimensions under the Good Corporate Governance as the main policy of Wacoal (ECO and CRS).