Other Release
Indorama Ventures Receives the "Sustainability Award" from Coca-Cola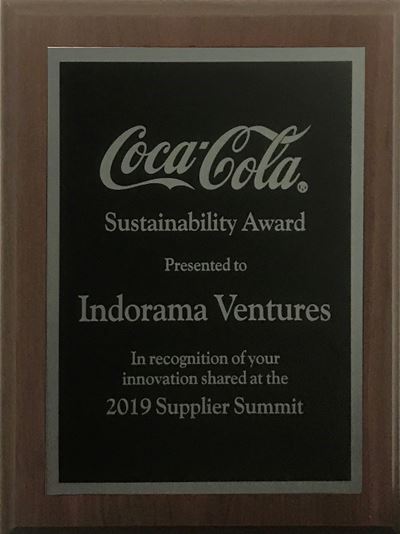 Bangkok, Thailand – 29 May 2019 – Indorama Ventures Public Company Limited (IVL), a global chemical producer, is pleased to announce that it has received the Coca-Cola Sustainability Award presented at Coca-Cola's Supplier Summit 2019 in Atlanta, Georgia U.S.A earlier this month.
The Sustainability Award was given to Indorama Ventures and its FuTuRePET Single Pellet Sustainability Solution (SPSS), which was developed and commercialized to increase recycled content in accordance with sustainability goals while maintaining high package performance standards.
The judging panel comprised members of Coca-Cola's leadership team. Indorama Ventures was recognized for its commitment and responsiveness to Innovation and Sustainability, particularly its ability to deliver solutions aligned with Coca-Cola's innovation pillars. The recognition also reflects the strategic alignment and strong partnership between the two companies in making products that increase recycled content as well as minimize environmental footprint.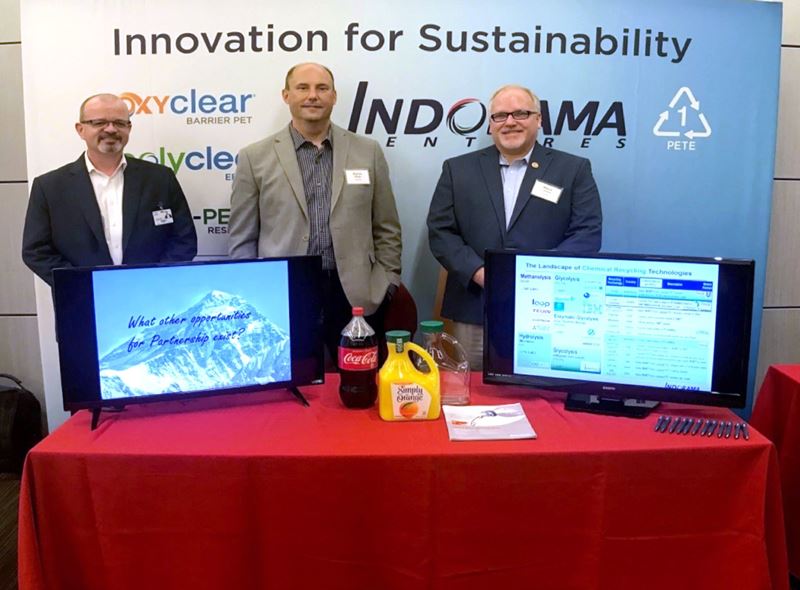 From left to right: Conor Twomey (R&D Director), Byron Geiger (Chief Operating Officer, Indorama Ventures Sustainable Solutions) and Steven Landrie (Technical Sales Manager), representatives from Indorama Ventures.
# # #
About Indorama Ventures
Indorama Ventures Public Company Limited, listed in Thailand (Bloomberg ticker IVL.TB), is one of the world's leading petrochemicals producers, with a global manufacturing footprint across Africa, Asia, Europe and Americas. The company's portfolio comprises Integrated PET, Fibers, Packaging, Specialty Chemicals and Olefins. Indorama Ventures products serve major FMCG and Automotive sectors, i.e. Beverages, Hygiene, Personal Care, Tire and Safety segments. Indorama Ventures has approx. 19,000 employees worldwide and consolidated revenue of US$ 10.7 billion in 2018. The Company is listed in the Dow Jones Sustainability Index (DJSI).
Indorama Ventures is headquartered in Bangkok, Thailand with global operating sites in
| | |
| --- | --- |
| EMEA: | The Netherlands, Germany, Ireland, France, UK, Italy, Denmark, Lithuania, Poland, Czech Republic, Luxembourg, Spain, Turkey, Nigeria, Ghana, Portugal, Israel, Egypt, Russia, Slovakia, Austria |
| Americas: | USA, Mexico, Canada, Brazil |
| Asia: | Thailand, Indonesia, China, India, the Philippines, Myanmar |
Contacts
Richard Jones
Tel: +662.661.6661 ext. 680
richard.j@indorama.net
Naweensuda Krabuanrat
Tel: +662.661.6661 ext. 247
naweensuda.k@indorama.net
Note:
This document contains "forward-looking statements" about the financial condition and results of operations of Indorama Ventures Public Company Limited (the "Company"), which are based on management's current beliefs, assumptions, expectations and projections about future economic performance and events, considering the information currently available to the management. Any statements preceded by, followed by or that include the words "targets", "believes", "expects", "aims", "intends", "will", "may", "anticipates", "would", "plans", "could", "should, "predicts", "projects", "estimates", "foresees" or similar expressions or the negative thereof, identify or signal the presence of forward-looking statements as well as predictions, projections and forecasts of the economy or economic trends of the markets, which are not necessarily indicative of the future or likely performance of the Company. Results given here are "Core", which means excluding inventory gain/losses and one-time extraordinary items