Other Release
Coca-Cola and Indorama Ventures ink partnership to build PH's largest bottle-to-bottle recycling facility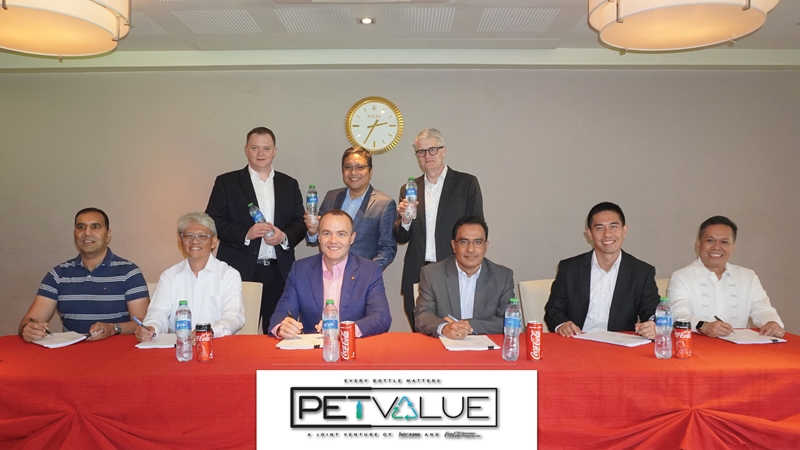 MAKING BETTER BOTTLES HAPPEN. Coca-Cola Beverages Philippines (CCBPI) and Indorama Ventures (IVL) sign a joint-venture agreement to establish PETValue, the largest, state-of-the-art bottle-to-bottle recycling facility in the Philippines.
In the photo from L-R: (Top Row) Mr. Colm Jordan, IVL Recycling Liaisoning Advocate; Atty. Juan Lorenzo Tañada, CCBPI Corporate and Regulatory Affairs Director; Mr. Eddie Ingle, IVL Chief Executive Officer for Recycling Business; (Bottom Row) Mr. Maneesh Gupta, Indorama Philippines Country Head; Mr. Saldie Saldariega, Indorama Philippines IVPPC Director; Mr. Gareth McGeown, CCBPI President and Chief Executive Officer; Mr. Jawahar Solai Kuppuswamy, CCBPI Vice President for Finance; Mr. Manuel Ricardo Sacramento, CCBPI Strategic Planning Director; and Atty. Terrence Fernando, CCBPI Legal Director
MANILA, 10 March 2020 – Manila, Philippines (10 March 2020) – With the shared goal of making a more sustainable future happen today, Coca-Cola Beverages Philippines, Inc. (CCBPI)—the bottling arm of Coca-Cola in the country—and Thailand-headquartered Indorama Ventures have signed a joint-venture agreement to establish PETValue, the largest state-of-the-art, bottle-to-bottle recycling facility in the Philippines.
The PHP 1-billion, next-generation facility will be established in General Trias, Cavite, and is expected to be completed in 2021. Gareth McGeown, CEO of CCBPI, said, "Cavite being the site of such a crucial infrastructure to our World Without Waste goal is testament to the province's commitment to help advance the country's environmental goals. We would like to thank Governor Jonvic Remulla and his constituents, the Caviteños who are opening their communities to this facility."
PETValue will help ensure that used PET plastic bottles—packaging that is 100% recyclable, and therefore not "single-use"—will be given new life and function as they are collected, processed, and used again and again within a circular economy.
PETValue will deploy cutting-edge technologies and industry-leading best practices to employ the safest and most advanced recycling process for plastic bottles made from PET (polyethylene terephthalate) material. Its projected capacity, or the amount of used plastic bottles it can process, is 30,000 MT / year or almost 2 billion pieces of plastic bottles, with an output of 16,000 MT / year of recycled PET resin.
Indorama Ventures' global footprint spans over 70 manufacturing sites in over 30 countries and employs over 24,000 people worldwide. From its inception in 1975, Indorama Ventures has developed numerous business segments, subsequently becoming the largest producer of polyester products and polyester feedstocks. It has also since established its global leadership in PET plastic manufacturing and recycling. And through this partnership with Coca-Cola, the biggest beverage brand in the world, Indorama Ventures will be bringing their expertise as a global integrated leader in recycling to the Philippines.
"We are very proud of our partnership with Indorama Ventures; they've been helping us with innovative initiatives on sustainable packaging—from light-weighting efforts that allow us to lessen the amount of plastic we use in our packaging, to developing the country's the first-ever beverage bottle made from 100% recycled plastic," shared McGeown. "Through PETValue, Indorama Ventures and Coca-Cola are introducing to the Philippines green technologies that will help strengthen Filipino's commitment to sustainability—a major step in making our World Without Waste vision a reality in the Philippines."
McGeown added, "Through this facility, we will boost the collection rates of clear plastic bottles—collecting not just Coca-Cola bottles, but even ones from other companies. The facility will also support Filipino jobs as well as thelivelihoods of people within the waste value chain."
Indorama Ventures is listed in the Dow Jones Sustainability Index (DJSI), in keeping with their thrust for growth that rests on positive environmental and social continuity.
"Indorama Ventures has always been committed to sustainability, and to ensuring that the technologies we use are advanced, efficient, and meet or even surpass industry standards so that we can better manage our environmental impact," said Yashovardhan Lohia, Chief Recycling Officer of Indorama Ventures. "We firmly believe that a circular economy for plastic bottles, particularly PET plastic bottles, is possible and must be established. We cannot let the potential of this recyclable resource go to waste. This is a philosophy shared by Coca-Cola, and our partnership with them is testament to how two organizations that share the same principles can institutionalize sustainability practices among industries and be of benefit to local communities."
Coca-Cola's World Without Waste goal is the company's commitment to collect and recycle the equivalent of every bottle and can it sells by 2030. The PETValue facility will be yet another concretization of Coca-Cola's comprehensive sustainability blueprint, one that creates positive inroads towards a circular economy.

About Coca-Cola in the Philippines
Coca-Cola has been refreshing Filipinos and making a difference in the Philippines for 108 years. The Philippines was Coca-Cola's first market in Asia to begin local bottling operations. Today, the Coca-Cola system in the Philippines has evolved into a total beverage company, offering 19 brands in its beverage portfolio and employing over 10,000 Filipinos in over 19 manufacturing facilities and more than 60 distribution centers nationwide. As part of its long-standing commitment to the country, Coca-Cola continues to #GOBEYONDGOOD as a business by continuously supporting water replenishment programs in over 180 communities, empowering over 200,000 women entrepreneurs through training and peer mentoring, and accelerating packaging collection and recycling under its global World Without Waste initiative.

About Indorama Ventures
Indorama Ventures Public Company Limited, listed in Thailand (Bloomberg ticker IVL.TB), is one of the world's leading petrochemicals producers, with a global manufacturing footprint across Africa, Asia Pacific, Europe and Americas. The company's portfolio comprises Integrated PET, Olefins, Fibers, Packaging and Specialty Chemicals. Indorama Ventures products serve major FMCG and automotive sectors, i.e. beverages, hygiene, personal care, tire and safety segments. Indorama Ventures has approx. 20,000 employees worldwide and consolidated revenue of US$ 10.7 billion in 2018. The Company is listed in the Dow Jones Emerging Markets and World Sustainability Indices (DJSI).
Indorama Ventures is headquartered in Bangkok, Thailand with global operating sites in
| | |
| --- | --- |
| EMEA: | The Netherlands, Germany, Ireland, France, UK, Italy, Denmark, Lithuania, Poland, Czech Republic, Luxembourg, Spain, Turkey, Nigeria, Ghana, Portugal, Israel, Egypt, Russia, Slovakia, Austria, Bulgaria |
| Americas: | USA, Mexico, Canada, Brazil |
| Asia Pacific: | Thailand, Indonesia, China, India, the Philippines, Myanmar, Australia |
Contacts
Richard Jones
Tel: +662.661.6661 ext. 680
richard.j@indorama.net
Naweensuda Krabuanrat
Tel: +662.661.6661 ext. 247
naweensuda.k@indorama.net
Kornnika Berananda, PR Consultant, Five W&H
Tel: 095-5065308
kornnika.be@gmail.com
Note:
This document contains "forward-looking statements" about the financial condition and results of operations of Indorama Ventures Public Company Limited (the "Company"), which are based on management's current beliefs, assumptions, expectations and projections about future economic performance and events, considering the information currently available to the management. Any statements preceded by, followed by or that include the words "targets", "believes", "expects", "aims", "intends", "will", "may", "anticipates", "would", "plans", "could", "should, "predicts", "projects", "estimates", "foresees" or similar expressions or the negative thereof, identify or signal the presence of forward-looking statements as well as predictions, projections and forecasts of the economy or economic trends of the markets, which are not necessarily indicative of the future or likely performance of the Company. Results given here are "Core", which means excluding inventory gain/losses and one-time extraordinary items.