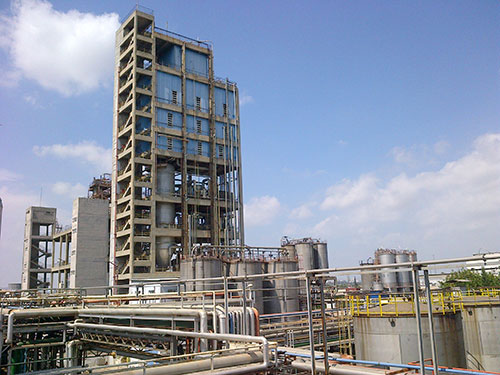 Indorama Ventures Adana PET Sanayi A.Ş.
Acquired in 2014
Indorama Ventures' Adana PET Sanayi Anonim Sirketi facility is located in Adana, Turkey. Its products serve various types of markets, including carbonated soft drinks, mineral water, home care, personal care, pharmaceutical packaging, textiles and the automotive industry.
Technology
Dupont CP technology Sinco SSP technology
Capacity
130,000 tons per annum (as of December 2014)
Products
PET resin for PET bottles
ŞİRKET BİLGİLERİ(COMPANY INFORMATION)
MERSIS NO:
85039440800012
TİCARET SİCİL MEMURLUĞU:
ADANA
TİCARET SİCİL NUMARASI:
65408
TİCARET ÜNVANI:
INDORAMA VENTURES ADANA PET SANAYİ A.Ş
ADRES:
SARIHAMZALI MAHALLESİ TURHAN CEMAL BERİKER BLV. NO:559/3A Seyhan / ADANA
TAAHHÜT EDİLEN SERMAYE MİKTAR:
54,895,058.65 TRY
ÖDENEN SERMAYE MİKTARI:
54,895,058.65 TRY
KAYITLI SERMAYE TAVANI(Equity Ceiling)
N/A
ORTAKLIK YAPISI(Structure of Shareholding)
%100 INDORAMA NETHERLANDS B.V.-%100 YABANCI SERMAYE
ŞİRKET TESCİL TARİHİ(Registered DATE)
01/11/2012
VERGİ DAİRESİ(Tax office)
Yuregir
VERGİ NUMARASI(Tax Number)
0850394408
SEKTÖR(Sector)
PETROKİMYA
İnternet Adresi:
www.indoramaventures.com
YÖNETİM KURULU(BOARD MEMBERS)
Yönetim Kurulu Üyesi:
Dilip Kumar Agarwal
Yönetim Kurulu Üyesi:
Sanjay Ahuja
Yönetim Kurulu Üyesi:
Narayanaswamy Subramanian
Yönetim Kurulu Üyesi:
Rohit Kumar Vashistha
DENETÇİ(INDEPENDENT AUDITOR)
Mali Yılı(Audit Term):
(01.01.2019-31.12.2019)
İsim (Name):
KPMG Bağımsız Denetim ve Serbest Muhasebeci Mali Müşavirlik Anonim Şirketi
Adres (Address):
İş Kuleleri , Kule 3,Kat 2-9, Levent İstanbul
Contact Details
Indorama Ventures Adana PET Sanayi A.Ş.
SARIHAMZALI MAHALLESİ TURHAN CEMAL BERİKER BLV. NO:559/3A Seyhan / ADANA