Dear Shareholders,
On behalf of the Board, I am pleased to report on a year of important achievements. The Company turned in a superb financial performance in 2017 with year-on-year gains in each of our three major reported segments. Our portfolio today is stronger and more diverse than ever. The management team pursued a number of strategic acquisitions that will provide further opportunities for growth and innovation, while also upgrading our business profile and increasing our international presence. We appreciate that the decisions to undertake these acquisitions were made based on strict criteria, in accordance with the Company's business needs and the positive long-term impacts.
Last year also marked a number of important firsts for Indorama Ventures. In addition to delivering operating and financial performance that was the best in the history of the Company, we were listed for the first time on the Dow Jones Sustainability Index, an important recognition of our efforts in being more sustainable throughout our organization. This achievement is a true testament to the passion of the Indorama Ventures team in their dedication to the long-term sustainability of the Company.
In addition, the Company was assessed according to the FTSE Russell criteria and become a constituent of the FTSE4Good Emerging Index, which is designed to measure the performance of companies that demonstrate strong Environmental, Social and Governance practices.
We stepped up our efforts by further investing in our customer relations and consequently achieved our highest-ever customer satisfaction score of 85.61%. In addition, our customers have shown their willingness to recommend the Company's products or services to others by rating us a score almost double that of the industry average. This is proof of our success in meeting customer needs and has encouraged the Company to continue improving our capabilities to meet customer expectations in the future.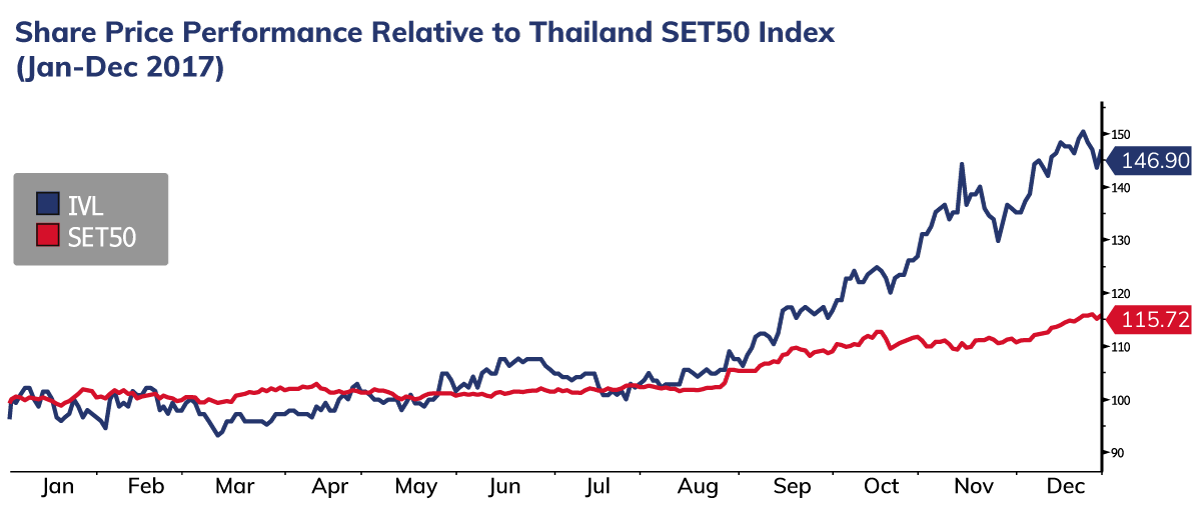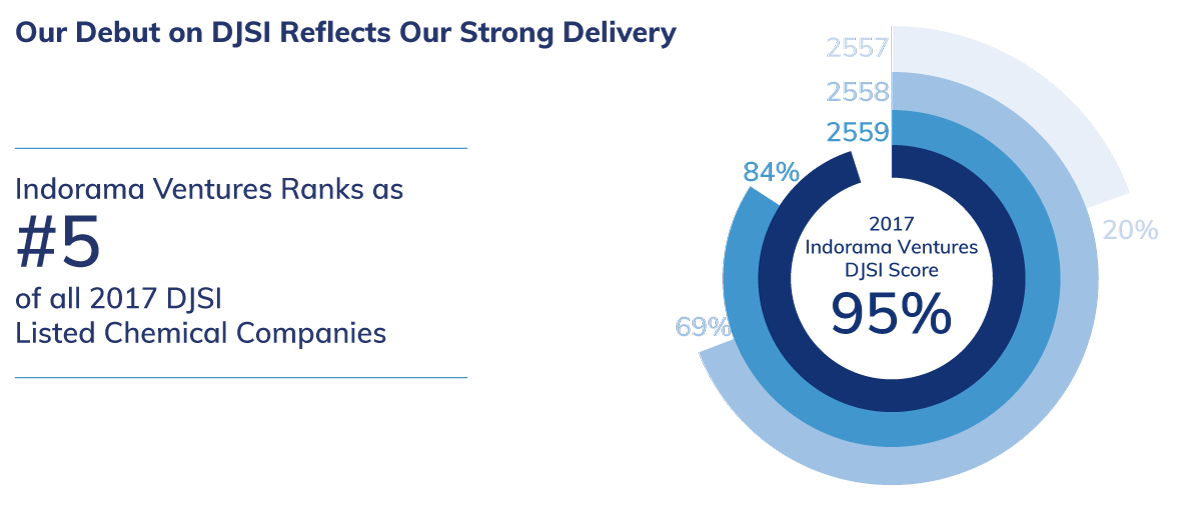 On the energy front, Indorama Ventures believes in maximizing the use of renewable resources and has already adopted solar energy, biomass and other renewable sources at some of our facilities. We are increasing the use of renewable energy across our businesses, recognizing that natural resources are finite, and the need to lower our dependency on carbon-based energy production.
We remain fully aligned with the imperatives agreed at the Paris Climate Conference (COP 21) in finding pathways towards developing low-carbon strategies. We established targets as indicated in our Climate Change Strategy 2020 Plan, which has expanded the scope of our environmental stewardship. We are also taking a more unified approach in addressing social issues further integrating our CSR activities with the business goals.
Our achievements and recognitions speak to the focused efforts of the management, together with the outstanding commitment and efforts of our employees. It is important that we build on these successes and continue "to aspire be a worldclass chemical company making great products for society."
We are doing so by focusing on our long-term strategies and the sustainability of the Company; continuing to invest in opportunities that enhance our earnings and operations, and supporting our employees who have enabled to us move from success to success.
My message to our shareholders is that we aim to deliver disciplined and consistent growth, and improved returns as we have in the past, by continuing our work with transparency, effective management and governance to maintain your confidence.
I would like to thank my colleagues on the Board for their strong support commitment over the past year. Special thanks go to the management team and our wonderful – and growing – team of professionals for making 2017 a truly momentous year.

Sri Prakash Lohia
Chairman