Dear Shareholders,
It gives me great pleasure to report that 2017 was an outstanding year of milestones. We achieved strong growth, strategic acquisitions, and an exceptional performance founded on previous shrewd investments under our well-articulated strategy supported by flawless execution.
This includes a doubling of EBITDA in 2017 over 2013, crossing the US$ 1 billion threshold for the first time. In fact, our EBITDA has grown by 20% each year over the last four years with EPS growing 63% year-on-year. Throughout the year, we continued to live by the same values that have guided us since our inception: operating our business with integrity and sustainability, for which we have received widespread recognition.
In examining our long-term performance through the microscope of different measures, whether ROE, ROCE or ROA, we remain consistent in delivering incremental and consistent growth, which drives production, EBITDA, net profit and earnings per share.
Our results further reinforce the rationale of our growth strategy and the benefits of our well-diversified business model, where we have consciously chosen a prudent mix of geographies and businesses. Our strategy involves continued vertical, value chain integration, geographic expansion and product diversification into High Value-Added (HVA) categories.
Many of our goals have been clearly defined over the last few years and we continue to meticulously move forward, accomplishing what we set out to do on our transformational journey – achieving year-by-year – our vision "to be a worldclass chemical company making great products for society."
Recognitions for Sustainability
I have consistently mentioned that sustainability remains a core commitment for Indorama Ventures in both our approach and our values. The initial listing of Indorama Ventures in the Dow Jones Sustainability Index and being ranked among the top five of all global chemical companies was therefore a welcome tribute to the work of everyone in Indorama Ventures around the world, and a testament to our combined efforts. In addition, Indorama Ventures was listed as one of only two companies in the DJSI Emerging Markets Chemical Industry. We were also pleased to receive the distinction for excellent sustainability performance, becoming one of the top-scoring companies in the chemical industry globally and included in the 2017 edition of RobecoSAM's Sustainability Yearbook, a well known publication on corporate sustainability.
Such recognitions reflect the important efforts and passion that all of our people have put in focusing on our long-term commitment to sustainability and ensuring that our company has a truly promising future with continued outstanding performance in the areas of economic, environmental, social and corporate governance.
Path to Greater Success
Today, we are investing in a better future and aspire to be in the league of best-in-class companies globally. Satisfaction to us means continuous improvement and while we have made considerable improvements since the beginning, we plan to raise the bar ever higher. This will involve prioritizing sustainability through our proven business model which evolves with time and maintaining strong organizational agility to take advantage of opportunities as they arise – both internally as our companies leverage each other's strengths, and externally for any profitable acquisitions accretive to our bottom line.
We have set ambitious but achievable targets. These include doubling EBITDA again over the next five years, utilizing our US$ 6 billion of present investments and growing further. We will continue to seek the right opportunities to fulfil gaps which are intrinsic to our sustainable and profitable future by deploying our resources in order to support the circular economy. Such a business will allow us to continue to provide above industry returns across cycles and counter the inherent volatility in the petrochemical industry.
We are truly fortunate to have a team of over 15,000 dedicated employees in 25 countries who are strongly committed to our success and who have an abundance of talent, leading Indorama Ventures to continually outperform the industry. Under the able leadership of our Executive Directors, Mr. DK Agarwal – CEO Feedstocks and PET, Mr. Udey Gill – CEO Fibers and Mr. Sanjay Ahuja – Group CFO, they seamlessly manage our necessities and HVA businesses across the world.
Smart Growth Strategy
In 2017, we undertook a series of strategic steps to accelerate growth and further strengthening our leadership position in key businesses and markets, and put in place the long-term building blocks to ensure that we are uniquely positioned to capture further potential value and opportunities.
Our acquisition of Glanzstoff, Europe's leading tire cord manufacturer, allows us to broaden the HVA portfolio mix beyond polyester and nylon 6.6 into rayon. This is an excellent opportunity for Indorama Ventures, reinforcing our position as a leading global specialty-fiber solutions provider with a strong presence in headliner yarns, acoustic fibers and tire-cord fabrics.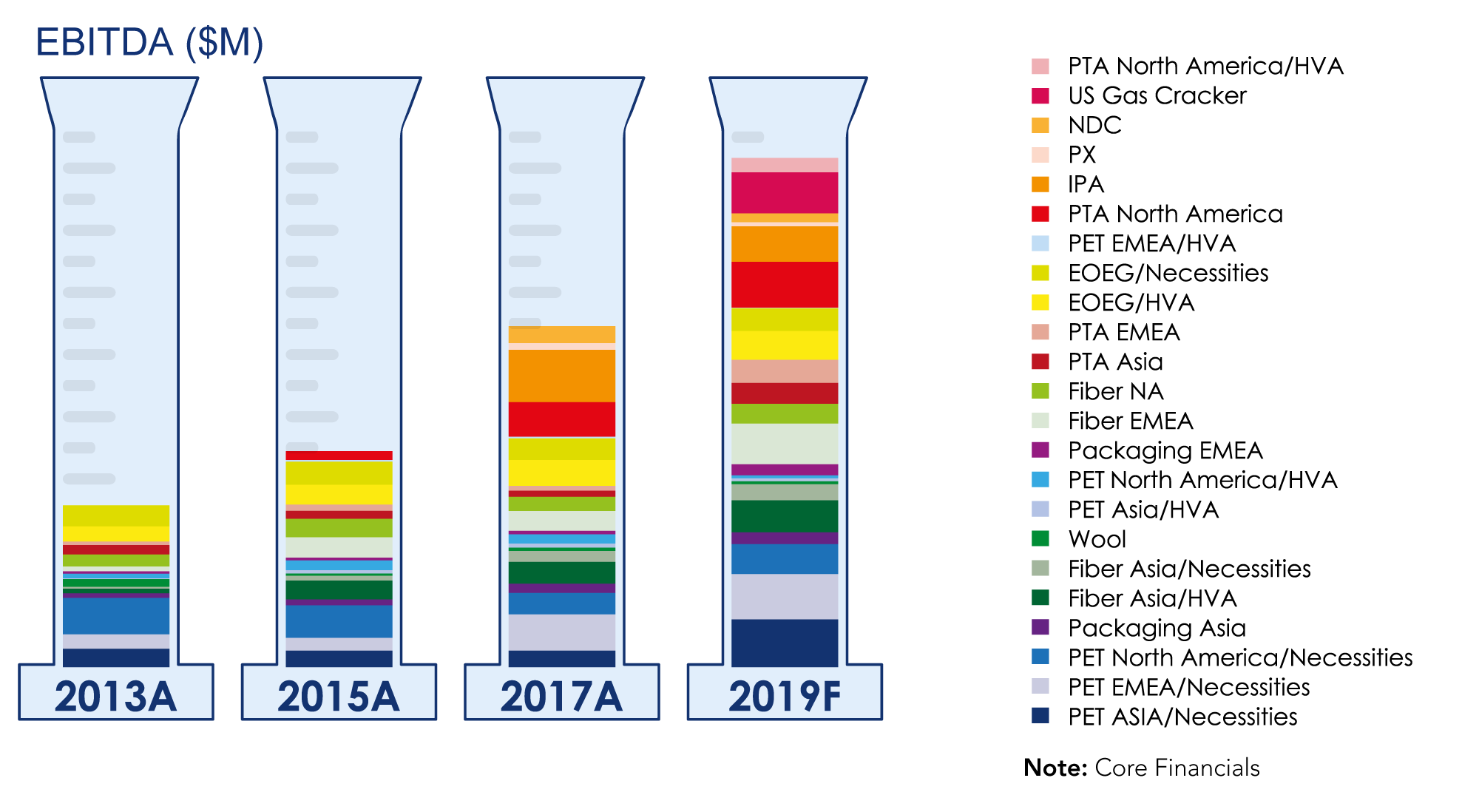 We have also pursued accretive growth opportunities in the high value-added automotive segment by acquiring DuraFiber's operations in Mexico and France. DuraFiber is a leading global producer of durable technical textiles for industrial, tire reinforcements, and specialty applications. This acquisition expands our HVA portfolio making Indorama Ventures the ideal fiber partner for the automotive industry. It also reinforces our geographic presence in the Americas and European markets. DuraFiber is the sole domestic tire cord fabric producer in Mexico with products approved by major global tire companies, and this allows strong synergies with our existing PET operations in the country. Our geographic horizon further consolidated as we followed the principle of improving customer intimacy by bringing our global resources closer to local markets and customers.
Another important step in support of our development and sustainability efforts was the completion of the brownfield expansion of the purified terephthalic acid (PTA) plant in Europe, making our Rotterdam site the most efficient integrated PET and PTA complex in Europe.
We acquired the assets of Artlant, a large PTA producer in Portugal, and Artelia, assets belonging to the adjacent utility, further boosting our presence in Europe. In addition to significant cost and operational synergies for our operational networks on the continent, the addition of Artlant, combined with our recent PTA expansion in Rotterdam, ensures that we are now well-positioned to meet growing demand for PET, polyester fibers and yarns, while ensuring a secure supply of feedstock to support future growth.
Performance Fibers, one of the most prominent polyester tire fabric businesses in China, began expanding its manufacturing line in 2017 due to increased demand from China's improving economy, and we are strengthening our position in the fastgrowing Chinese tire-cord market. When this line starts in early 2018, Performance Fibers will be the largest tire-cord producer in China and Indorama Ventures will continue to be at the forefront of the industry.
The Road Ahead
Projects currently under construction and slated for completion in 2018 will add to volume and margins. These include a dualfeed cracker in the US with a capacity 450,000 tons/annum, and our PTA plant in Portugal with a capacity of 700,000 tons/ annum. In Asia, the expansion of our HVA automotive fibers in China will further boost our results for the year.
In 2017, we saw the emergence of structural changes in the polyester value chain after several years of often irrational capacity build up which tore the fabric of reasonable margins and disrupted a traditionally profitable industry driven by consumer demand. This resulted in disruption for some industry participants and disruption for several others, including some of the leading players and a meaningful lesson for all in the industry. This elongated period of disruption gave Indorama Ventures an opportunity for industry consolidation and earnings growth through earnings diversification, geographical expansion and backward integration.
I hold a positive outlook for 2018 due to a number of factors including mega-trends such as global population growth, continued urbanization, growth in the retail sector, increasing health awareness, aging populations, the push towards more lightweight vehicles, and a continued focus on sustainability, all of which should drive continued demand for our products.
I expect encouraging changes in the industry over the next few years with more changes in the industry providing further M&A opportunities. Indorama Ventures is already operating on a strong platform for future progress, with a global portfolio of markets and diversified revenue streams backed by a strong R&D platform. Global polyester demand is expected to continue to grow at around 5-6% annually while demand for high-value fibers is expected to continue to grow at a healthy rate of 6-7% annually.
A Better Future Awaits
We entered 2018 in a position of strength and we remain committed to building the momentum. We will continue to grow in major markets where we do not yet have a presence. We will further look at what is missing in our business model, where we can improve, and further unlock the untapped potential and synergies of our businesses and subsidiaries.
We will work harder to move closer to our customers by understanding their needs, investing more in developing innovative products and provide truly differentiating propositions. Our assets, infrastructure, footprint and teams will aim to deliver long-term value for our shareholders and the sustainability of our business.
I wish to thank all our stakeholders, shareholders, partners, customers, bankers, employees and above all, my fellow members of the Board of Directors for their ongoing support and dedication, which made this past year an unqualified success.

Aloke Lohia
Group CEO