Dear Stakeholders,
2020 has been an unprecedented year as COVID-19 hit all of us hard, to say the least. At IVL, our leadership team formed the Business Continuity Plan to safeguard our employees, and support their families as well as the communities that we rely on, with timely advice and resources to tide over these difficult moments and work from home where possible. IVL is a manufacturing business and therefore it is with gratitude that I acknowledge the efforts of our front-line employees in 33 countries and 123 sites who relentlessly supported and successfully managed their operations to serve our customers. I am grateful to our supply chain partners for their support and alignment as we navigate through this crisis together.
IVL Remains Agile and Nimble to Steer Through the Pandemic
When COVID-19 started to spread outside of its epicenter, we quickly formed a Global Emergency Management Team (GEMT), consisting of 30 leaders across geographies and functions, to take swift and comprehensive measures with their first and foremost priority to ensure the well-being of our 24,000 employees. GEMT left no stone unturned in ensuring our 123 production units continued to operate with minimal disruption, kept our customers' supply chain running and provided support to our local communities. IVL continues to work with local hospitals in Thailand to transform and donate post-consumer PET bottles into much needed PPE suits.
Indorama Management Council (IMC) met almost every day to take stock of the health of our employees, the health of our business and to take proactive steps to support GEMT with both resources and safety protocols. We continued to have our staff work from home as much as possible for all non-manufacturing roles with less than 25% of employees in office at any given time. Nevertheless, while our playbook during the crisis was to manage near term risks, we prepared ourselves for worldwide long term lockdown, made best possible efforts to maintain continuity of our supply chain and in the process also remained ready to serve our customers better through our integrated business model. We have effectively managed our finance by ensuring optimal liquidity position, tightening working capital with inventory optimization while maintaining our sales and re-enforcing credit discipline with our customers. We also performed regular stress testing on our operational strategy as the crisis peaked and consolidated production across sites in order to optimize cost. With comprehensive measures, IVL operations remain intact to date and our leadership team remains focused on our risk management strategies.
Our Platform Has Proven Resilient to the Immense Challenges of Last Year
A diversified portfolio of end uses dampened the impact of COVID-19 on our businesses and our regional business model strategy has been well tested. Despite the downturn in global GDP, we achieved our highest-ever sales in 2020, with 5% year-on-year (YoY) volume growth on our legacy portfolio (18% including the Spindletop acquisition). These gains are expected to be structural and last beyond this pandemic. Our biggest acquisition to date, Spindletop, has been successfully integrated into the IVL portfolio and the newly-formed leadership team is working cohesively to drive synergies across the portfolio.
While our businesses have demonstrated resilience in volume terms, we did not escape the margin impact during the severe COVID-19 lockdowns and the significantly lower crude oil prices which affected our 2020 overall performance. The worldwide drop of 9% in polyester fibers demand led to significant drop in paraxylene (PX), PTA and MEG demand and hence led to both price and margin erosion. On the other hand, our PET, specialty polymers and Packaging verticals enjoyed both volume and margin enhancement in 2020. Within our Fibers segment, Mobility and Lifestyle fibers were negatively impacted while Hygiene fibers witnessed high margin and strong volumes throughout the crisis. Our recently expanded Integrated Oxides and Derivatives (IOD) portfolio was negatively impacted by weakened shale gas advantage and travel restrictions, especially on our commodity side of MEG and MTBE which represents ~60% of the volumes. The ~40% of volumes in HVA within IOD saw steady financial performance and contributed to 64% contribution margin. As the lockdown measure eases, both MEG and MTBE businesses are expected to return to the historical levels of performance.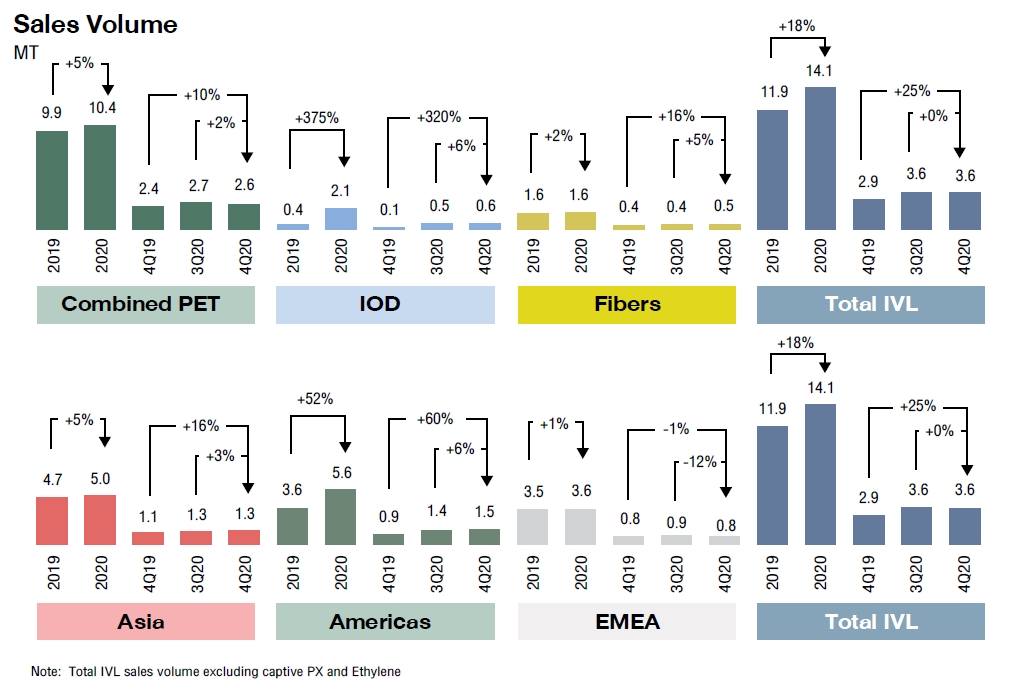 IVL is a unique company with a global footprint. We have a strong, resilient and diversified business that is positioned to outperform competitors. While we do operate globally, our business remains region-centric which aligns very well with today's trend towards supply chain localization. This business model has proven to be highly resilient to the disruption of the global supply chain during COVID-19. Overall, core EBITDA is down by 3% for the year but we have demonstrated our strong financial prudence by delivering strong operating cash flows of ~US$1.4 billion, driven by volume growth across segments and cash release from working capital management.
We are Ready for the Next Era of Growth with People Empowerment at the Core
We have completed two years since the inception of our two leadership forums i.e. Indorama Management Council (IMC) and Indorama Business Council (IBC). It has been a very satisfying experience for me personally to see their engagement and evolution during this period. With our continued focus on succession planning to make IVL a future ready organization, IMC took steps to reorganize the leadership teams for performance and empowerment to run their businesses independently. This has also enabled IMC to increase its focus on maximizing parenting advantage and preparing IVL for future growth.
I would mention that 2020 has been a most productive year for our company with several enablement steps towards its most valuable asset i.e. people. We have now combined all of our businesses under our "ONE IVL" CEO, D.K. Agarwal. This is sure to bring synergies across the group, strengthen our risk management with integrated business model and facilitate quick decision making. The new organization is simplified under the lead of three Chief Operating Officers (COOs), and their 16 business heads to collaborate, empower regional/vertical teams, crossfertilize ideas and nurture our leaders with a growth mindset. At IVL, we foresee the importance of a bottom-up approach and let this be the opportunity for our leadership teams across these 16 verticals to act spontaneously, yet with a long-term perspective, in this VUCA world. In addition, we have launched six new corporate enabling functions: Environment, Health, and Safety, Sustainability, Business Continuity Management, Lean Six Sigma, Digital and Communication. These functions will support the businesses in achieving their plans by virtue of working closely with leadership teams and focusing on driving plant uptime, efficiencies, augmenting digital opportunities, improving our risk management and supporting sustainability projects on our commitment to lowering our carbon footprint.
Doubling Down on Our Ambition without Apprehension, a Comprehensive Transformation Journey Has Begun with High Emphasis on Building Systems
Regardless of the extraordinary circumstances in 2020, our company achieved several key milestones during the year to build an agile operating model that can support both the existing complexities and future growth of the organization. Our "ONE IVL" ERP project, S4/HANA, has been initiated and is progressing well. The Global Business Solutions (GBS) for finance function is in its implementation stage. What is truly remarkable here is that these global projects have so far been executed completely through virtual collaboration among hundreds of team members working in different time zones across the world. One ERP will transform IVL's multi-system landscape into an integrated digital core platform that will simplify and standardize IVL's data, processes and practices globally, while GBS will enhance efficiencies and improve controls through consolidation and automation. During the year, we also undertook specific functional stand-up projects to build expertise in areas of excellence, such as Accounting & Finance Excellence (A&FE) wherein we have reorganized teams between statutory and business finance for better compliance and business partnering.
Our cost transformation program, Olympus, is off to a strong start achieving US$92 million savings, exceeding our communicated target by 21%. The notable point is that this achievement has come during most unprecedented times and I would like to congratulate all our employees who have contributed to this milestone. In addition to this, our leadership teams across businesses worked tirelessly around the year to do a deep dive study into our business' full potential with the support of 11 world class consultants. Now, we are not only targeting cost improvements, but widening our scope to lift the full scale of commercial opportunities as well. Our goal has now expanded to a bolder ambition and broader pipeline of US$610 million targeted savings by 2023. The multiplier impact of organic growth will be tremendous within three segments across 16 verticals through their coordinated efforts across functions, comprehensive changes to our operating model to further leverage on our integrated operations and also pursuing commercial opportunities in sales and procurement excellence.
We fully appreciate the challenge ahead of us as it will take more to deliver the next three years of Olympus than the first year. Yet our confidence remains high, with a clear and detailed plan developed by a bottom-up approach through several Project Management Offices (PMOs), consisting of IMC, CXOs and other senior leaders. Furthermore, we have established a Transformation Management Office (TMO), specifically designed for IVL and its DNA, but drawing from leading best practices. The TMO comprises of Chiefs of Staff to IMC members, supporting IMC and PMOs in their transformation journey. TMO has also adopted a world class tracking tool called "KEY" that has become a critical enabler and the backbone of our Olympus program. PMOs have further rolled out Result Delivery Offices (RDOs) for specific sites having significant transformative initiatives. This TMO, PMO and RDO structure and their enablement through leading consultants and resources are the critical capabilities that IMC has put in place for the success of our comprehensive transformation journey. Our leadership is capable of delivering on their strong ambition of value creation by deploying world class tools and practices, well supported by long-term incentive structures.
Our Path Towards a Circular Economy and Decarbonization
Amongst the ever-growing global concern regarding climate change, global warming and pollution, our journey towards circular economy initiatives is progressing with strong focus on both operational improvement and product offerings to customers. In 2020, IVL formed a new corporate function, Sustainability, to drive this agenda across our platforms with a single threaded effort. Our ESG target for 2025 is to reduce GHG intensity to 10%, energy intensity by 5% and expand our renewable electricity by 10%. This year, we have joined the 50 Climate Leaders campaign hosted by Bloomberg that demonstrates the desire, leadership and will of the members to take effective action in the fight against climate change. We have also joined World Economic Forum's Global Plastic Action Partnership (GPAP) alliance that aims to reduce plastic leakage into the environment and is driving the transition to a circular economy for plastics.
In March 2020, IVL reached a major milestone by recycling our 50 billionth PET bottle since we started our circular journey in 2011. This global recycling feat saved three million barrels of crude oil and eliminated 1.65 million tons of carbon. In 2019, we had announced to invest US$1.5 billion with a target of 750,000 metric tons recycling capacity by 2023. I would like to inform our stakeholders that we have made good progress despite the global crisis, with further expansion of our recycling portfolio in 2020. We remain committed to our circular economy and decarbonization initiatives to deliver more recycling infrastructure globally and our robust innovation pipeline will focus on sustainable materials, for all of our business segments.
During the year, IVL signed a JV agreement with one of our biggest global partners, Coca-Cola Beverages Philippines to establish PETValue, the country's largest bottle-to-bottle recycling facility, capable of processing almost 2 billion PET bottles per year. It will produce the Philippines' first ever beverage bottle made from 100% recycled PET. Furthermore, we have acquired three PET recycling facilities:
AG Resinas Ltda. in Brazil with an rPET flake and pellet capacity of 9,000 tons per annum. The facility is in close proximity to a large supply of recovered PET bottles, which will create an immediate recycling presence for further expansion opportunity and also brings logistic advantages for IVL.
IMP Polowat facility in Poland with approximately. 27,000 tons per annum for both rPET flakes and pellets. This facility has added an attractive recycling platform for IVL in Eastern Europe.
Our recycling facility in Verdun, France, which will provide 64,000 tons per annum after the expansion. Verdun will be commissioned in 4Q 2021 and enhance our packaging circularity in Europe.
Indorama Ventures Sustainable Solutions Fontana, Inc. in California USA, with approximately 30,000 tons per annum of recycled PET flakes, provides IVL's first-ever manufacturing footprint on the West Coast of the USA.
Our commitment to ESG continues to be recognized and rewarded. We have once again been selected as a member of the FTSE4Good Index Series and included in the Dow Jones Sustainability Indices (DJSI) for the fourth consecutive year. In March 2020, we were granted the first sustainability-linked loan in Thailand, arranged by Mizuho Bank for US$255 million, with linkage to the sustainability performance of IVL. In November 2020, International Finance Corporation (IFC), a member of the World Bank Group granted IVL the first ever Blue Loan of US$300 million to support IVL's recycling capacity expansion and investment in 21 Indorama Ventures Public Company Limited Annual Report 2020 Message from the Group Chief Executive Officer renewable energy and resource efficiency projects. Our company has cumulatively received loans of over US$1 billion based on our ESG rating and our commitment towards the circular economy. Our management remains steadfast on our sustainability commitment to our investors.
Prepared to Execute on our Transformation and Five Strategic Priorities. Our People will Maximize the Performance of Our Platform, Supported by Systems
Following a period of rapid growth over last the two decades mainly through acquisitions, in this new decade, IVL is well placed to enhance quality of earnings across our three businesses of Combined PET, Fibers and IOD. We are a global leader with 20% market share in PET resin due to structural advantages from extensive integration, global footprint and overall superior scale, allowing us to have achieved consistently strong performance for the last few years. Looking forward, we firmly believe in the future of our PET business. We see demand continuing to grow in our key markets for virgin PET and rPET, driven by several robust macro trends, namely population growth, affluence and urbanization, health consciousness and concerns over sustainability. PX and PTA are already bouncing back as demand in polyester has shown strong signs of improvement in 4Q 2020. Our strategic focus for Combined PET would be to strengthen our cost position further through Olympus transformation, invest selectively in recycling, scale up our packaging platform by aggressively pursuing growth in frontier markets, unlock the next wave of value through a specialty business model and also create an empowered organization with the readiness to capture opportunities.
IOD is an attractive business offering strategic advantages to IVL in the form of vertical plus horizontal integration, HVA product development and a platform for future growth. PO/MTBE technology also makes IVL one of the most cost competitive PO producers in the world. With our strong portfolio mix and diverse customers from both internal (PET and polyester fiber) and prominent external global chemical and consumer companies, we are aspiring to be a leading integrated downstream producer in a high-growth market, leveraging low-cost feedstock. IOD's strategic priorities in the near term is to realize full potential savings through project Olympus, launching reliable and safe operations at our plants, scaling up business via organic and inorganic growth and developing projects to enhance a sustainable footprint.
Our Fibers business has laid down a significant cost and business full potential transformation agenda to lift up the earnings over the next three years and the new leadership team is fully geared to deliver on our ambition to return to double digit ROCE. The Fibers business has built a structurally advantaged global footprint in three attractive verticals supported by strong macro trends, with 42 production units across 18 countries that are serving customers well with resilient regional supply chains. IVL has a substantial market share across all key segments that we are active in, with a significant "share of wallet" of the top players in the market. Additionally, our Fibers portfolio is protected with the right footprint, R&D relationships and customers' qualification requirements. With various market forecasts and analyses completed, we expect high-level drivers of fibers demand to pick up in the near future, such as the number of vehicle sales, tire replacement and growing number of airbags for the Mobility vertical. Our Fibers business will transform through three strategic imperatives: implementation of the Fibers Full Potential Plan, maximizing our "ONE IVL" advantage and lastly doubling down on game changing innovation.
We have to enhance further our innovation capability across businesses by way of cross learning opportunities, cross selling strategy and enhancing our HVA products; this will be a focus area for IMC. Our businesses will be well-supported by the corporate enabling functions as well as the roll out of our ERP and GBS. IVL's core priorities regarding our cash deployment policy would focus on high impact projects e.g. SAP S4/HANA, transformation projects and inorganic opportunities that are a strategic fit for our integrated global portfolio. Our strong visibility of cash flows is expected to reduce our leverage and a healthy debt maturity profile will provide us enough headroom for future growth and regular dividend to our shareholders.
With our goal of double-digit ROCE and the doubling our EBITDA by 2023 at the top of our minds, we are investing in People to create strong leadership teams that are organized to perform and with the right experience and capabilities. We have also built a Platform of businesses that are resilient, sustainable and positioned for growth as well as a System of codified best practices, raising certainty, efficiency and institutional excellence. Our key success factors are our global scale with local presence, our leadership position in the market, our innovation and partnerships with customers, our high level of backward integration and lastly and importantly powered by our "ONE IVL" approach. All of these elements will lead our company to meet its commitment towards the three Ps of people, planet, and prosperity. The growth mindset of all IVL employees across our organization will lead us in this new era!
"The great thing in this world is not so much where we stand, as in what direction we are moving: To reach the port of heaven, we must sail sometimes with the wind and sometimes against it – but we must sail, and not drift, nor lie at anchor"
- Oliver Wendell Holmes Sr.
Sincerely,
Aloke Lohia
Group Chief Executive Officer