Dear Stakeholders,
It gives me great pleasure to present to you my report for 2018, and more importantly, discuss with you on how I believe our company, our industry, and the broader ecosystem are taking shape. Yes, we have achieved spectacular growth, through managing internal objectives and supported by positive external factors, but only because of the ongoing performance of our talented teams and their hard and persistent work ethics around a well-articulated strategy supported by execution.
"I can't change the direction of the wind, but I can adjust my sails to always reach my destination."
--Jimmy Dean
Delivering On Our Transformation
We continue to accomplish what we have set out to do on our transformational journey – striving year-by-year towards achieving our vision "To be a world-class chemical company making great products for society." We have clearly defined our goals over the last several years, and we continue to meticulously execute on them, which helps to propel us forward. Our values have helped us all along, knowing we wish to operate our business with integrity and in a sustainable manner, for which I believe we have a widespread recognition.
We remain consistent in delivering on our strategy to achieve responsible, sustainable, and profitable growth. We are building durable competitive advantages through a diversified portfolio of businesses that we have created, and are continually optimizing as we reinvent our business model through global scale, integration, and diversification into high-value ("HVA") products. All of which underpins our transformative growth through "win and scale up" model, M&A, and innovation. These are supported by our responsible approach to sustainable business, our people and culture, risk management, governance so that we create value for society and for stakeholders.
Our Board as a Catalyst for Where IVL Stands Today
Long-term value begins at the Board. I believe effective, independent, and diverse board leadership is precognition for ensuring that companies are focusing on the long-term results. Our Board has been a key catalyst on where IVL stands today. They have been a solid supporter of the transformation that the company has gone through over the past years, moving from an Asian commodity player into a global diversified chemical company. They are the ones supporting the evolution of our business, assessing management's performance, and nurturing our culture and values, all of which are critical for long-term growth and success. The reinforcement of corporate governance and sustainability commitments are also a testament to the effectiveness of the Board. I firmly believe that an organization is as good as its Board.
We Are Building an Even Stronger IVL
The internally driven highlights for 2018 is the ability of our management to lead the following growth objectives.
Strengthening our Necessities Portfolio
We partnered with two other industry peers to take over a partially built PTA-PET plant in Corpus Christi, the US, due for completion in 2020 and 2021. This facility will be North America's most cost-competitive asset and will add 800 KTA to IVL's existing capacity.
We commissioned an IPA plant with a capacity of 220 KTA in Decatur, Alabama. The Decatur site, I believe, has the first quartile cost position in IVL's portfolio and probably in North America, capturing the entire value chain from Paraxylene to PET. IVL has become the only IPA producer in Europe and North America, in a business which is driven by our own technology and in which we have a global leadership.
We entered the South American market with the acquisition of Brazil's largest PET asset. Brazil is a region which we manage as part of our Americas team. We made an acquisition of Brazil's largest polyester fibers plant, which we hope to complete soon, and thereby gain from operating synergies between these two businesses.
Within the EMEA region, we commenced production at our 700 KTA PTA facility in Portugal and started our 540 KTA PET facility in Egypt, which has advantaged trade benefits domestically and supply chain advantages in the region. Together with IPA business in Spain IVL is now a fully integrated platform in the EMEA region. For our European business, we believe it is vital to be very keen on cost competitiveness to counter higher energy costs and threats of imports from countries with a surplus like South Korea and China.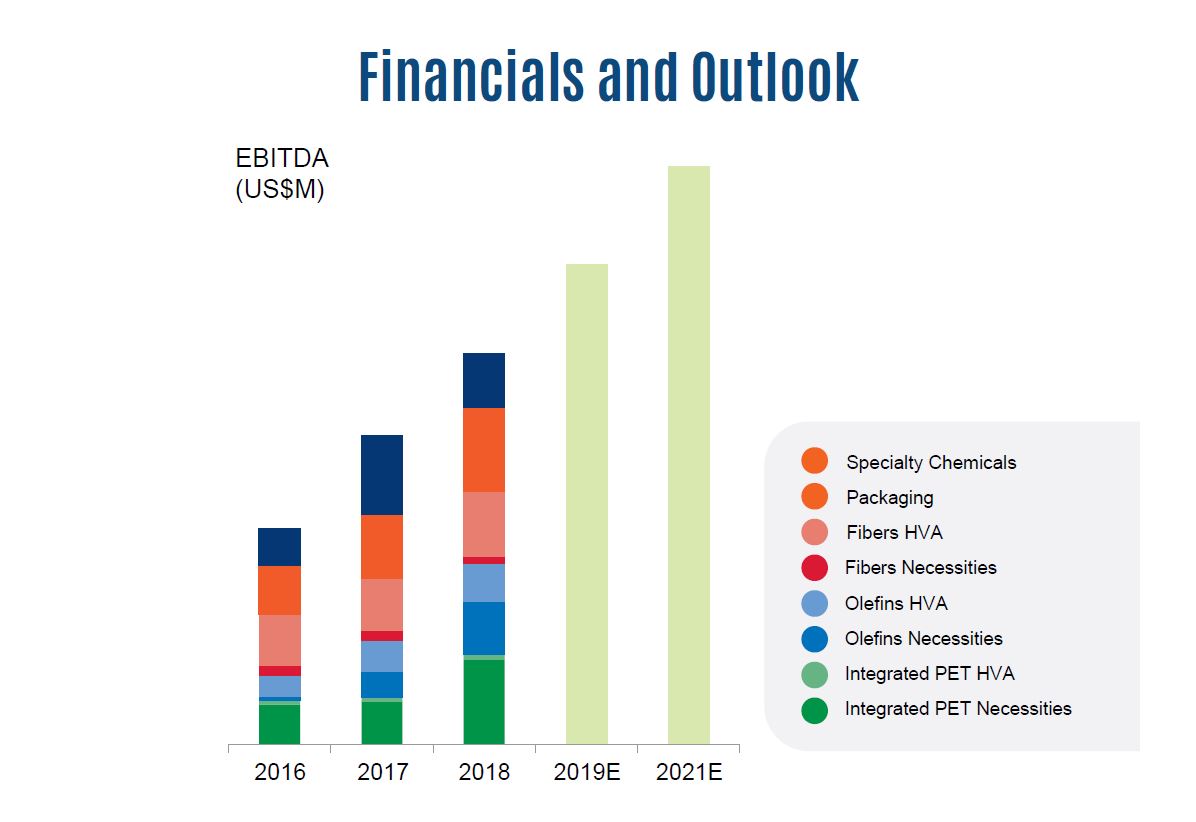 Scaling our HVA portfolio
We made two acquisitions in the automotive fibers business to grow this vertical into a $1.1+ billion franchise serving tire reinforcements and airbags. Kordarna and UTT is an excellent strategic fit with our existing PHP and Performance Fibers businesses, and supplements our acquisition of Glanzstoff completed in 2017.
We acquired Avgol, a global leading producer of hygiene fibers based in Israel. This was our second acquisition in the hygiene fibers vertical, a business which we have been scaling organically since our acquisition of FiberVisions in 2012.
We formed a 50:50 JV with Huvis, South Korea for the development, construction, and operation of a low melt fiber plant in the US with an annual capacity of 60,000 tons per annum. The project will further expand our HVA portfolio for automotive and industrial composites as well as provide synergy potential with our feedstock business.
We acquired Medco, Egypt's largest PET packaging company, as part of our strategy to selectively invest in packaging solutions in emerging markets, to meet the growing needs of customers. This acquisition is an excellent strategic fit for our PET plant in Egypt.
2018 was a landmark year for our Wool business with a crosscontinent expansion in Europe for the first time. We acquired Schoeller Group, a leading European producer of premium wool yarns. This acquisition adds a feather to IVL's HVA portfolio and enlarges Wool business's geographical footprint.
Leading the Way in Sustainability
Sustainability has always been a critical element of our strategy. We recognize that, as a chemical company, we have to demonstrate our willingness to develop a sustainable strategy. More than that, we recognize that the move towards a more sustainable economy is creating a lot of opportunities for us.
In the world of plastics, we have been very active in working with our industry associations and trade partners to fully understand and help appreciate the importance of recycling and life-cycle assessment of PET. Our sustainable development continues to be driven by our vision to make PET the material of choice for the low carbon, circular and fair economy.
We are stepping up our investment in PET recycling globally, and we are happy that key leading beverage and FMCG companies are supporting this endeavor.
We acquired Sorepla, a leading mechanical recycler in France to supplement our existing footprint in Europe. More recently, we announced the acquisition of our first recycling plant in the US, Custom Polymers. These businesses are located close to our assets wherein we transform recycled flakes or pellets into recycled PET or high value polyester fibers. We believe that all means of improving the ecological footprint of our industry and value chain partners will enhance the acceptability and use of recyclable PET.
We partnered with two startups, Ioniqa and Loop Industries to develop chemical recycling, a process which will recover most of the PET waste, differently from the traditional, mechanical recycling. We will help both startups commercialize their technologies, and we will, in turn, invest in our PET facilities to process the waste into fully recycled PET.
The recognitions we have received globally as the sustainability leader in our industry reflect our success in operating an efficient, profitable business that is also responsible and trusted by stakeholders. This trust allows us to be even more ambitious in creating shared value and serves to position our company as fit for purpose in a changing world.
IVL has been included in the DJSI Index for the second consecutive year in recognition of our demonstrated commitment to sustainability goals and ethical behavior, as well as the value IVL has generated for stakeholders. The DJSI has become the essential reference point in sustainability investing for investors and companies globally.
Meanwhile, London's FTSE Russell also once again ranked us in its index series of companies demonstrating firm Environmental, Social and Governance (ESG) practices, called FTSE4Good, which provides investors with a transparent and independent benchmark to measure the company's performance.
We were elated to see our ranking in the MSCI ESG ratings report rise to BB from B last year, indicating a steady development of our activities in lowering greenhouse gas emissions, carbon footprint, and recycling of water and chemicals.
IVL, already a leading global recycling business, has committed to further increase its use of post- consumer PET and polyester waste materials as feedstock as part of global agreement to combat plastic waste, being led by the Ellen MacArthur Foundation
The total dedication of our people is behind this success by minimizing our businesses' impact on our communities and the world through their work, and I am pleased to recognize everyone's contribution to reaching our shared goals.
Staying Agile In an Ever-Changing World
The world we operate in is changing faster than ever before. The external environment continues to be demanding, and the following themes could have a significant impact and, potentially, they also present an opportunity:
The focus on plastic waste has been at the forefront of the society, the regulators and our industry groups. China took a bold step to ban imports of waste plastics in a move to protect its environment. Not only this helped to boost demand for virgin PET and feedstock materials locally, but it also acted as a catalyst for companies across the world to seek better alternatives, change consumer behavior, and give rise to more effective recycling. With China no longer importing plastics waste and other countries unable to absorb the high level of supply, exporters are likely to be forced to expand on domestic recycling infrastructure as well as cut on the level of waste being produced.
In 2018, the global GDP grew by 3.2% driven by gains in the USA and Europe. Historically, polyester demand grows at a multiple of GDP (and grew faster in China due to the ban on waste plastics). As a result, capacity utilization across the value chain has increased. During the period of poor margins in the polyester industry (2012 to 2016), there has been less build-up of new capacities, and there were also victims of managed assets which have altogether helped the sector to recover most of the declining margins.
The beverages and the FMCG brands have made renewed commitments to their stakeholders to improve their packaging mix. The entire supply chain is working with regulators, and they together expect to dramatically improve PET bottle collection and increase the content in their packaging needs.
The life-cycle benefit of PET is well established, and improved waste collection rates will mean an increase in recycling rates across the world. The demand for recyclable plastic is expected to create a preference for PET and further enhance consumption.
There is much talk about tension from geopolitical risks especially the trade war as many terms it with China. This concern is high in the boardrooms of every company, and there is a move by every country and company to secure their supply chain. In markets where there is the availability of competitively-priced domestic supply, it is natural for procurement departments to maximize this channel and therefore we see a higher activity towards on-shoring. Global companies, including IVL, with large on-shore supply chain, perhaps will be advantaged.
The US took a bold step in 2018 to reduce their corporate tax from 35% to 21%. This move has seen visible job creation domestically and put competitive pressure on other countries to review their policies. On the one hand, this policy improved returns and therefore valuations of US-based companies, and on the other side, it has created more disposable income for its citizens leading to higher consumption.
The US Federal Reserve is on track to increase rates which have led to a strong dollar, and, in turn, has improved the manufacturing cost-competitiveness of many countries such as Mexico, Canada, Europe, China, and Indonesia, to name just a few. However, although the cost of debt is still low, there is potential that higher cost of borrowing could impact M&A activities and valuations.
Building on Our Strengths and Executing With Excellence
Leveraging our acquisition and turnaround capabilities
Each wave of M&A changes our competitive environment. We believe that we have to grow in a holistic manner where we can absorb the shocks and the volatility which we often experience, be it crude oil prices or currency rates, for example. Our Corporate office teams are doing a great job of managing these volatilities while our Operating teams have done well in achieving operational excellence to support our cost excellence and at least offset the inflation-led increase in costs.
As an incumbent player with legacy assets, we keep a close eye on competitive state-of-the-art, large scale assets and defend our market share as appropriate. By acquiring strategically located assets, we believe we can place ourselves in an advantageous position to better serve our customers reliably and even grow our market share while protecting our stakeholder returns. I am confident that our portfolio of Necessities assets is in the top quartile position due to the excellence of our people.
Our management team has a long history of success in acquiring and transforming assets that would otherwise be on the verge of having their last breath. A great example of a success story that immediately comes to my mind is our acquisition and turnaround of Tuntex polyester fiber plant in Thailand in 2008 (now IPI Rayong).
The team delivered rapid, visible performance improvements: first, by improving quality, energy use, and plant reliability; second, by leveraging integration into PTA and captive power plant; and finally, by optimizing product mix while gradually transforming IPI Rayong from mainly a commodity plant into an asset with an optimum blend of Necessities and HVA fibers.
Overall, the turnaround led to a sustained improvement in plant profitability and returns. This turnaround is a great example of our global operational excellence expertise, and I believe there will be many more such success stories for me to reflect upon in my future letters to stakeholders.
Enhancing our capital project execution skills
While we do well in integrating newly acquired businesses into the folds of IVL, we have been "behind the curve," and something we intend to address is our greenfield and brownfield project execution capability. Our large projects, Louisiana Cracker, and Rotterdam PTA have been behind schedule and above budget. Fortunately, both these projects had huge buffers, mainly due to their locational advantages and supply chain fitment to serve IVL's captive needs so that the long-term benefits remain accretive.
Investing In Key Priorities to Stay Ahead
Human capital – The foundation of IVL is built around strong leadership qualities of our people and has grown, since 2010, from 6,000 individuals to more than 18,000 today. I believe that people drive every success and our limitations will also be people-driven if we do not continuously develop our talent. I know our people have the burning ambition to "stay ahead." There is a drive within IVL where we are spending twice the time we did in the past on talent development while building a performance-driven culture.
igital@IVL – IVL today is still in an Industry 3.0 framework, and we are exploring many parts of Industry 4.0 which could enable us to drive complementary opportunities in Machine Learning and Mathematical Optimization. We are closely scrutinizing our first set of projects, and their potential implementation is being led by a passionate team of internal and external consultants. Together, we have identified 250+ digital value creation opportunities across 12 sites. There is tremendous excitement in the group on what lies ahead. The internal Industry 4.0 team will be supplemented and tasked to scale up our learnings and implement them across our manufacturing sites. There is a growing recognition internally that investments made in this development will not only provide an attractive return, but also drive us towards the journey of world class in both technology and talent, which ultimately drives the intrinsic value of the firm. "Data is the new oil" as it is often heard today.
Portfolio optimization – An area of potential improvement could be when we start evaluating the potential to renew our portfolio amongst the scattered HVA assets in fibers. I see an opportunity to streamline the number of assets we own today and consolidating them under a few scaled up sites which have the workforce advantage and the benefits in total cost including supply chain optimization.
Creating More Potential, More Value, More Future
We are continuously investing in our people and our assets. Said in another way, we are investing in developing a sustainable future and creating the aspiration for our next generation of leaders to be in the league of world-class companies globally.
Satisfaction to us means continuous improvement, and while we have made considerable advances in our ESG footprint since inception, we do not intend to sit on our laurels. We will continue to involve prioritizing good governance and maintaining organizational agility to take advantage of opportunities as they arise – both internally, as our companies leverage each other's strengths, and externally, for any strategic acquisitions that are accretive to our bottom line.
We have set ambitious but achievable targets. These include doubling IVL's EBITDA again over the next five years. We will continue to seek the right opportunities to fulfill gaps which are intrinsic to our sustainable and profitable future by deploying our resources to support the circular economy. We believe our focus will allow us to continue to provide above industry returns across cycles.
We are indeed fortunate to have a team of over 18,000 dedicated employees in 31 countries that are firmly committed to our success and who have an abundance of talent and ability to lead IVL to greater heights.
In 2018, we saw the emergence of structural changes in the polyester value chain after several years of often irrational capacity build up which adversely impacted the very fabric of reasonable margins and disrupted an otherwise healthy industry, which is driven by consumer demand and the demographic trends. This resulted in disruption for several industry participants which is a meaningful lesson for all of us in the industry. This elongated period of disruption also gave IVL an opportunity for earnings growth through earnings diversification, geographical expansion, and backward integration.
I expect encouraging changes in our industry, and I hold a positive outlook for IVL due to a number of factors including megatrends, and the increased focus on sustainability and the circular economy; all of which should drive continued demand for our products. Long-term global polyester demand is expected to expand at around 5 to 6% annually, while demand for high-value fibers is expected to grow at a healthy rate of 6 to 7%.
We enter 2019 from a position of strength, and we remain committed to building on the growth momentum. We will continue to develop new markets and enter into markets where we do not have a presence. We will further look at what is missing in our business model, where we can improve, and unlock the untapped potential and synergies of our businesses and subsidiaries.
We will work harder to move closer to our customers by understanding their needs, investing more in developing innovative products and provide truly differentiating propositions. Our assets, infrastructure, footprint, and teams will aim to deliver long-term value to our shareholders and the sustainability of our business.
I wish to thank all our stakeholders, shareholders, partners, customers, bankers, employees and above all, my fellow members of the Board for their ongoing support and dedication, which made this past year an unqualified success.
"Learning and innovation go hand in hand. The arrogance of success is to think that what you did yesterday will be sufficient for tomorrow."
-- William Pollard.
Sincerely,
Aloke Lohia
Group Chief Executive Officer