Press Release
IVL delivered recycling knowledge for reducing global environmental problems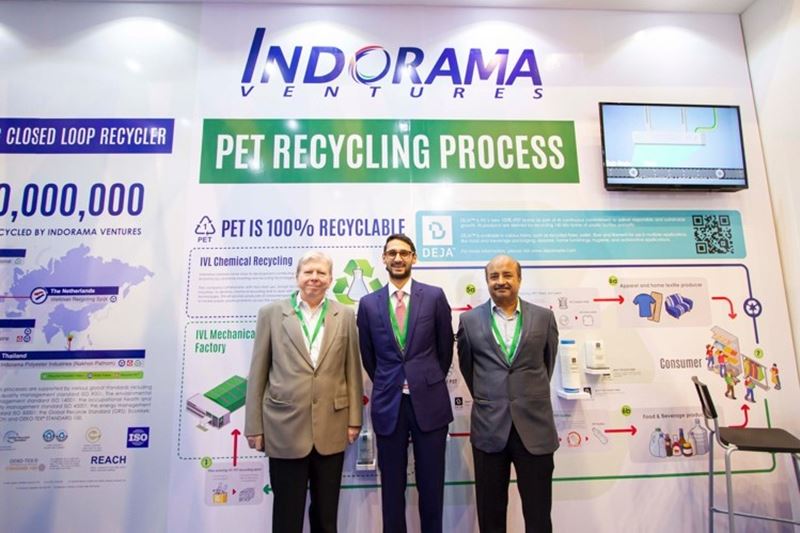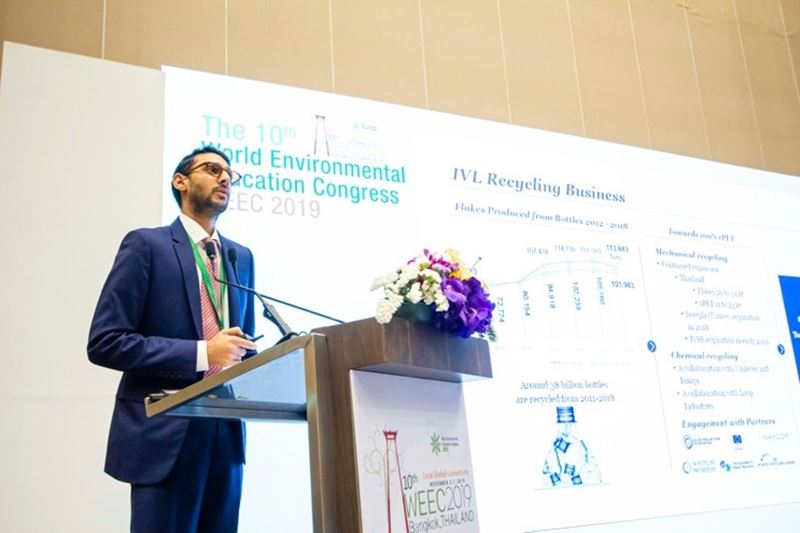 Indorama Ventures Public Company Limited (IVL), led by Mr. Yashovardhan Lohia (center), Chief Recycling Officer, lectured on "Recycling for Sustainability" at the 10th World Environmental Education Congress which was organized by the Chaipattana Foundation and the Thai Environmental Network. The knowledge sharing focused on PET which is 100% recyclable. PET recycling is one of the most responsible solutions for the conservation of resources. At the congress, IVL also exhibited its recycling practice, including the PET recycling process and various recycled PET products, such as fibers, yarns and packaging. This demonstrates IVL's commitment to contributing to society and encouraging the public to play their parts in solving environmental problems together.
Group posing from left: Mr. Richard Jones - Senior Vice President, Mr. Yashovardhan Lohia - Chief Recycling Officer, and Mr. Avinash Chandra - Vice President
# # #
About Indorama Ventures
Indorama Ventures Public Company Limited, listed in Thailand (Bloomberg ticker IVL.TB), is one of the world's leading petrochemicals producers, with a global manufacturing footprint across Africa, Asia, Europe and Americas. The company's portfolio comprises Integrated PET, Olefins, Fibers, Packaging and Specialty Chemicals. Indorama Ventures products serve major FMCG and Automotive sectors, i.e. Beverages, Hygiene, Personal Care, Tire and Safety segments. Indorama Ventures has approx. 20,000 employees worldwide and consolidated revenue of US$ 10.7 billion in 2018. The Company is listed in the Dow Jones Sustainability Index (DJSI).
Indorama Ventures is headquartered in Bangkok, Thailand with global operating sites in
| | |
| --- | --- |
| EMEA: | The Netherlands, Germany, Ireland, France, UK, Italy, Denmark, Lithuania, Poland, Czech Republic, Luxembourg, Spain, Turkey, Nigeria, Ghana, Portugal, Israel, Egypt, Russia, Slovakia, Austria |
| Americas: | USA, Mexico, Canada, Brazil |
| Asia: | Thailand, Indonesia, China, India, the Philippines, Myanmar |
Contacts
Richard Jones
Tel: +662.661.6661 ext. 680
richard.j@indorama.net
Naweensuda Krabuanrat
Tel: +662.661.6661 ext. 247
naweensuda.k@indorama.net