Press Release
Indorama Ventures Announces Corporate Strategy for 2020 till 2023
Bangkok, Thailand – 4 Feb 2020 – Indorama Ventures Public Company Limited (IVL) announces its 2020-2023 Strategy at its Capital Markets Day.
Summary:
IVL's time-tested approach has generated strong returns for stakeholders through both the peaks and valleys of the chemical cycle.
We have a well articulated 2023 strategy focusing on 5 pillars: Cost Transformation via Olympus, Asset Full Potential, Adjacency Growth, Recycling Leadership, and our People.
In combined PET, we aim to strengthen our cost advantage while also driving the circular economy for PET by building a leading recycling business.
In Fibers, we are focused on operation efficiency, asset integration, and innovation to meet customer's evolving needs, resulting in a business that delivers double-digit ROCE.
Our aggregated business continue to generate heathy operating cash flow, we continue to focus on working capital while simultaneously deleveraging the balance sheet.
We continue to invest in our people, put in place organization and governance structures and HR processes to ensure we have a healthy IVL for the future.
Mr. Aloke Lohia, Group CEO of Indorama Ventures, said, "Going forward, IVL will continue to pursue our strategic themes, with the ambition of achieving double-digit ROCE, strong cash flows across the cycle and above average returns to shareholders. Historically, we have always remained strong through the peaks and troughs of the chemical cycle and expect to continue to outperform thanks to our highly experienced and professional management team."
This strategy was presented and agreed at IVL's Global Management Conference (GMC), which includes over 200 members of IVL's global leadership team, and was held January 30 – 31 in Bangkok, Thailand.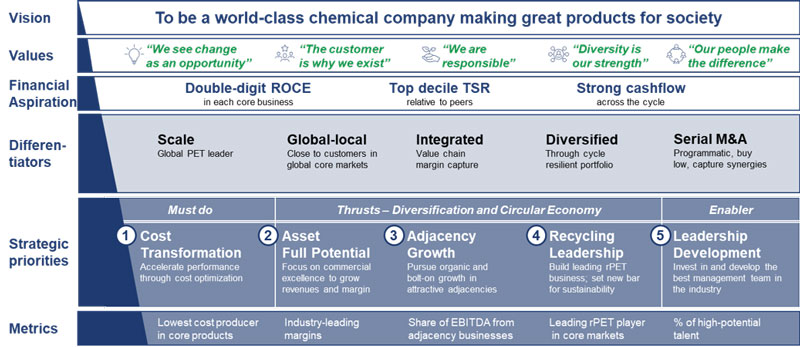 For more information, please visit IVL website: