Press Release
Free "Waste Hero: Reduce to Zero" teaching resources launched by the Yunus Network and Indorama Ventures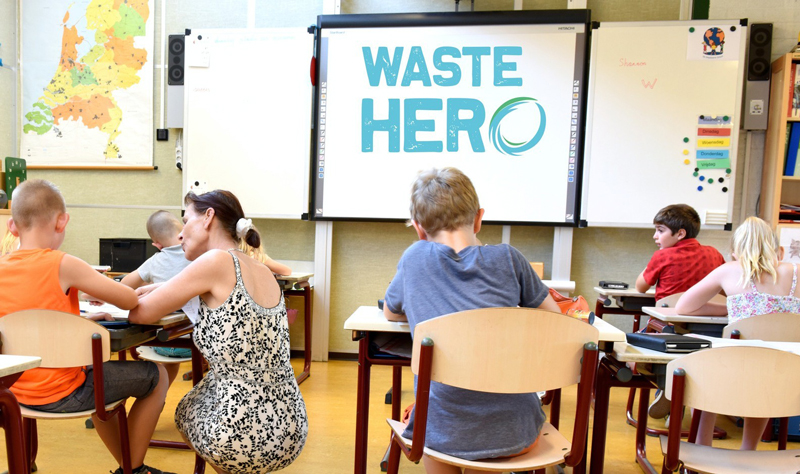 Aim to educate one million young people globally on the circular economy
Bangkok, Thailand - 3 April 2023 - Indorama Ventures Public Company Limited (IVL), a global sustainable chemical company, and Yunus Thailand, an international non-profit foundation co-founded by 2006 Nobel Peace Prize Laureate Professor Muhammad Yunus announces the launch of a new and free global education program - "Waste Hero: Reduce to Zero".
The free-to-use teaching resources are designed for K-12 and university level students centered around three main pillars: recycling fundamentals, creating zero waste, and building the circular economy. An Educational Advisory Group of 23 teachers, academics, educators and zero waste specialists from 17 countries helped guide the creation of 19 lesson plans and activity worksheets. Waste Hero education is offered globally with the aim to educate one million young people by 2030.
"Across the world people are worried about the mismanagement of waste and its impact on our environment", said Mrs. Suchitra Lohia, Deputy Group CEO of Indorama Ventures. "The unique plastic we produce (PET) is used for soft drinks and water bottles that are made to be remade. As a leading material producer and recycler, we have a global responsibility. That is why we are supporting teachers with lesson plans on creating zero waste, recycling fundamentals, and building the circular economy. By empowering the next generation with the knowledge to reduce, separate and dispose of waste, they will know how to end waste."
The teaching resources are available in 19 individual lesson plans organized by education level, and translated into a variety of languages, including Thai, English, Spanish and Portuguese with Bahasa Indonesia, Dutch and more to follow. The "Waste Hero: Reduce to Zero" teaching resources are available for free online and will be distributed by Yunus Thailand in 38 countries, 102 universities, and will create Waste Hero supported 3 Zero Clubs for young people to begin taking action on a global scale.
Prof. Muhammad Yunus, 2006 Nobel Peace Prize Laureate and Co-founder & Chairman, Yunus Centre, said: "Old roads lead to old destinations. We need to empower young people to build new roads towards a circular economy. I wish to thank the Educational Advisory Group who brought life and clear learning outcomes to the lessons plans. They are based on the principles of designing out waste and pollution, keeping products and materials in use, and regenerating nature. By supporting education about the circular economy, we give waste an economic value. This is an opportunity for social business as we de-risk investment in collection, sorting and recycling, with the social and environmental benefits of less waste and cleaner communities. I welcome Indorama Ventures and its industry peers and competitors, for supporting teaching resources about all recyclable materials, and look forward to building a zero-waste future together."
The "Waste Hero: Reduce to Zero" teaching resources have been validated by an independent panel of global education experts who concluded, with a high level of assurance, that the materials are appropriate for use with learners at different educational levels in diverse contexts globally. Central to this assessment is the editable design of the materials, which allows educators the opportunity to contextualize the lessons to fit their local educational and waste management context. The lesson plans were also tested and validated in classrooms in the United States, Mexico, Zimbabwe, Bangladesh, and the United Kingdom.
In 2017 Indorama Ventures launched a recycling education program in Thailand. A 2019 assessment found that every dollar invested generated over 5 times the value. Now the company is working with Yunus Thailand and partners to scale their education impact globally, with an ambitious goal to educate one million young people by 2030.
Schools, universities, and interested organizations can access the free teaching resources here http://www.wasteheroeducation.com/ for more information.