Other Release
Indorama Ventures partners with Kasetsart University to raise awareness of recyclable waste collection and create proper waste management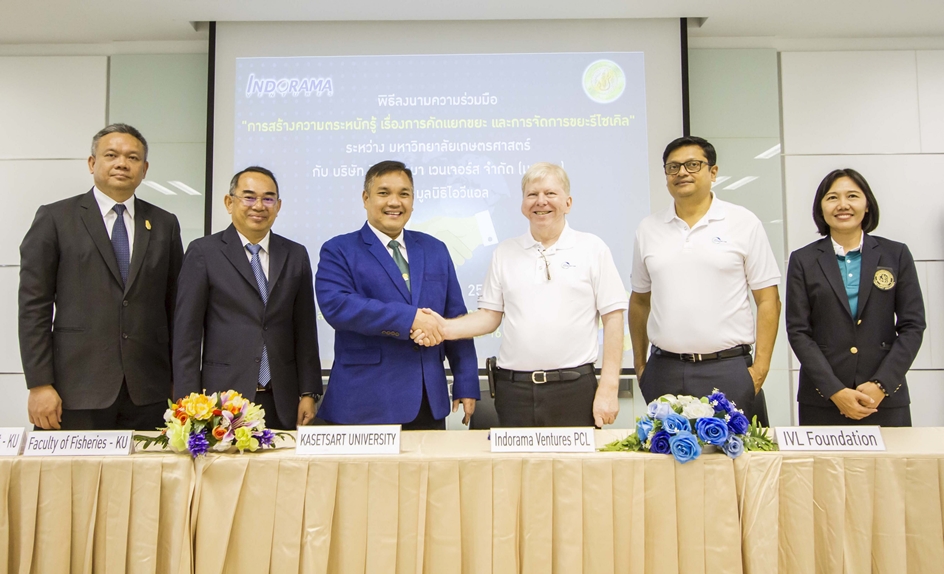 [Bangkok - 20 November 2019] Indorama Ventures Public Company Limited (IVL) joined with Kasetsart University by signing a memorandum of understanding in creating awareness of recyclable waste collection among university staff, students and the public as well as initiating proper waste management. The collaboration includes developing learning materials regarding waste separation and plastic waste recycling, creating a mechanism entrapping waste in a watercourse to avoid it leaking into the sea, as well as creating awareness of waste separation. The project comes under the environmentally-friendly office of Kasetsart University (KU Green Office). This effort will be fostered by research, data collection, integrated knowledge, as well as an academic proposal to sustainably solve the waste problem.
Mr. Richard Jones, Senior Vice President and Head of Sustainability at IVL, said "As the world's leading PET producer and one of the largest PET recyclers in Thailand, IVL recognizes the importance of waste separation and the recycling of post-consumer plastic packaging. As people are more aware of the current situation and problems of waste management in the national, regional, and global levels, all sectors are playing their roles to develop better waste management, especially that of PET bottles, which are 100% recyclable and able to be turned into recycled polyester and PET resin (rPET). PET recycling is one of the most responsible ways to deal with waste problem and truly solve the industry challenge of moving towards a circular economy."
"IVL will combine our knowledge and expertise in recycling with Kasetsart University's academic knowledge to develop a mechanism that can entrap and collect waste in drains, ditches, rivers, or other water sources. We also provide waste bins and training regarding waste separation and recycling to related departments of the university and other organizations. This partnership aims to bring about the proper waste management for better plastic recycling that will sustainably create higher economic value for discarded materials," Richard said.
Dr. Jongrak Watcharinrat, acting Chancellor of Kasetsart University, added "As a source of knowledge resulting from efforts in research and development in science, technology, and social science, Kasetsart University, led by the Faculty of Environment, Faculty of Fisheries, and the KU Green Office, will provide academic support and consultation to develop learning materials regarding waste separation and plastic recycling, support activities to raise public awareness, and promote systematic waste management that will result in the reduction of waste in universities, communities and society. The university will also encourage students and staff to conduct research and other academic programs as well as provide opportunities for collaboration, training, and meetings related to waste separation and management."
"Proper waste separation will enable better recycling of as many as 1.65 billion PET bottles per annum. This will help reduce crude oil consumption in Thailand by 531,269 barrels and CO2 emissions by 118 million kilograms, as well as reduce PET plastic waste in landfills," Richard concluded.
# # #
About Indorama Ventures
Indorama Ventures Public Company Limited, listed in Thailand (Bloomberg ticker IVL.TB), is one of the world's leading petrochemicals producers, with a global manufacturing footprint across Africa, Asia, Europe and Americas. The company's portfolio comprises Integrated PET, Fibers, Packaging, Specialty Chemicals and Olefins. Indorama Ventures products serve major FMCG and Automotive sectors, i.e. Beverages, Hygiene, Personal Care, Tire and Safety segments. Indorama Ventures has approx. 19,000 employees worldwide and consolidated revenue of US$ 10.7 billion in 2018. The Company is listed in the Dow Jones Sustainability Index (DJSI).
Indorama Ventures is headquartered in Bangkok, Thailand with global operating sites in
| | |
| --- | --- |
| EMEA: | The Netherlands, Germany, Ireland, France, UK, Italy, Denmark, Lithuania, Poland, Czech Republic, Luxembourg, Spain, Turkey, Nigeria, Ghana, Portugal, Israel, Egypt, Russia, Slovakia, Austria |
| Americas: | USA, Mexico, Canada, Brazil |
| Asia: | Thailand, Indonesia, China, India, the Philippines, Myanmar |
Contacts
Richard Jones
Tel: +662.661.6661 ext. 680
richard.j@indorama.net
Naweensuda Krabuanrat
Tel: +662.661.6661 ext. 247
naweensuda.k@indorama.net
Note
This document contains "forward-looking statements" about the financial condition and results of operations of Indorama Ventures Public Company Limited (the "Company"), which are based on management's current beliefs, assumptions, expectations and projections about future economic performance and events, considering the information currently available to the management. Any statements preceded by, followed by or that include the words "targets", "believes", "expects", "aims", "intends", "will", "may", "anticipates", "would", "plans", "could", "should, "predicts", "projects", "estimates", "foresees" or similar expressions or the negative thereof, identify or signal the presence of forward-looking statements as well as predictions, projections and forecasts of the economy or economic trends of the markets, which are not necessarily indicative of the future or likely performance of the Company. Results given here are "Core", which means excluding inventory gain/losses and one-time extraordinary items.