While Thailand is facing a serious plastic waste problem, the government has taken important steps to tackle this pressing global issue. We are doing our part by promoting the efficient use of our shared resources and encouraging students, businesses, consumers and communities to reduce, reuse and recycle waste. We pledged to strengthen global partnerships to ensure that we meet the SDGs through improved collaboration, scaling-up the positive impacts of waste separation and recycling to achieve great impact and increased value.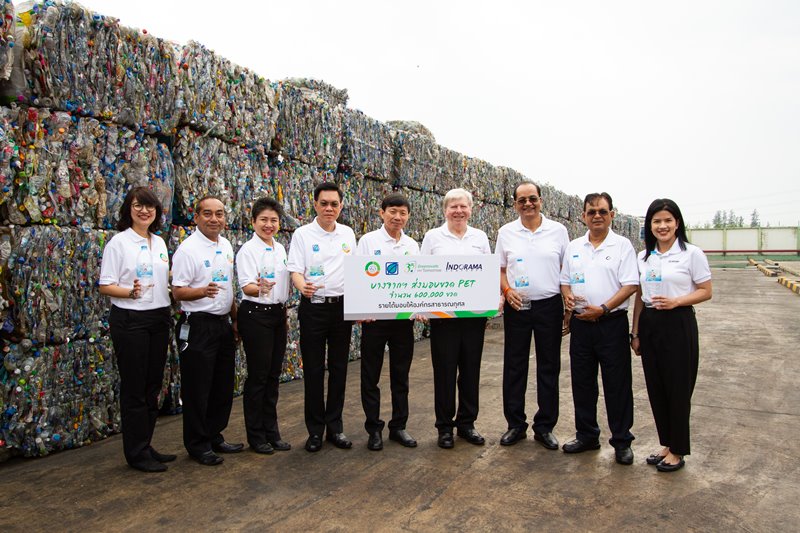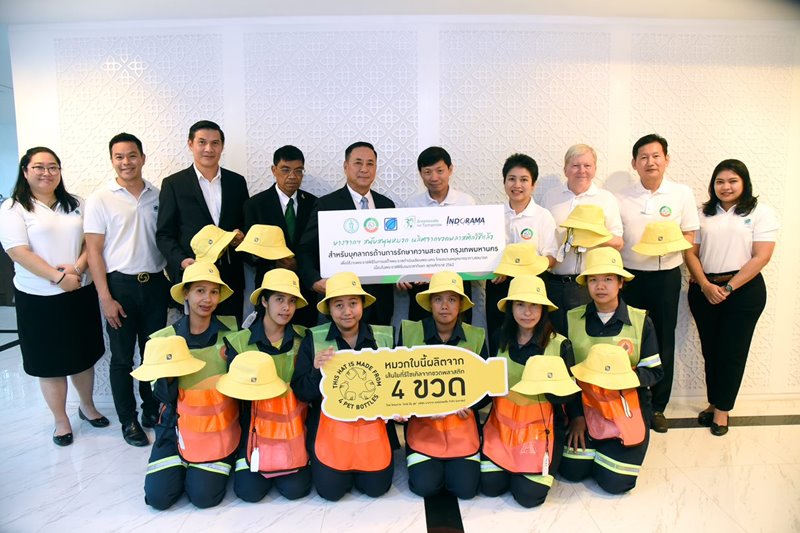 Indorama Ventures PCL and Bangchak Corporation PCL have signed a memorandum of understanding to join the 'Rak Pan Sook' Project, a sustainability project supporting the recycling of used PET bottles. Donation points for PET bottles have been set up at over 100 Bangchak fuel stations around Bangkok and the Metropolitan area to encourage people to help keep the environment clean and create a circular economy. Bangchak Corporation collected PET bottles from their fuel station and sent 600,000 bottles to our recycling plant. They used our recycle yarn to make caps for public cleaning officers to raise awareness of PET bottle as a valuable resource when put back into the recycling process. The revenue from sales of Bangchak Corporation's recycled items were donated to nonprofit organizations.
---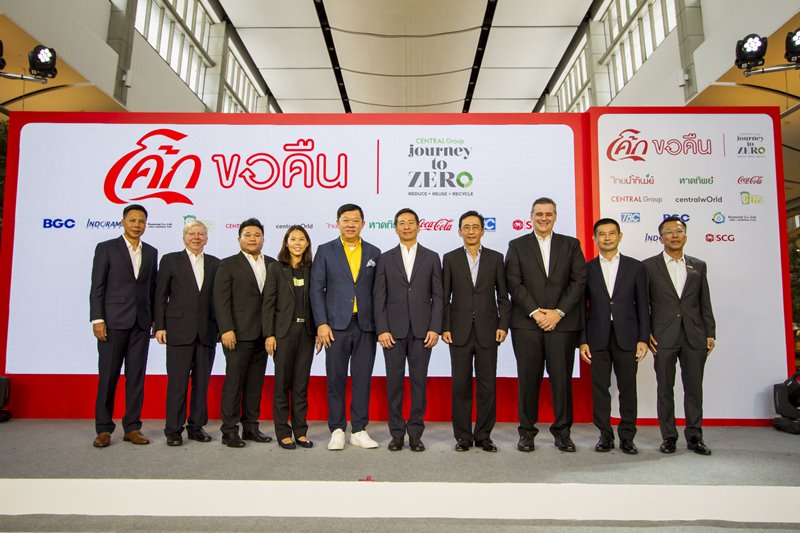 Indorama Ventures PCL be a part of partners of the project Coca-Cola Thailand X Central group this project Coke Thailand work with central group (Department store) to collected wastes to recycle and for PET bottles they sent to recycling at IVL plant from this project we got PET bottles 2,741 kgs
Indorama Ventures PCL collaborated in the "Coke Kor Keun x Central Group Journey to Zero" project, entering an agreement to support the establishment of a waste management system at Central Group department stores. Beverage bottles and other recyclable materials will be sent to partnering companies to be recycled correctly. The system was tested out in shops and restaurants by Central Group in Central Festival Eastville and Central Plaza department store. Indorama Ventures' role is to receive the PET plastic collected in the project and recycle the material at our factory in Nakhon Pathom, also taking part in the collaboration to develop this system to become more effective for future use.
---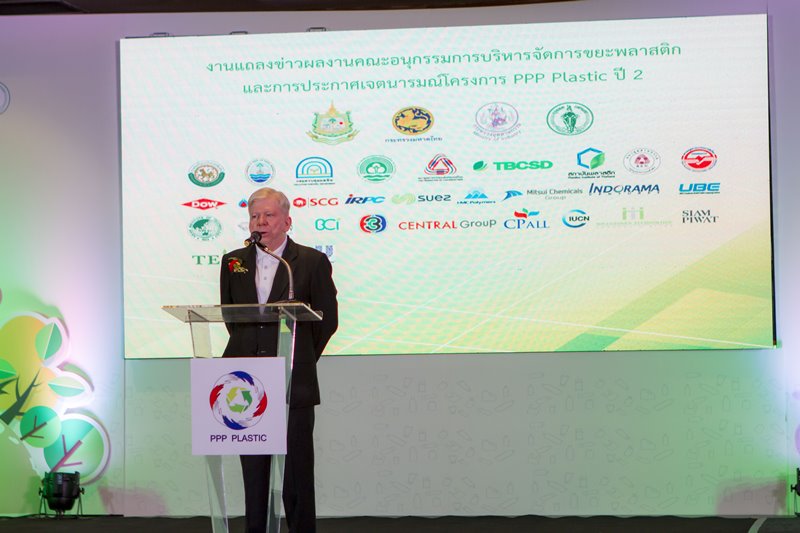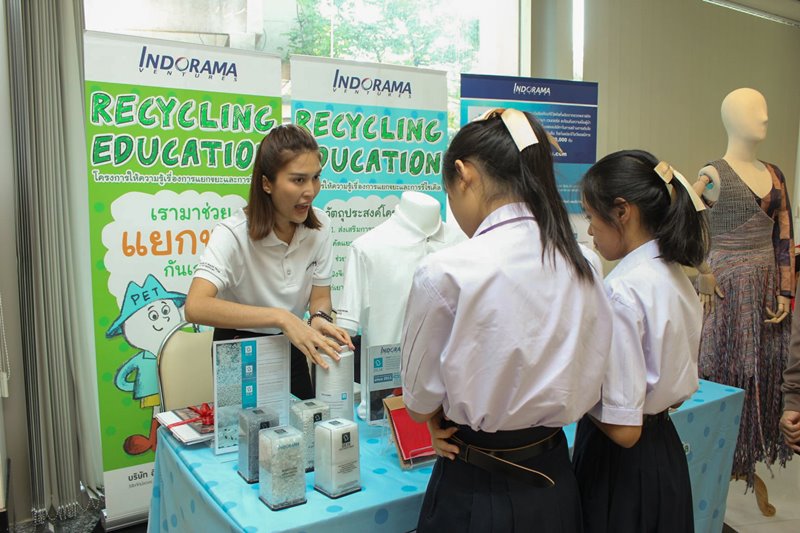 Indorama Ventures has signed a memorandum of understanding to collaborate with the "Public-Private Partnership (PPP) for Sustainable Plastic and Waste Management" initiated by the Plastic Industry Club under the Federation of Thai Industries Business Council for Sustainable Development (TBCSD) in private sectors and civil society. The partnership declared its intention to reduce waste and promote sustainability of plastic through waste management and adopting circular economy approaches. The initiative aims to reduce plastic waste in Thailand's oceans by no less than 50% within 2027. In 2019 we participated with PPP members to educate students at schools to promote waste separation and recycling plastic to help the environment and create a circular economy.
---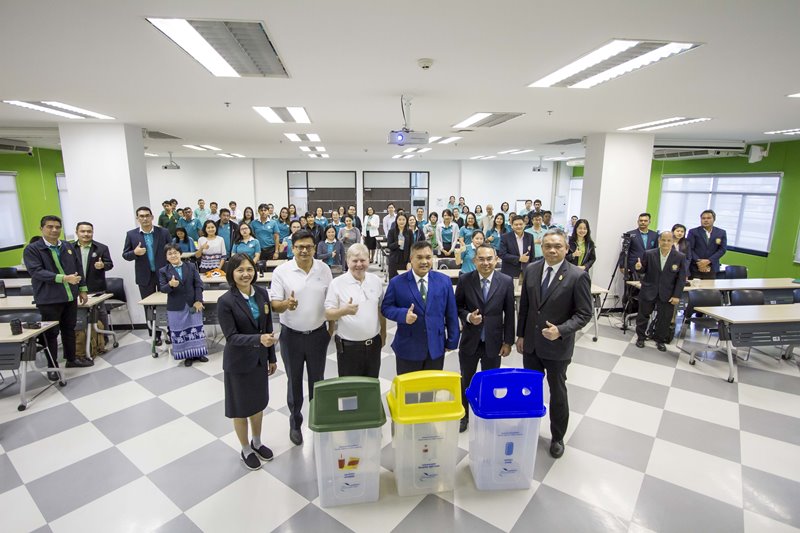 Indorama Ventures and Kasetsart University signed a memorandum of understanding in creating awareness of recyclable waste collection among university staff, students and the public as well as initiating proper waste management systems. The collaboration includes developing learning materials regarding waste separation and plastic waste recycling, creating awareness of waste separation for students and the public. IVL will combine our knowledge and expertise in recycling with Kasetsart University's academic knowledge to develop a mechanism that can entrap and collect waste in drains, ditches, rivers, or other water sources to prevent it leaking into the sea. We also provided waste bins and training regarding waste separation and recycling to related departments of the university and other organizations. This partnership aims to bring about the proper waste management for better plastic recycling that will sustainably create higher economic value for discarded materials. The project comes under the environmentally-friendly office of Kasetsart University (KU Green Office). This effort will be fostered by research, data collection, integrated knowledge, as well as an academic proposal to sustainably solve the waste problem.
---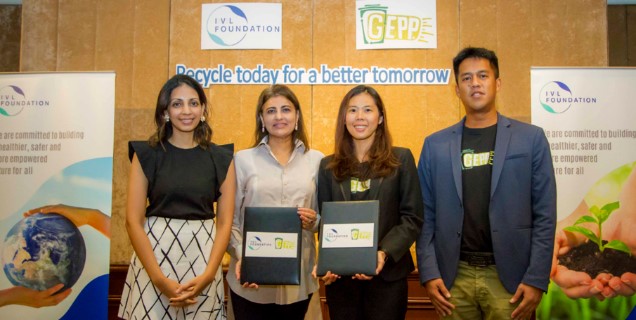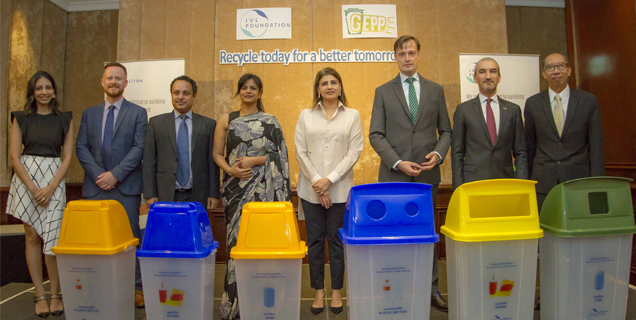 The IVL Foundation has signed a memorandum of understanding with GEPP on the collection of waste for sustainable recycling, bringing used PET bottles back to an appropriate recycling process, based on the circular economy concept. GEPP's services includes on-demand pickup of recyclables from homes and offices in Bangkok, transporting used PET bottles to be processed into recycled polyester fibers for use in clothing and fabrics. We expect our cooperation to minimize the amount of PET waste and to educate people on the importance of recycling, firstly by how to sort and collect waste properly. This collaboration aims not only to minimize plastic waste, but also to raise awareness of recycling among the public in order to solve plastic waste problems sustainably.
---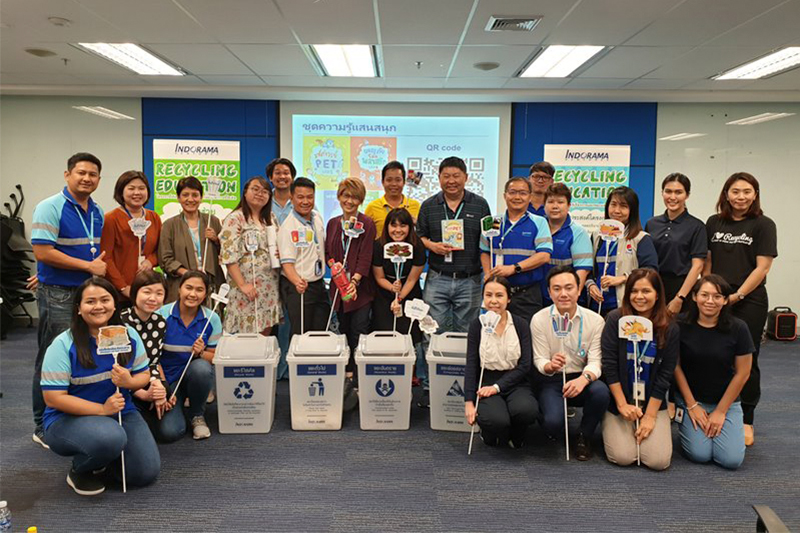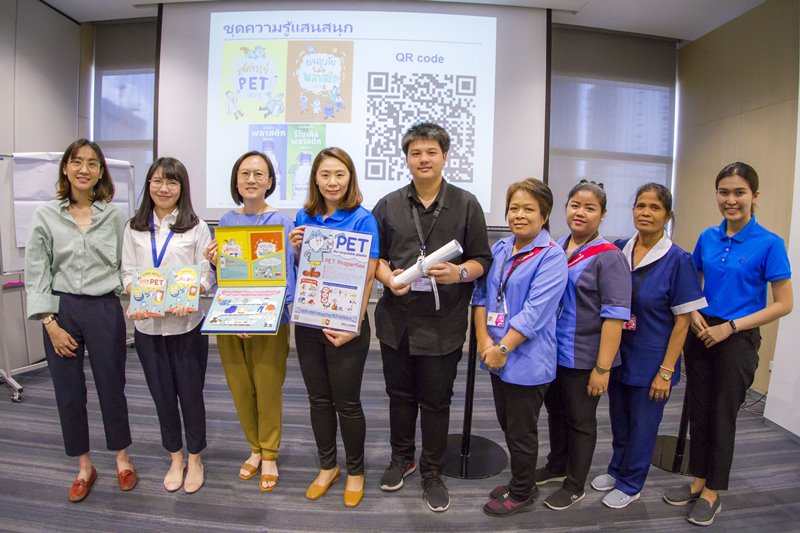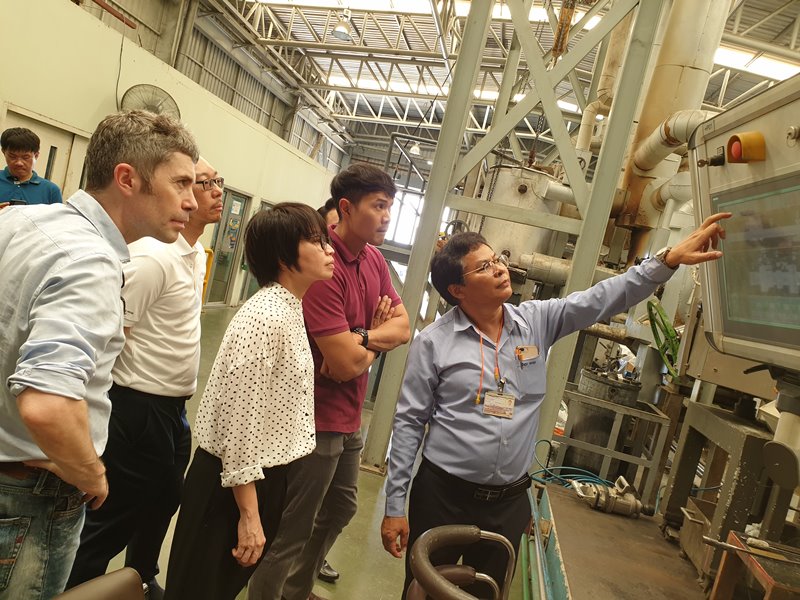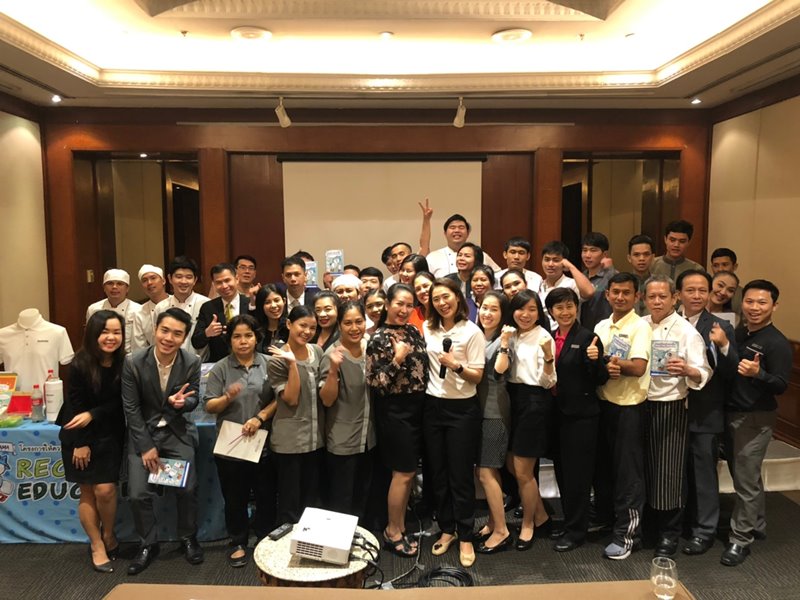 IVL has gained the partnership of corporations and private businesses on our training session and factory visit, arranged by the CSR team at Head Office. The companies include Suntory Pepsico Beverage (Thailand) Co.,Ltd, Unilever and Nestle Thailand. Through this project, the management, HR team, CSR team and representatives from Raks Thai Foundation aimed to share knowledge on waste separation and recycling PET to each company to be able to train other staff and efficiently separate waste at their workplace. We were also invited by Suntory Pepsico Beverage (Thailand) Co.,Ltd to provide a lecture on waste separation and recycling to teachers at Saraburi province as part of a teacher training project. We were also given the opportunity to organize a training for staff from Sukosol Hotel to encourage waste separation and recycling and expand the reach of stakeholders in this process.
In Mexico, Indorama Ventures is a member of ECOCE, a non-profit civil environmental association that promotes the proper handling of packaging and packaging waste for recycling in Mexico. We are also part of the PET Recycling Committee supporting environmental initiatives and campaigns.